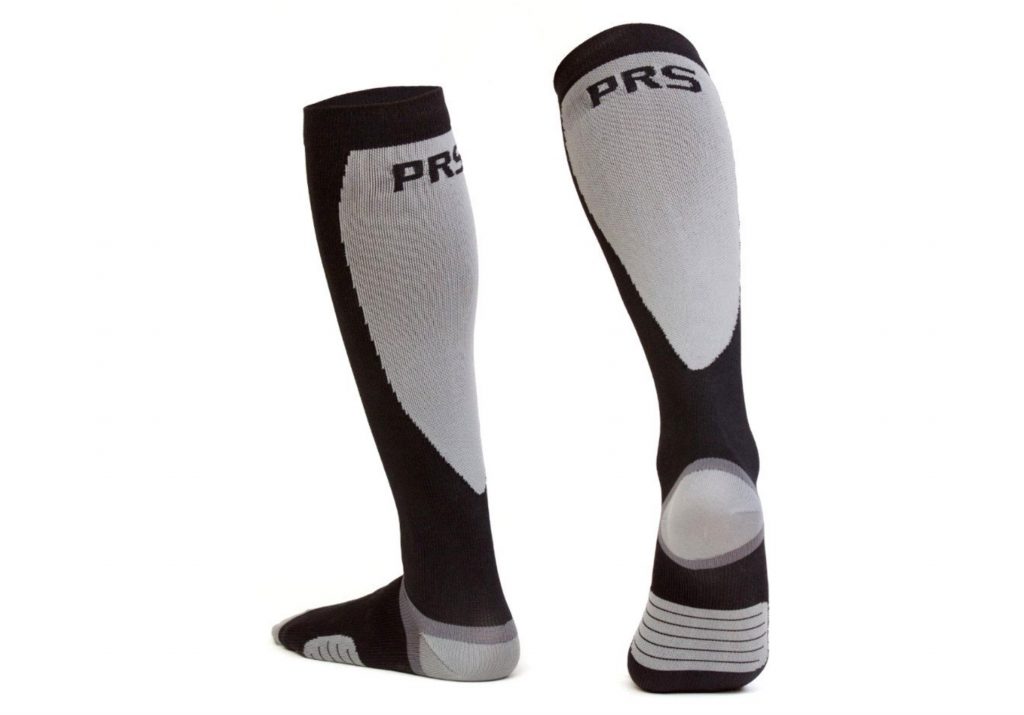 This week we take a moment to review a pair of PRS Nano Support Compression Socks:
Item: PRS Nano Support Compression Socks
Price: $29.97 USD 
Retailer: PRS
Purchase: www.PRSCompression.com  
As a former distance runner, I am a huge fan of compression socks. Feet and calves take a beating during long runs, and effective compression is something I used quite often to bounce back after a hard workout or pushing a golf push cart for 18 holes.
For the past four years, my favorite brand of compression has been CEP. The brand has a good reputation for how effective their products are, but they are quite expensive at $60 per pair. I've always been curious about cheaper brands, wondering if it was really worth spending so much money on socks.
Enter: PRS. This company sells their compression socks for half the price of CEP, while still claiming they are effective at promoting blood flow and speeding up recovery times. Their specs are similar to CEP as well, minus their specific fabric:
Nano Support Fabric – designed to support regions of the calf, arch, and ankle. Also aids in moisture and odor control.
Graduated Compression – increased compression at the ankle, decreasing on the way up to push blood to the heart.
Zone specific panels – panels of compression to increase blood flow to specific areas.
While these features sound great, I was curious to see how effective they could be at half the price of what I was used to.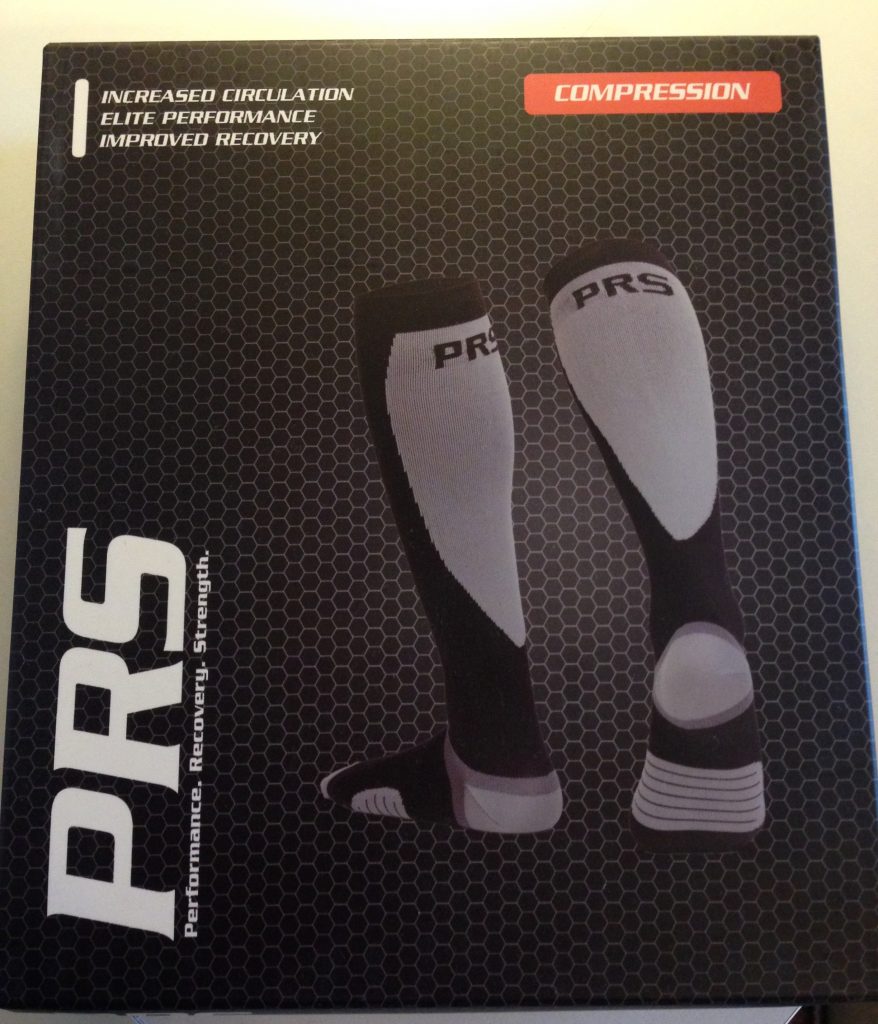 The Good
Effective: While well below the price of what many consider to be higher-end brands, I felt that these compression socks were effective. They did a good job of relieving excessive soreness in my calves.
Graduated Compression: This is an important feature when looking for compression socks. It works by implementing a greater degree of compression at the ankle and gradually decreasing as it goes up the leg. This helps push blood from the lower extremities back to the heart which promotes circulation, healing, and ultimately recovery.
Great to sleep in: I often like to sleep in my compression socks, letting them do their thing while I snooze. These were comfortable to rest in, and weren't too hot under the covers either.
Zone Specific Panels: The regions in grey are the zone specific panels and are designed to provide targeted compression to the calf, ankle, and arch. I didn't feel too much in my ankles or feet, but I did notice the panel on the back of my calf. It felt more supported versus the rest of my lower leg.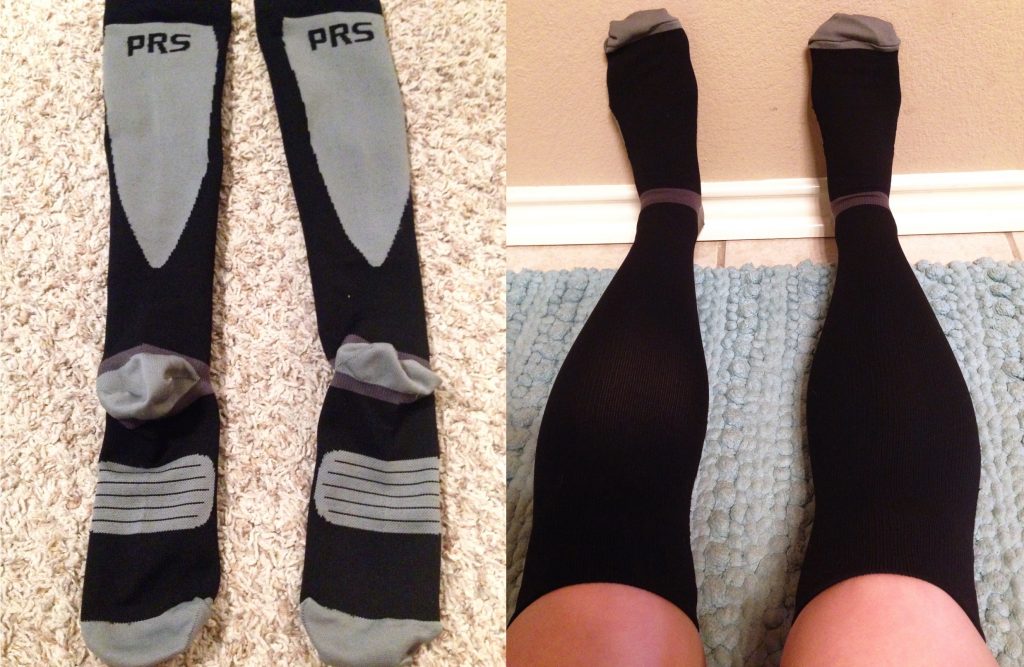 The Bad
Too long overall: I am a short person (5ft tall) with a small foot (W size 7). The foot of these socks were too long for me. Thus, I could not run in them due to the extra fabric at the end of my toes. The socks also came up past my knees. I was able to scrunch them down with no problems. However, I think a smaller size option would have helped them fit better overall.
Not Anatomical: Anatomical fits are very helpful and often result in targeted areas like arches receiving more benefits from compression. While these socks do have targeted arch compression, they do not have an anatomical, left and right specific fit which was somewhat disappointing.
Only two size options: Small/Medium or Large/Extra Large are the only size options for the PRS socks. I felt this was limiting and did not account for differences in body composition.
Light Compression: While the compression within these socks is present, it is not present to such a degree that I could wear them once and notice a complete change in how I felt. It took a few wears and a little consistency to notice a difference. Even then, I didn't feel my ankles or feet received much benefit due to the size issue.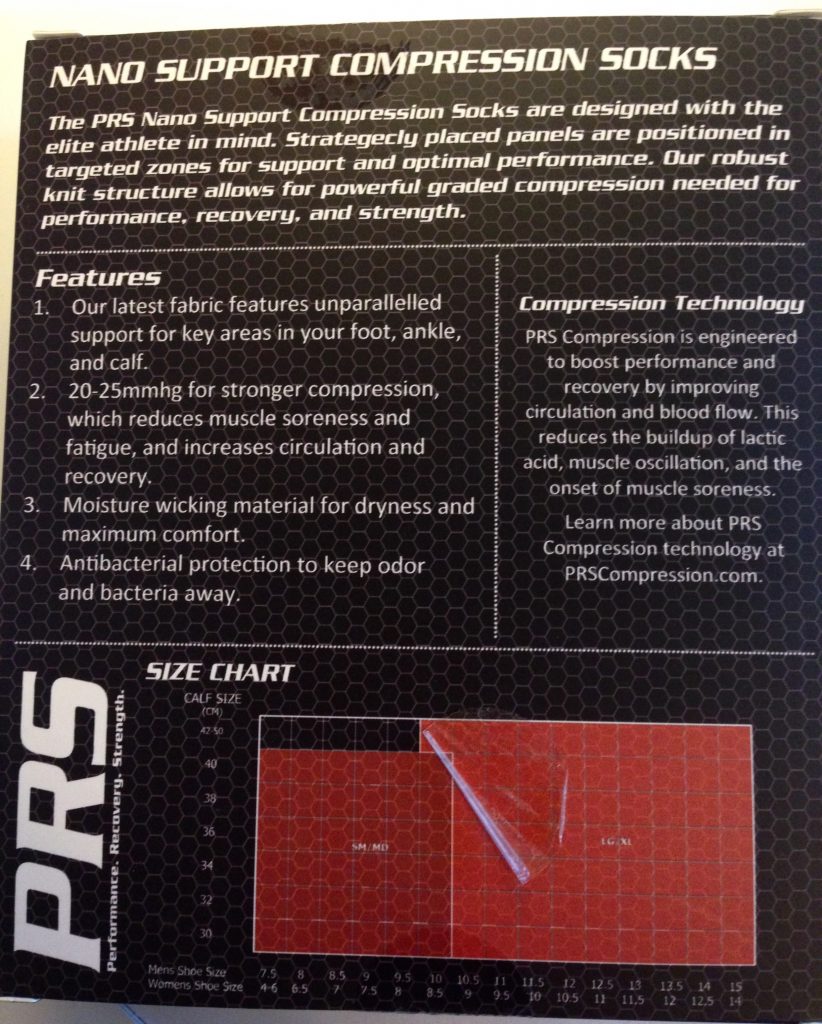 Conclusion
Overall, the PRS compression socks do what they are supposed to do. They increase blood flow, speed up recovery times, and do make your calves feel more refreshed. The one big downside is sizing, and the degree of compression felt. While my calves received the compression they needed for the most part, my ankles and feet didn't feel much because the sock was too big in that area.
Considering price, these compression socks are effective and worth the money. However, I find I am still partial to CEP. Even though they are twice as expensive, they are more comfortable and I feel even more refreshed after wearing them. If PRS can work out the few issues they have, I feel they could one day be an equal contender with brands like CEP.