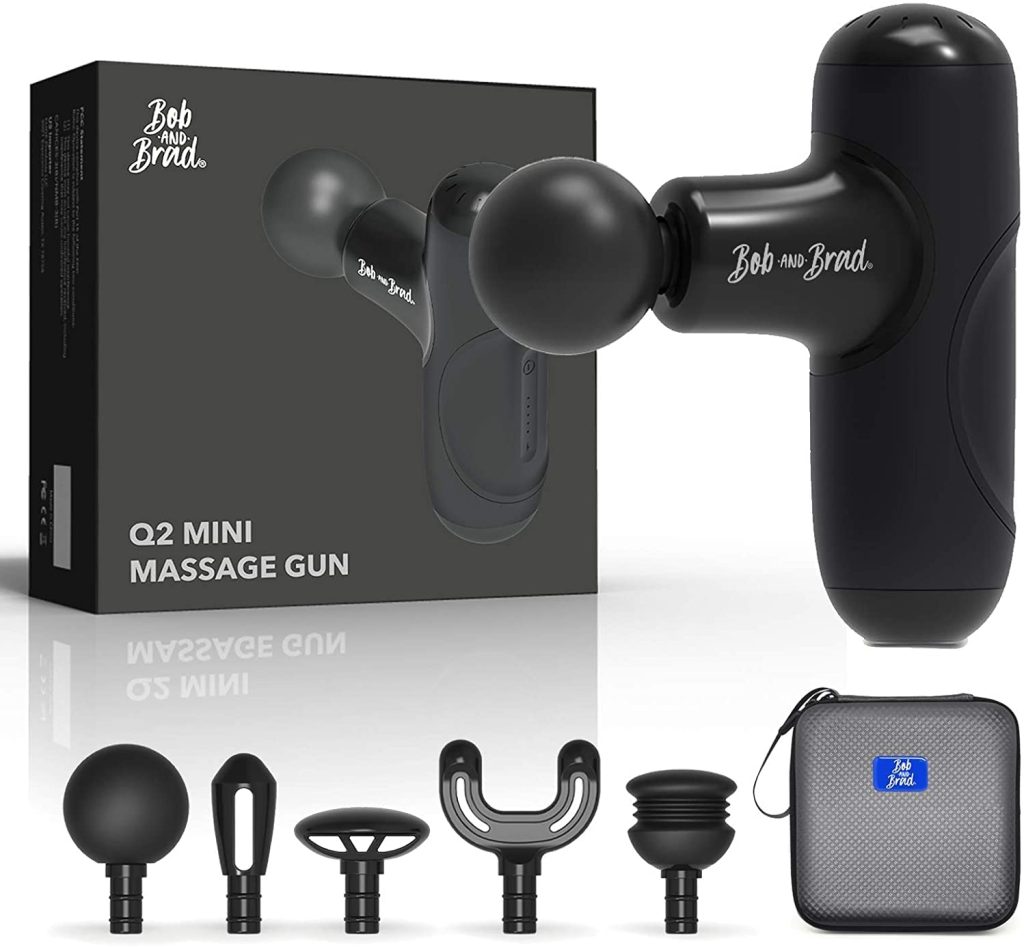 This week we take a moment to review the Bob and Brad Q2 Mini Massage Gun, perfect for on-the-go recovery!
Item: The Bob and Brad Q2 Mini Massage Gun
Price: $89 USD
Manufacturer: Bob and Brad
Purchase: www.BobandBrad.com
Over the past few years we have seen a plethora of motorised massage guns hit the market. After proving to be a huge hit in the CrossFit industry, many cheap versions of these guns became available. And before you knew it, the market was completely saturated with these devices!
However, it has taken until now for a brand to create a "mini" version of these massage guns. One of the main criticisms of guns like the Hyperice Hypervolt Massage Gun and the TimTam Power Massager is that they were just a bit too big and noisy to use everywhere you went. Taking then to the gym to use became just a little annoying. And travelling with one was a real pain due to the size of the guns.
Enter the Bob and Brad Q2 Mini Massage Gun.
According to their website, the Bob and Brad Q2 Mini Massage Gun is:
"Your pocket-sized partner, giving you the highest quality muscle treatment with unparalleled portability. Compact but powerful, Q2 MINI is the most agile massage device that goes wherever you do. Q2 MINI is recommended and developed by the Famous Physical Therapists Bob Schrupp and Brad Heineck. Designed for maximum ergonomic comfort and unparalleled portability; quick relief and relaxation that fits conveniently in your carry-on or backpack."
I got my hands on this mini massage gun a few weeks ago and have used it several times before and after training and as a recovery tool. I have also carried it with me during my recent travels overseas.
Below are my thoughts on the device, and how it compares to some other massage guns on the market.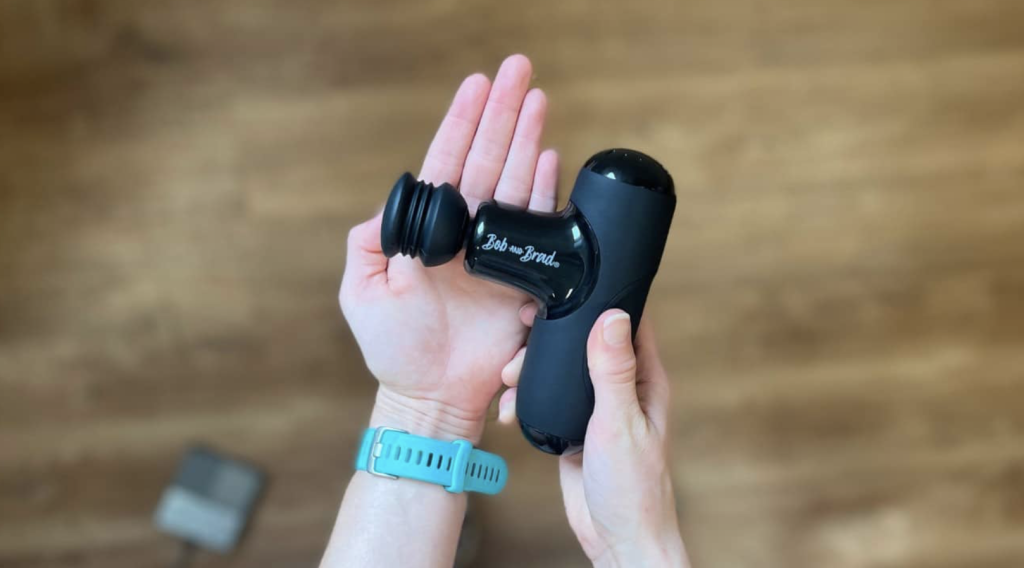 The Good
Size: There is no doubt the main selling point for this massage gun is it's size. As you can see from the image above, the gun is the size of an average human hand. Not only is it much smaller than massage guns like the Hypervolt and Theragun, but it is also lighter. This reduced size makes it so much easier to take to the gym with you, or in your carry-on while flying/travelling. It's even small enough to fit into some clothing pockets if you wish to have it on you everywhere you go.
Effectiveness: Just because it's smaller than other massage guns, does not mean the Bob and Brad Q2 Mini Massage Gun doesn't work just as well. Personally, I found it hard to notice any real difference between the larger guns and smaller ones like this device.
Look and Design: The Bob and Brad Q2 Mini Massage Gun comes in a nice slick and stylish design. It feels nice in the hand while using and certainly does not come across as a cheap massage gun.
Noise: The biggest complaint I had while using the TheraGun and TimTam Massage Gun was the level of noise they produce. Both guns are designed from jigsaw power tools, so naturally they were going to be noisy. However, the Bob and Brad Q2 Mini Massage Gun is significantly quieter. So quiet you can easily use it while watching TV, or even having a conversation with someone.
Speed Settings: Just like most of the other rival massage guns on the market the Bob and Brad Q2 Mini Massage Gun has several speed settings. This makes it great when dealing with different body issues etc. The speed settings can also be adjusted easily at the back of the gun.
Price: The Bob and Brad Q2 Mini Massage Gun is one of the cheapest massage guns on the market. Selling for just $89 USD, it is easily more affordable than many of the major brands like the Hypervolt and TheraGun.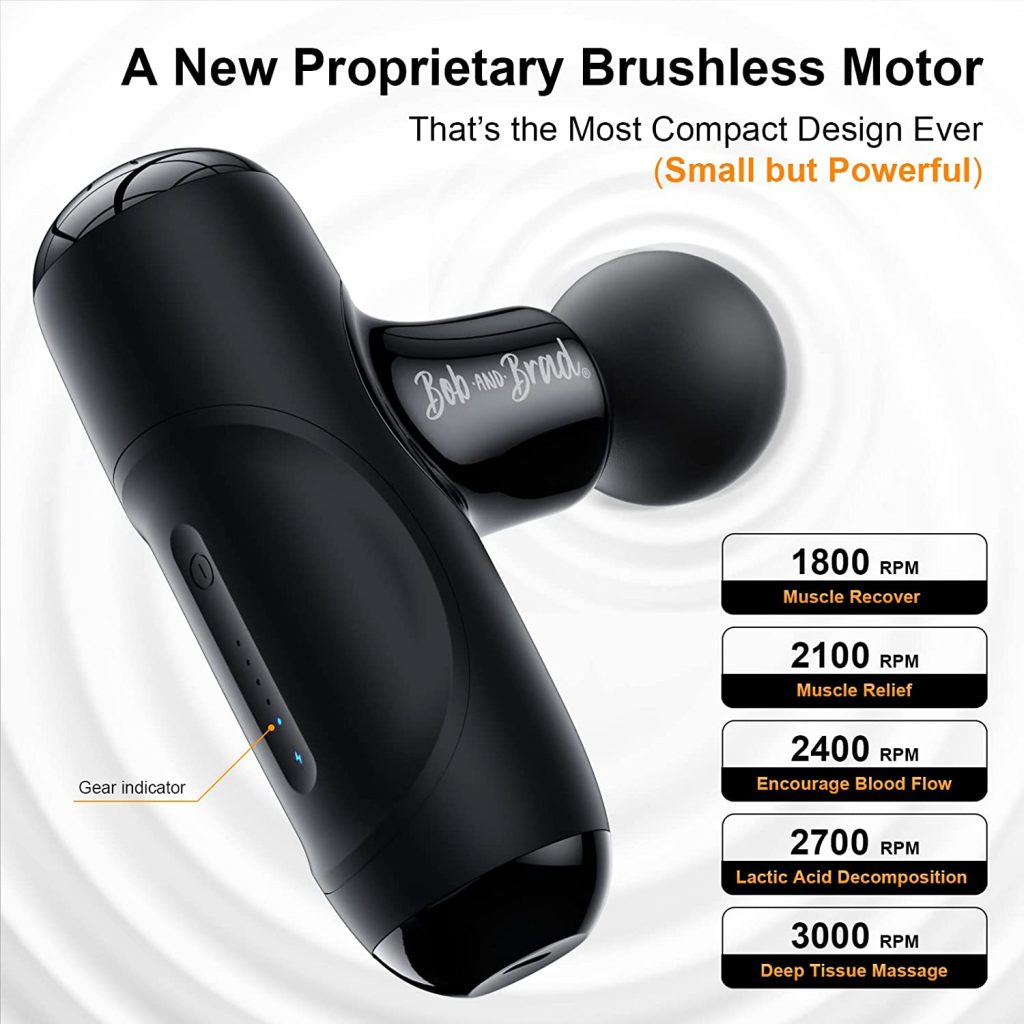 The Bad
Battery Life: While the Bob and Brad Massage Gun does have a decent battery life, it is still a little bit smaller than most of the larger guns. As a result the battery life is not as long as you'll have to charge it more often than many of the better bigger massage guns on the market.
Lack of Colours and Styles: At the time of writing the Bob and Brad Q2 Mini Massage Gun is only available in one style and colour. It'd be great to have a few options for buyers out there in the future.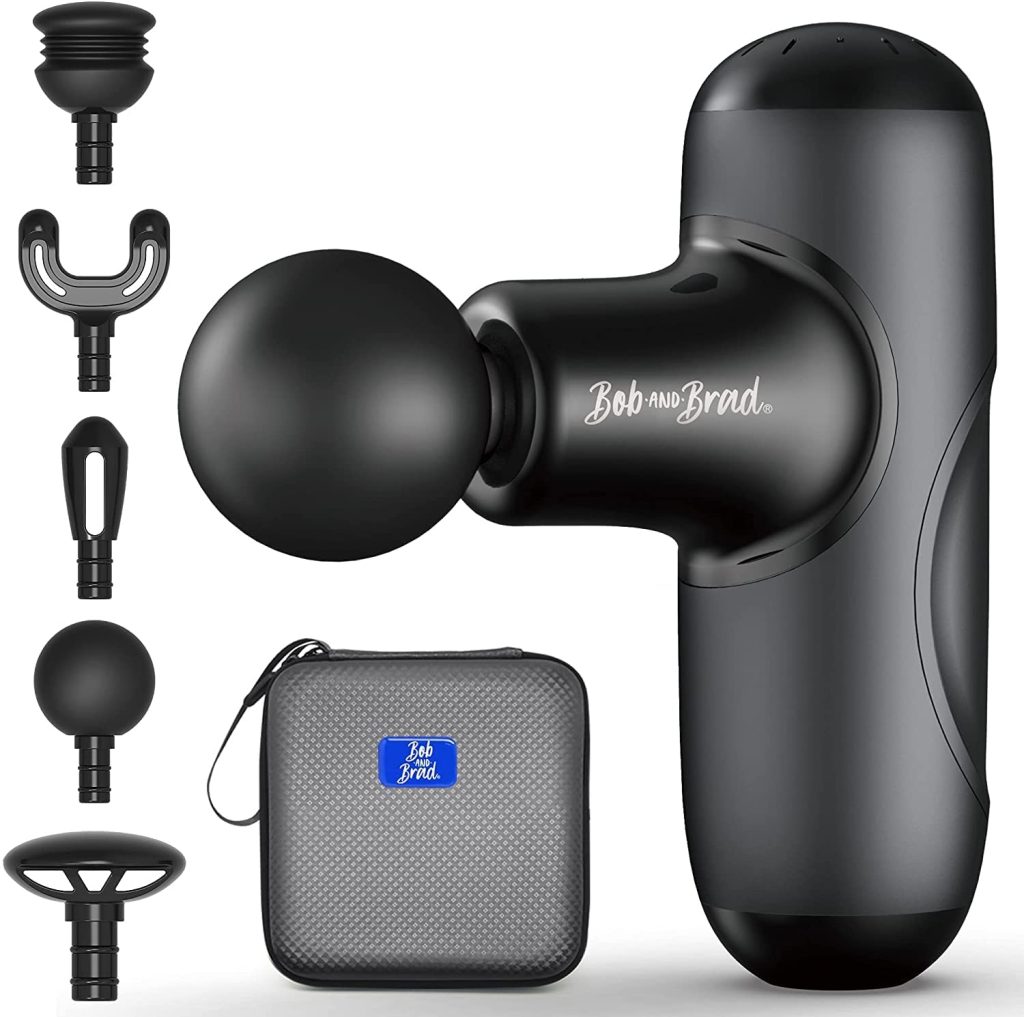 Conclusion
Overall I had a great experience using the Bob and Brad Q2 Mini Massage Gun. For a long time I have been wanting to get my hands open a smaller massage gun. Now I have my chance, I have no complaints!
The gun is small enough for me to take with me travelling and even to work without any real annoyance. And while it is smaller than many larger massage guns on the market, it still works just as well. While it might be slightly loess powerful and have a slightly weaker battery life, I couldn't really notice any real difference.
For anyone looking for a massage gun which is smaller and more compact, than look no further than this one from Bob and Brad.