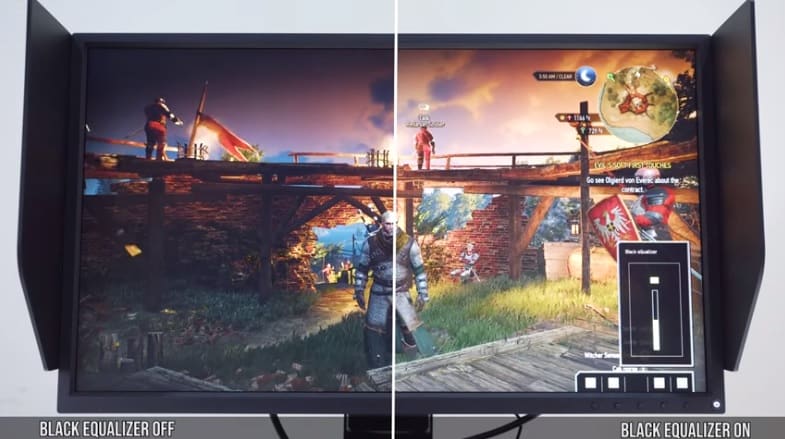 For the past five or so years, BenQ displays have been a mainstay in the professional gaming scene. Any eSports athlete will advise aspiring gamers to put a headset and gaming monitor at the top of their list of purchases. Until the BenQ team was kind enough to offer us a unit for review, we were unable to get our hands on a 240Hz display.
Despite its high price, the BenQ ZOWIE XL2546 Monitor is an excellent piece of technology. You will be surprised by how significantly the XL2546 can enhance your gameplay if you regularly play video games for hours on end.
Previously, we used a reconditioned 144Hz monitor that we cherished as our primary display. Since then, we have been using that used monitor exclusively as our media screen. We have evolved into gamers who enjoy the finest aspects of life thanks to the XL2546. However, that has led to a small 'first-world' issue where we can no longer play games effectively without the need for a 240Hz monitor.
It is impossible to overlook the crispness that the BenQ ZOWIE XL2546 monitor provides. It does not matter if you want to be an esports competitor or a content producer; you can employ this beast in some capacity.
Features
1920 x 1080 resolution
240Hz refresh rate
Esports shield
S-Switch
Advantages:
240Hz
The setup is simple to install
S-Switch Black eQualizer
Disadvantages:
Price range
Menus can be challenging
Design
Our setup looked improved from the moment as we set up the BenQ ZOWIE XL2546 monitor. The backdrop image we had demonstrated that our other monitors' color balancing was wrong because the purple and blue colors did not stand out the way they do on the XL2546.
Since many of you work remotely, you should know this: the monitor shields that BenQ supplied in the box they delivered us with the monitor are useless to us. The competitive play would be the best scenario for the shields.
To avoid reflection, the XL2546 has a matte polymer frame, and it really shows. In Microsoft Word, the stark white background does not reflect off the page and interferes with our typing.
With the flick of a scroll wheel, the accompanying S-Switch may be used to change the monitor's input, browse menu options, and more. We used my Xbox One and PC to play games to evaluate the monitor. We could have avoided using the side buttons by utilizing the S-Switch, but we frequently pushed the wrong button and messed up our settings.
The XL2546 accommodates users who like to utilize a display vertically for coding tasks or reading stream chat. Raising the height and turning the monitor were both really simple. Our desktop was turned around with a few mouse clicks in the settings of our PC. For people who want to follow their YouTube or Twitch discussion, we can definitely see the benefit of this feature, but for us, it would be excessive.
Performance
Visual
Rocket League (by the way, very popular eSports for pro playing and wagering at betting sites in Hungary) was the first game we used to evaluate the XL2546. Our flips felt faster, and our reaction times improved, and we could immediately tell a change in our gameplay. After playing just a few games on the 240Hz BenQ, we compared it to our 144Hz monitor to see if there was any difference. We were able to and had a genuine sense of ascent.
Quality of a Game
BenQ suggested we test Apex Legends as the next game, so we did. We joined the game and selected Bloodhound as our primary Legend. The colors of the map began to stand out as soon as we entered King's Canyon because the sprinklings of green from the trees protruded through the layer of brown from the subsurface dirt.
The little red tint from Bloodhound's ultimate was vivid adequately for us to notice the various hints surrounding our immediate area as the game went on. Previously, we were unable to clearly see the enemy's tracks or the character's rapid breathing as it pulsated across our screen. We were really engrossed.
We felt like our flicks were more accurate because we could keep records of each foe. In reality, we were able to see considerably more clearly in the darkness because of the Black eQualizer feature found in the majority of BenQ products. Under a Pleasant Park home, we were playing Fortnite: Battle Royale and faced an adversary. The XL2546 allowed us to see in the relatively dark room we were in, and it was no match.
Specs
| | |
| --- | --- |
| Size | 24.5 inches |
| Resolution | 1920 x 1080 |
| Refresh Rate | 240Hz |
| Additional Features | Black eQualizer | S-Switch | Display Port, HDMI, DVI and USB 3.0 connectivity ready |
To Sum Up
A $528 investment in a quality gaming monitor, in our opinion, is worthwhile if you spend over four hours per day glued to your monitor playing video games. The BenQ ZOWIE XL2546 will improve your gaming and gameplay experience irrespectively of whether you are a serious gamer or a casual gamer. Although over $500 is a significant purchase, this monitor should last you for many years.