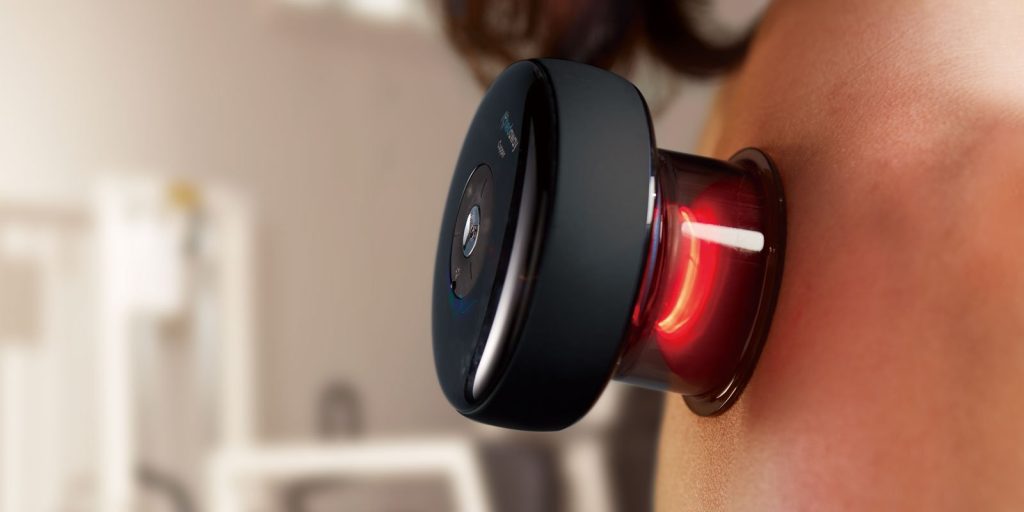 This week, we take a moment to review the smart cupping therapy massager – The Achedaway Cupper.
Item: The Achedaway Cupper
Price: $169 USD for one regular cup
Manufacturer: Achedaway
Website: www.AchedAway.com
We live in a fast paced world which is always looking for new and improved ways to do almost everything. Including cupping therapy! The following review takes a look at the Achedaway Cupper, which is essentially a smart version of the traditional cupping method.
According to the product's website:
"The Achedaway Cupper is a multifunctional dynamic cupping massager, combines dynamic suction, smart massage and red light therapy in one device. It's an incredible recovery tool for pain management and myofascial release, a perfect choice for both professional and home use."
Specs
The Achedaway Cupper specs are as follows:
Weight: .44 lbs/ 200g
Dimensions: 3.7 in x 3.7 in x 2.83 in
Battery Life: 3 hrs
Charging Time: 2.5 hrs
Suction Intensity: -60~0 kPa
Wavelength: 630-670 nm
On face value, the idea of being able to perform your own cupping therapy, while also performing red light therapy, without having to go to a doctors clinic, is a winner. So the team at The Rx Review were instantly drawn to the product.
However, like all things, it's good to put them to the test instead of just judging them on face value. So we got our hands on a review item to see just how effecting the cupping device is, and weather or not we feel it's a product you should purchase.
Here is our review:

The Good
It Works: Cupping therapy involves suctioning the skin at the surface, and in turn, the hope is that the increase in blood flow may help promote the healing process within muscle tissue. As result, it's hope this will bring pain relief. Based on that theory, the Achedaway Cupper works great and delivers what it's meant to. The cups fit on great. They also hold firm and well (never fall off accidentally) and grips tightly to your skin. The device is also reliable and has never had any technical issues or failures during my time using it.
Red Light Therapy Feature: The cupping feature of this product was more than enough to interest me. But add in the extra feature of Red Light Therapy, and the device instantly becomes very attractive. Red light is a good aid in pain and inflammation. It also brings faster results in healing skin and muscle tissue as well as creating more relaxation. Adding it to the cupping device is great move and one that doesn't affect the cupping operation, but does add additional therapy to aid recovery and results.
Convenience: The Achedaway Smart Cupping device allows every day users to self treat their own pain with a small, rechargeable lithium ion battery powered device that generates suction to a plastic cup that grips onto your skin. With five modes and intensity levels ranging from 0 to 60 kPa, the Achedaway allows users to administer classic cupping from the comfort of their own homes.
App Control/Easy to Use: The Achedaway Cupping device also comes with an App you can use to Customize cupping time from 1 second to 12 minutes. And a maximum control of 6 cuppers in the same time. You can also choose between 5 modes, Wake Up, Relaxing, Massage, Professional and Powerful. In addition, you can adjust the red light therapy on/off via the app. The device also has an on/off button built in, as well as a red light control. It makes user control just that added bit easier.
Versatile and Convenient:  The compact size makes the Achedaway Cupper a perfect recovery tool for various areas such as the back, hips, shoulder, calves and hamstrings. It's also so small and light to carry, that it can be taken away on any trip or holiday.
Caters to Many Parts of the Body: The Achedaway Smart Cupping set comes with 3 sizes of cups, perfect for all shapes and sizes of both muscles and users. It only takes a few seconds to replace the cup attachments and meet your body needs.

The Bad
Hard to Turn Off: It's not a major gripe, but the Achedaway Cupper can sometimes be a bit hard to turn off when placed on hard to reach areas of the body. The app itself doesn't seem to have an "off button" (from what I have found). So it means it has to be done manually. This can sometimes be difficult if it's place on your back or in a hard to reach location.
Price: The Achedaway Cupper sells for $249 for just one cup, but at the time of publishing it was selling at the discounted rate of $169. But if you wanted to buy a larger set, it can cost up to $997. Whether that's a good or bad thing depends on how you look at it. If you use the device regularly, then you will definitely get value out of it. And it should save you money that you would spend seeing a practitioner. On the flip side, if you were thinking about adding to your current massage/therapy device collection, this might be a little out of your budget. Especially if it ends up being something you may only use once every rare occasion.
Replacement Parts: The Achedaway Cupper comes with several small parts that could easily be lost. The cups themselves are big and could easily be misplaced. If that does happen, replacing them could be costly. At the time of writing the Achedaway does offer some replacement parts, but not all, from what I could see.
Conclusion
From what we can see, Achedaway is the first company to introduce a smart cupping device that you can use by yourself in the conforms of your own home. And we think it's a great way for anyone to enjoy the benefits of cupping therapy without needing to go see an expert of doctor. If you have a basic knowledge of what you're doing with cupping therapy, then this product is a great way to save you money and allow you to increase your cupping treatment to get better results.