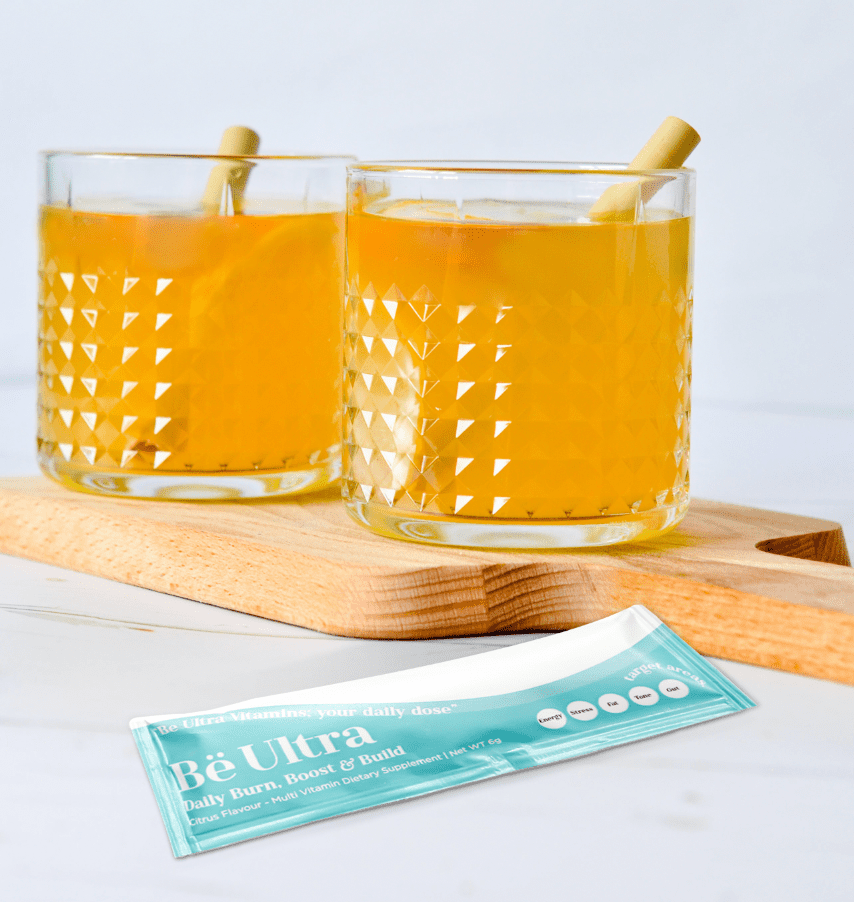 This week we take a moment to review a kombucha inspired multi-vitamin drink called 'Daily Burn Boost & Build (D3B)' From Be Ultra:
Item: Daily Burn, Boost & Build (D3B) 
Price: $109 AUD (28 Sachets / 4 Weeks)
Manufacturer: Be Ultra
Purchase: www.BeUltra.com.au
It's well known that buying vitamins can be a bit of a gamble these days with so many products on the market. Most of which claim to be advanced formulas with many gimmicks and points of differences to make them stick out from the rest.
On face value, 'D3B' by Be Ultra appears to be one of the few who followed a science based approach to their formulation that supports fat metabolism, gut health, energy, stress relief and tone. 
Be Ultra is based in Sydney, Australia with D3B manufactured in Australia. As their name suggests, they are creating performance based food & drink products hence their tag line:
"why be mediocre when you can be ultra"
D3B is a ginger, cinnamon and lemon, flavored multivitamin, amino acid and antioxidant drink. As outlined from the nutritional table below it is free from anything artificial and has only included ingredients with strong scientific evidence to support the metabolic processes outlined in their target areas.  
But rather than just rely on the labels, we decided to put D3B to the test to see if it lives up to its claims. Here are our thoughts on the supplement by Be Ultra and whether we think it's a worthy purchase:
The Good
Ingredients: One of the main selling points for D3B is the ingredient formulation. Be Ultra has chosen to tackle fat metabolism and energy by focusing on various metabolic processes which are needed to deliver these including stress responses and gut health. The driver is that if these two systems are not functioning effectively it results in inefficient fat metabolism and energy production. 
Further to this a key differentiator to other health vitamin powders such as green powders; Be Ultra contains 3 key amino acids; L-Carnitine Tartrate, L-Glutamine, L-Leucine; which all have strong scientific evidence for energy, fat metabolism, gut health and tone; which was missing from other green or fat burning supplements on the market. 
D3B includes only those ingredients that have strong science to contribute to fundamental metabolic processes for; energy, fat metabolism, gut health, tone formation and stress relief; and has not included grimmick ingredients which do not have strong scientific evidence such as wheatgrass & milk thistle.
Nutritional: D3B blend is free from any unwanted additives or fillers and is vegan and diary free drink. The nutritional breakdown provides a low calorie and carborhydate drink with high nutritional value. Each serving (6g) has only 16 kcal and 1.4 grams of carbohydrates (0.3g sugar), with 2.4 grams of protein, 0.1 grams of fat. 
Taste: The other advantage for D3B is the unique flavor palate; ginger, lemon & cinnamon. This is ideal for anyone who wants to add D3B with an existing routine such as their morning juices or breakfast cereals. Personally, I do find the taste is true to its goal and that it tastes similar to a Ginger Kombucha, working well with sparkling water. Other formulas which are either green formulas or milk shake based, tend to have a powdery taste which this doesn't. 
Mix: Another upside the formula mixes in very easily and becomes a refreshing ginger drink very easily. 
Practicality: The sachets are 100% recyclable with soft plastics but make the product very confident to take with you to work or on the move to the gym instead of having to make it up at home. 
The Bad
Price: Be Ultra is priced at the high end of the market. It's only available in a 4 week supply with 28 individual sachets per box for $109 AUD including shipping. When you break down the price, that's roughly $3.80 per daily serving and if you buy a 3 month supply at 10% off it is $3.50.
It is very difficult to compare the product to other fat metabolism or energy products because others do not have amino acids or miss other key gut / stress vitamins and antioxidants. However, if you consider the unique blend and high nutritional value you are better off paying more for something that can clearly outline the science to the formulation, then in comparison to its competitors, which are not clear. 
Conclusion
Overall, I quite enjoyed the Be Ultra, Daily Burn, Boost & Build (D3B) drink.
From a nutritional standpoint, it ticks all the boxes and is also made up of high-quality ingredients, free from any artificial chemicals and fillers. Unlike some other brands on the market, they have taken a true scientific research approach to the ingredient list. 
While it might be more on the high end of the market in regards to cost, it's a tiny price to pay for a higher quality product that will give you better outcomes.
If you're after a decent health food supplement to add to your diet, then Daily Burn Boost & Build (D3B) by Be Ultra is a worthy purchase.
NOTE: Be Ultra are currently giving away free samples of their product for their October Launch. If you'd like to try a free sample for yourself, you can do so by clicking here and adding it to your cart for no cost :).