This week, we take a moment to review the Lululemon Keep On Running Duffel Bag.
Item: Lululemon Keep On Running Duffel Bag
Price: $169 USD
Manufacturer: Lululemon
Purchase: www.Lululemon.com
As a CrossFitter and keen female Yogi, I am always on the lookout for a multi-functional, sports bag that can carry the weight of my athletic life in one compact size. While that doesn't sound like too much to ask, plenty of athletes would agree that decent sports bags are hard to come by.
There are a number of items I like to take to my CrossFit gym everyday, from grips to oly-shoes, long socks (girls you know what I'm talking about), jump ropes, tape and even skin care products. So finding a fitness bag that accommodates all these items is a WOD in itself. That's why I was so excited when I discovered the Lululemon Keep on Running Duffel bag.
Living up to the brand name, this Lululemon bag is thoughtfully designed and carefully created with the everyday athlete in mind. Equipped with plenty of pockets, strong zips, a water-resistant sheen and a separate compartment for sweaty clothes, this bag is a great buy for any CrossFitter or fitness enthusiast.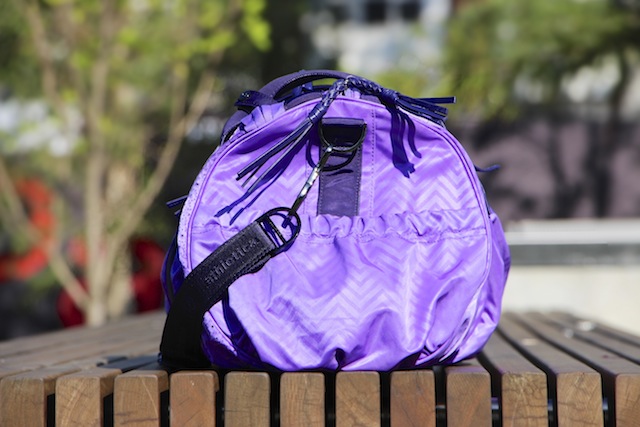 The Good
Size: The Lululemon Keep on Running Duffel Bag doesn't have the over-sized look that many other brands offer. While it's not too big, it's also not too small either. Measuring 20 inches long (or 50.8 cm), 11 inches high and 11 inches wide (or 27.9 cm), I am able to fit all of my favourite CrossFit products into the bag, and the bonus is that it still fits into the pigeon holes at my affiliate. These drawstring gym bags have been tested to hold 50lbs or 22kg, as indicated on Lululemon's website.
Pockets: It's clear the designers of this bag have put a lot of thought into what items people take to the gym. In all there are 16, yes 16 pockets total, meaning all your fitness necessities have a tailor made place. There's one for your phone conveniently located on the outside of the bag, one for your water bottle in the interior, one for a clean towel and even one for the wet towel.
Zippers: These zips are not only easy on the eye, but they are also easy to use. Equipped with long purple-plaited straps they make the task of opening and closing the pockets a breeze, which is great for when your coach announces a WOD and you have to rush to your bag to get some extra tape, grips, gloves, socks or change your shoes. They also add a nice touch to the overall style of the bag.
Straps: Just like the pockets you have a few options when it comes to carrying this bag. You can either opt for the small hand-held straps, which is ideal for carrying across short distances. Or my personal favourite is to sling the bag across one shoulder using the mid-length straps. Alternatively, you can take advantage of the longer, adjustable strap that's connected to the ends of the bag with carabiners. It is a belt-like strap that can be carried across the body, behind the body or even over one shoulder.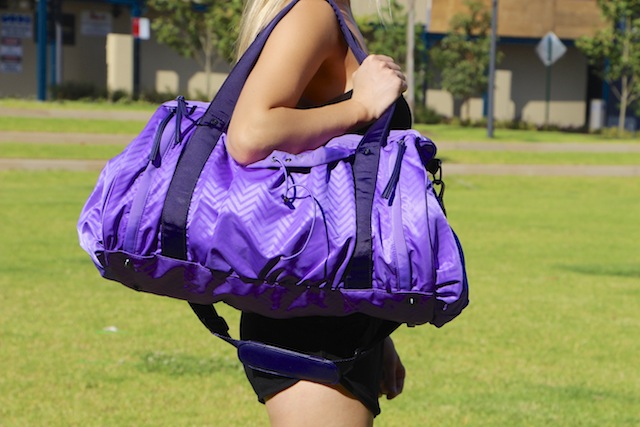 Colour: A girly feature, I'll admit, but I felt it deserved a special mention. My bag is a vibrant shade of violet. Being a colour that is supposed to indicate spiritual fulfillment, I thought it was the perfect fit for both yoga and CrossFit. (It comes in 4 colours total: Power Purple, Black, Split Pea, and Sea Check Printed).
Style: This bag exceeds all preconceived notions of a duffel. From the outside the Lululemon Keep On Running bag looks and feels expensive and oozes style. It is primarily made out of a water-resistant nylon, which gives it a thick, sturdy coat, so you don't have to worry about being delicate. It also has a subtle purple zig-zag print on the front of the bag, which is carried through to the interior in a slate shade. In short, this bag is sure to turn a few heads at your local box.
Interior mesh pockets: For those that like to shower on the go (ie. in the gym) you'll find these pockets a great benefit. They are ideal for things like small, travel-size shampoo bottles, deodorant, hair gels, sprays, waxes and combs. Personally, I use the mesh pocketing system to house my favourite hand repair cream, CrossFixe. These pockets are so impressive because they allow users to separate personal and hygienic products from training and fitness items.
Removable sweaty laundry bag: One of the best features of this Lululemon duffel is the hidden removable laundry bag. Being the size of a small hand towel, that is 13.4 inches (or 34 cm) x 9.8 inches (or 25 cm), the laundry bag fits easily into any of the chosen compartments. It has a drawstring closing system that locks in moisture and the bag itself contains air-pockets allowing sweaty items to breathe. Essentially, it means that all the other items inside the bag won't be affected by your sweaty clothes.
The Bad
Pockets: While it's great to have a number of pockets to choose from, it can sometimes be confusing. As I mentioned above there are 16 pockets, so I can't begin to tell you how many times I have had to search through all 16 compartments, two or three times to find my keys or something else.
Price: While Lululemon is a top quality brand with highly sought after products, this bag is still a little expensive retailing at $169 AUD. But if you're like me and have a tendency to squeeze your gym gear into an ill-fitting bag at the risk of losing everything, the price is a worthwhile investment. And I have to admit it has become one of my favourite bags.
Drawstring exterior pocket: One thing worth noting is that the drawstring strap, which closes the front pocket, literally snapped the first time I pulled it. While the drawstring is only a minor feature, it is a little frustrating when something new breaks on first use. I've spoken to a girlfriend who purchased this bag herself and it is fine on her bag. So it is likely this was just one of those one off random cases.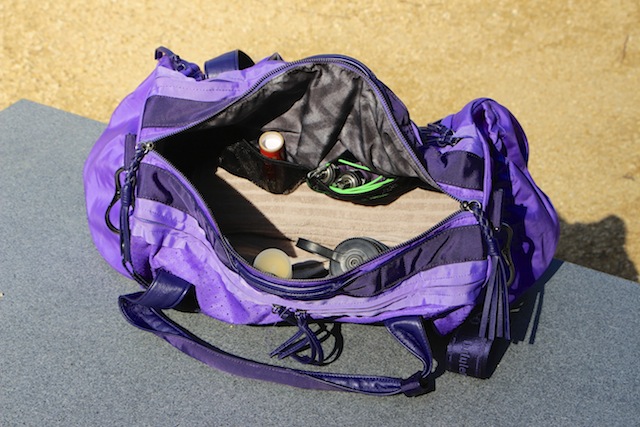 Conclusion
The Lululemon Keep on Running Duffel boasts it all; style, function and versatility. It is perfect for the high maintenance CrossFitter and allround exercise enthusiast.
As the name indicates it's a bag built for those constantly on the go. It is especially handy for athletes who do the gym to work trek, or vice versa, because it will carry just about anything. The only limit is your imagination.
One thing I will say is that this bag should come with a warning that reads. Try to leave the weights at the gym and use the pockets wisely.
With all things considered, you won't be disappointed with the endless options offered inside the depths of this versatile sports bag. So far it is the best sports bag I have come across. And I would have no hesitation in recommending it to other functional fitness athletes.