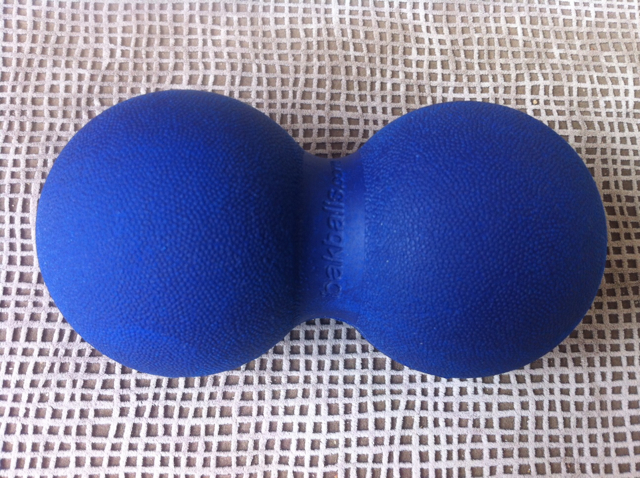 This week, we take a moment to review the unique back massaging product called Bakballs.
Item: Bakballs
Price: $29
Manufacturer: Bakballs
Purchase: www.Bakballs.com
You can put this fact in the bank: At some point in time you're probably going to experience some form of back pain.
As we all know back pain can come in an infinite number of ways. Whether it's from poor posture, sitting behind the wheel of a car or desk for too long, simply lack of mobility work, or it is due to some sport related injury. Yet when it does strike, most of us know dealing with it just plain sucks!
So when I come across effective products that can help reduce back pain, I like to test them and is why I've decided to review Bakballs!
Bakballs is a unique product designed for self-treatment of back pain and to improve spinal mobility. Basically, it's a small device that can be used on your back to relieve pain and stiffness.
I'm sure we have all seen lacrosse balls, tennis balls or other things taped together at your CrossFit affiliate, that are in effect trying to become what the Bakball is– simply a mobility device to help you mobilize your back.
The product was designed and developed by an Olympic physiotherapist, Mark Alexander, and has been on the market for almost a decade now.

The Good
Easy to Use: You don't have the be a physiotherapist or a doctor to use Bakballs. All you need to do is place it between your shoulder blades or back, and apply pressure by lying down or leaning against a seat or wall. Bakballs are small, light, portable, and come with easy to follow instructions.
Effective: I've used plenty of 'back pain' devices over the past few years, and while many of them have been great, some have been far from effective. Bakballs however are very effective, and after using the product for a handful of minutes, I did notice a difference in my back.
Used in Bed: One of the best features of Bakballs is that you can used it while in bed! So many times after a long day, I get into bed only to realize that I have forgotten to do my back stretches and mobility work. With Bakballs, you can slip the product under your back and lie down for a few minutes, moving the product to desired areas as you get ready for sleep.
Professionally Approved: Bakballs is an award winning product and has also been endorsed by the Australian Physiotherapy Association, so you know you are not using a dodgy product.
Plenty of Other Uses: As well as using Bakballs on your back and shoulders, the device is quite good for massaging the balls of your feet, and for relieving tightness in the calves, glutes and hamstrings.
The Bad
Temporary Relief: While the Bakballs were good for relieving pain and tension in my back, it didn't manage to prevent the pain from coming back. For me, the product is effective in treating current issues with my lower back, but I sometime found using a larger foam roller was more effective. That said, for really target tightness on either side of my spine, Bakballs did do the job.
Price: Bakballs sell for around $30US, and can be bought from a variety of websites and stores. However, I feel it's probably a little bit overpriced for what it is. Essentially, a Bakball is two balls moulded together to provide pain relief on both sides of your spine. I have seen a number of homemade alternatives at some local boxes and those are just as effective. If you have the money, the Bakball is a great purchase, but if you are on a bit of a budget, you could make a decent equivalent using some lacrosse balls or even tennis balls.
One Size: Every human body is shaped differently. And most of the people I used to test the Bakballs on found this size worked fine. Although there were several who found the ball itself was either a little too big or small, meaning they were simply unable to get the advertised benefit. For the majority of people this standard size will work, although there will be some that run into this issue.
Conclusion
In my short time using Bakballs, I have had a positive experience with the product. The device is great for relieving pain and tightness in my lower back, and it is extremely easy to use, much like a foam roller.
While the product hasn't cured my lower back issues, it has definitely reduced the amount of pain in my back, and increased mobility.
The Bakball is an effective tool for anyone with back pain, and can be used almost anywhere you go.
For people with serious back issues, Bakballs probably won't help you overcome your problems, but it should help relieve the amount of pain and stiffness you are experiencing.
For CrossFitters and other fitness lovers, the device is a great addition to keep in your gym bag, and another effective way to address muscle tightness and pain in your back and shoulders.
You can find out more about Bakballs on their website, or by watching the video below (enjoy the innuendo):