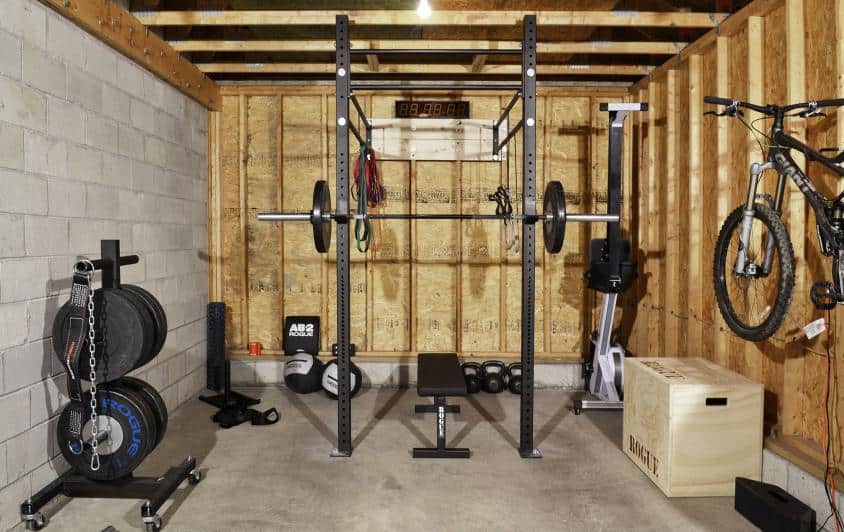 The Covid pandemic caught us all unaware in the early days of 2020. It has been over a year since the disease started spreading, yet it shows no signs of stopping. For the better part of a year, most of us have been restricted to the confines of our homes. The pandemic has not only disrupted our professional lives but our personal lives as well. Needless to say, living through repeated lockdowns has affected our health and fitness. With gyms closing down to enforce social distancing and mitigate the spread of the disease, and movement in public spaces being restricted due to curfews, working out has been harder than ever. The lack of access to a good gymnasium, however, should not affect your exercise routine.
Building a home gym can be a great way of working up a sweat while ensuring social distancing. Furthermore, a home gym also helps you save time. In addition to saving time by not having to commute to and from to the gym, you also will never have to wait for a machine to get free or worry about spending too much time on one. While it may be reasonable to assume that building a home gym would require a significant investment, you will be pleasantly surprised to know that you won't have to dig too deep into your pockets. To help you out, we have created a step-by-step guide to help you in creating a budget-friendly home gym.
Find A Dedicated Space
Converting half of your living room into a makeshift gym may seem like an easy way out, however, it is not a good idea. It is always better to find a dedicated space to set up your home gym. If you really want to enjoy your workouts, you need a space that is more than just machines put together. You would like the place to be organized, have a mirror to check your form, and at the very least, a stereo system to set the mood. You definitely don't want your dumbbells lying around your bedroom floor or your bench serving as a makeshift couch. If you have an empty garage or a spare room, it would be an ideal place to set up a home gym.
Source The Right Equipment
A lot of people tend to buy gym equipment while starting out, but lose the drive soon after. It is surprisingly easy to find barely used and as good as new pre-owned gym equipment at a low price. While building a home gym, most of your expenses would come from buying the right equipment. By opting for pre-owned equipment, you can save a ton of money. However, do make sure that the equipment that you purchase is in a good condition. When it comes to gym equipment, compromising on quality is not an option. You may even want to go the custom gym equipment route to assure you get just the right fit for your needs.
The biggest constraints that you would face while setting up your home gym would be cost and space. One way of managing both of them is to invest in multipurpose equipment that can let you exercise multiple muscle groups while keeping the cost and space requirements to a minimum. These include resistance bands, kettlebells, functional trainers, medicine balls, yoga mats, adjustable dumbbells, and functional trainers. In addition to these, you would all need some equipment to help you with cardio.
A lot of people tend to invest in treadmills and ergometers. However, if you have limited resources, both financial and real estate, a jumping rope will serve you just a well as a treadmill. Granted you won't have the luxury of measuring the number of calories you burn or monitor your heart rate, but you will get a workout that is just as effective. Furthermore, you could easily invest in a smartwatch or a fitness band that will do everything an ergometer does and more.
Optimize The Storage Space
Optimizing the storage space is an aspect that is often overlooked while building a home gym. You want to have a storage system that occupies minimum space, yet can store most of the smaller equipment and keep it out of the way. Using wall-mounted racks would help you maximize your floor space, but at the same time, the kind of equipment you can store would be limited due to the weight. A good solution would be to have a storage system that makes use of a wall-mounted rack to store the lighter equipment and another rack that goes in a corner to store the heavier equipment.
Provide Proper Ventilation
A good and fresh supply of air is extremely important while working out. You cannot set up a home gym in a room or space that does not have sufficient ventilation. Given that the room that you dedicate as a home gym would most likely be the least used, its air quality will be worse compared to the other rooms in your house. Add to that the effect of you sweating in that room day in and out during your workouts. If you plan to work out regularly in your home gym, keeping it well ventilated is essential, not just for hygiene but also for your health. Not only will it be unhealthy to work out in a completely closed environment, but at the same time, it will be extremely uncomfortable as well.
A poorly ventilated room would have a higher level of humidity making it difficult to breathe, in addition to dust and the formation of mold, which can be detrimental to your health. There are various things you can do to improve the air quality in your home gym. These include having windows and doors, adding fans, using air purifiers and air conditioners, and using indoor plants.
Not having access to a gymnasium is no reason to not take care of your health. While most of the gyms may have shut down due to the Covid pandemic and the option of exercising outdoors may be limited, you can easily make sure that you remain fit and healthy by building a home gym. Contrary to reason, building a home gym can be quite cost-effective. However, to make the most of your investment you will have to put in some effort into selecting and purchasing the right equipment.