[wzslider]
The following is an article I wrote for CrossFit HQ that was published on the Games site on 3.21.12.
Sydney, Australia – As the crowd rose to its feet and roared, he raced down the field, ball in hand, side-stepping one opponent, then another, and another until there was nothing but grass between him and the goal. Like the lead dancer in full-contact ballet, it was poetry in motion. Until a crushing, blind-side tackle slammed him to the ground with a sickening crunch. From bitter experience, he knew that sound could only mean one thing: another shoulder reconstruction. As the pain coursed through his body and he hobbled off the field, two questions hounded him. Was this the end of his rugby career? What was he going to do with the rest of his life?
At 28, Dave Buckley had been playing the sport he loved for almost two decades. After moving up fast through the ranks of the Balmain Tigers as a teenager, he signed with a top Australian Rugby League team, the South Sydney Rabbitohs. When offered another contract to play professionally in England for three years, he jumped on a plane and began his new life as a jet-setting international athlete.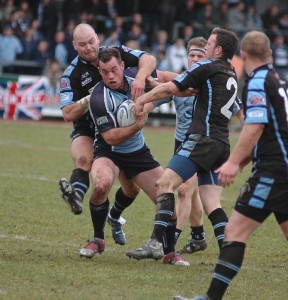 By the time that contract was up, fate again intervened. Buckley met the second love of his life, his fiancé Gemma. They decided to move back to Australia to finish off his playing career.
Yet fate works its mysteries, not all of them kind. Three games into his return to Australia, that sickening sound meant a shoulder injury that would change his life. His game-day hunch was correct. He was soon admitted to hospital for what would become his third shoulder reconstruction, ending a brilliant sporting career that had not yet reached its peak.
Over the next six months, his recovery would entail some intensive rehabilitation and a lot of soul searching. Fortunately, his years as a star athlete meant he had had access to some of the best strength and conditioning coaches in Australia and England. Alongside the hours of running, tackling drills and tape to watch, there had been endless hours in the weight room. It was there he got an early exposure to some of the Olympic lifts that would later open the door to his new profession as a personal trainer.
While spending time recovering from his shoulder surgery, he found himself working as a trainer at a local gym. One day, a fellow trainer approached him with a wry smile on his face. "We used to have a day every week where one of the trainers would come in and train the others," his workmate said. Very quickly, Buckley could sense something was different, very different.
Only minutes into the workout, he was already gasping for air. After training full time for so many years, he was shocked to discover how this simple workout had impacted his body. "I can remember being sore for three or four days afterwards," he recalls. "I was in so much pain I asked the trainer what it was. He told me CrossFit."
Curious, Buckley logged on to CrossFit.com where a late-night rendezvous introduced him to the third love of his life. "I checked it out online. I saw all the workouts, gave them a try and I fell in love with it."
As fate would have it when one door closes, a roll-up door opens. With his rugby career behind him, Buckley knew CrossFit was what he wanted to do. Within 12 months of sustaining that shoulder injury, he had become a professional CrossFit trainer, making it to the to the Australian Regional competition for 2010 where he scored a solid 22nd place. That August, he and his partner Gemma opened the doors to their new training facility, Inner West CrossFit.
Since opening his own box, Buckley went onto qualify for his second Australia Regional competition in 2011. But the daily grind of running his box and training himself was evident when he placed 24th, falling two places down from his 22nd place finish in 2010.
Buckley says he believes owning a CrossFit affiliate complicates finding the right competitive environment for his own training. Simply put, when you're coaching, you can't be participating. "The hardest part I found having my own box is not being able to train in a group atmosphere. When I first started CrossFit, I was training at an affiliate and you are training with 5 to 15 other people. That is one of the great aspects of CrossFit. When you're running your own affiliate, a lot of the time your training solo, which is tough. It is so much more mentally draining to push yourself to the edge when no one else is around."
In the 18 months since he opened his own box, Inner West CrossFit has, like many affiliates, experienced the kind of growth CrossFit gyms around the world know so well. From 15 members at launch in 2010, he has taken the business to well over 100 members today. The business is now successful enough that he has been able to hire some much-needed trainers. To correct the problem that slowed his preparation for the 2011 CrossFit Games, this season he has been able focus on his own training.
Having the time to train and focus for this season has meant he was also able to reflect on his last two appearances at Regionals. He now admits he went into those events underprepared and with a variety of weaknesses. In 2010, "I literally got my first muscle-up a week before the event. So in the back of my mind I was just hoping that they were not in the competition, but they were," he says. "It was the last workout and surprisingly I ended up getting 12 muscle-ups, which was probably my worst result on the Leaderboard, but the best result in the sense of how much I had improved."
One year later, and after qualifying for his second Regionals a similar situation occurred. "When I saw it was a 1 kilometer run, 30-handstnad push-ups and a 1 kilometer row, I was absolutely dreading it. Handstands push-ups are not an area I'm really good at."
For Buckley, seeing this workout had a sense of déjà vu. Much like the muscle-ups in 2010 he had "only learnt how to kip with the handstand a few weeks before the Regionals. It wasn't my best result, but in the end I was happy with how far I had come."
To combat some of these issues and in the lead up to this season's Games, he decided the best approach was to hire a well-known CrossFit strength and conditioning coach from the United States. "I needed someone with an unbiased view to do my programming for me," he says. "I really had to take the thinking side of it out and do what is written down. Before I owned my own affiliate I enjoyed the fact I could just do the workout that was on the board and didn't have to think."
And it is a method that seems to be working for him. "Although I'm not training in a group, having someone program for me is refreshing and stops me worrying about it."
With the guidance of a new strength and conditioning coach, his training has now taken on a more structured regime. He now trains Monday, Tuesday, Friday and Saturday in which two of those day are multiple sessions. "On those days, the mornings are usually a focus on Olympic lifts. That is usually done in about 45 minutes where I work in snatch, clean and jerk and a variation of the squat."
When he comes back for his evening workout, "I usually start with a skill set like pistols, handstands or work on a variety techniques that I know I now need to address. After that I move onto a short met-con and occasionally will do two of them if they are under 10 minutes."
After scoring 111 burpees in workout 12.1 and 74 snatches in 12.2, and a solid 356 reps on 12.3's triplet Dave was optimistic about his chances of qualifying for a third consecutive time to the Australia Regional. "I'm just looking forward to what comes up next."
Update: Unfortunately for Dave during a morning Olympic weight lifting session just prior to 12.4 he suffered a broken his wrist while attempting a heavy clean and jerk. Despite this he waited two days for the swelling to go down before attempting workout 12.4. He managed to complete the 150 wall balls, the 90 double-unders then attempted the muscle-ups but could not hold the false grip. Once he completed the workout drove himself to the hospital where they placed a cast on his arm. Impressive stuff if you ask me.