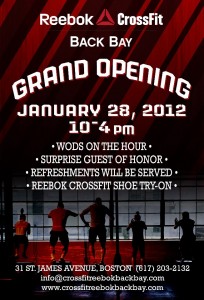 Reebok continues to strengthen its grip on the sport of CrossFit, opening the very first Reebok CrossFit fitness facility and retail kiosk in Boston today.
The box will be located at 31 Saint James Avenue in the heart of the Back Bay and, as expected, will be decked out with some of the finest equipment and facilities.
They will be hosting their Grand Opening this Saturday from 10-4 pm, so if your in the area and in search for box to train at this may be the opportunity to check it out and find a new home.
So far, the leading sports brand has partnered along side a few CrossFit box across the world and plans to open more Reebok CrossFit branded boxes by the end of the year.
With the global dominance Reebok is having on the sport, there are fears CrossFit may eventually be commercially dominated, much like the 'Globo' gyms we see today. It's hard to predict what will come of the future, but I think for now we can only appreciate the commercial sponsorship Reebock is giving the sport.
If you would like more info on differentiating between Reebok CrossFit gyms and other boxes, there is a good article on the matter [here.]