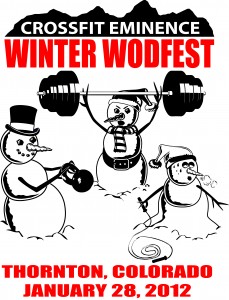 Thinking of what to do this weekend? Happen to live or be in the Denver, Colorado area? Then we have great news for you because this Saturday the 28th of January, Lindsey Marcelli, owner and head trainer of CrossFit Eminence, will be kicking off the inaugural Winter WODFest CrossFit competition.
The event will take place at the home of CrossFit Eminence (864 E. 79th Ave Thornton, Colorado 80229) and will showcase 97 athletes, competing in 3 workouts with an added skill component.
As Lindsey says, "the events, while staying true to the CrossFit methodology, will offer a unique approach to physical activity and cold weather conditions. One portion of this event may be outside; snow, rain, or shine. It will be a true testament of fitness and mental willpower."
The days opening address will take place Saturday morning at 7:30am with heat one commencing at 8:00am. Workouts will be running all throughout the day with the award ceremony scheduled for around 5:30pm.
Athlete registration was a huge success and has already sold out, with some 40 people still on the waiting list. However, as Lindsey notes there will still be "some amazing prizes, vendors, and fun planned for the entire community."
Considering the event is also the last major CrossFit competition in Colorado before the CrossFit Games Open begins, it will be fantastic opportunity to either check out some of your competition or just get involved with the local CrossFit Community.
So if you're free this weekend make sure you make your way down to CrossFit Eminence as Linsey would love to have you come down.
For more information you can check out there website at: CrossFit Eminence