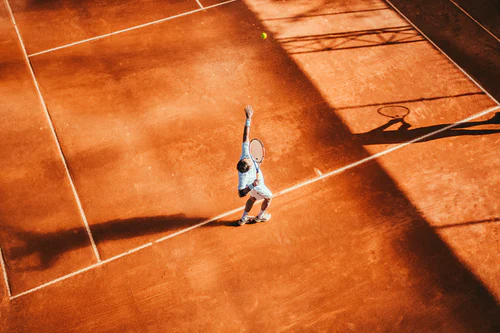 The movements of your feet are very unique when you are playing tennis. You need to be able to sprint, forwards and backward, you have to be able to suddenly change direction from left to right, and sometimes you have to be able to slide into position. All of these different movements put a lot of stress on your feet and ankles. The best way to make this easier and more comfortable on your feet is to get good tennis shoes. Some people argue that getting proper tennis shoes is almost as important as having a good racket. This article aims to help you easily find great shoes for playing tennis.
Choose Your Main Surface
Tennis is one of few sports where players may play on multiple different types of surfaces. The most common court you will find for your average player would be a hard court, but some countries have a lot of clay courts and obviously, there are also grass courts too. Each surface is different under your feet and therefore would require a different type of shoe. As mentioned on this website, most shoes will specify the surface they are designed for.
This allows you to cut the options down to only those that apply. By doing this, you have already made it much easier to find a great shoe for playing tennis in. Some shoes will claim to be all-surface shoes and the higher-end ones definitely will do the job across different courts. However, if you know that you are only going to play on clay courts, for instance, you would probably be better off getting a pair designed specifically for that rather than hedging your bets on an all-rounder.
Focus On The Outsole
The outsole of a tennis shoe is the component that sets them apart from other trainers. Outsoles are the bits that sit on the outside of your shoe directly under your foot. The reason why these parts are so important is that it is where all of your grips comes from and the majority of your cushioning too. Grip and cushioning are both vital elements in a tennis shoe. If you don't have a good grip then you won't be able to suddenly run to the other side of the court to make that return.
Equally, if you don't have good cushioning then the impact of your movements is going to really hurt your feet. The outsole is also one of the most expensive parts of a shoe and worth paying a little extra for. Observe how they feel on your feet and also check the description of the shoe to see if they make a specific point of mentioning their outsole design. Making sure you get a shoe that has a really good outsole is going to be one of the best ways to find a great pair of tennis shoes. There are also a heap of functional fitness shoes you can find on sites like thecrossfitshoes.com that will be great for sports like tennis.
Try A Size Up Or Size Down
The fit of a tennis shoe is very much up to your personal preference. Some people like to feel like their shoes are just a natural extension of their feet and others like to have a bit more wiggle room. When you go into a shop to try on the shoes (which I recommend as it's very hard to know online) make sure to try a couple of sizes and see what feels best for you. Too tight or too big will only cause you problems and possibly even cause you some injury. By trying on a few sizes and a few different pairs, you should be able to find that goldilocks fit that just feels right. Spending a bit of time with some different-sized shoes, to make sure you've got exactly the right fit is an easy way to find yourself a great pair of tennis shoes.
Comfort Comes From The Midsole
As much as the outsole of a tennis shoe is important, so is the midsole. The midsole is as you might have guessed, a part that makes up the middle of the shoe, but it is on the inside. It is similar to an insole but specifically is to do with arch support. The arch of your foot is the part on the inside of your foot that isn't flat to the ground. People have arches of different heights and need varying amounts of support. Due to the way you move your feet around whilst playing tennis, your arches can take on a lot of stress.
By finding a shoe that has a great midsole and therefore great arch support is the best way to alleviate this. Take a note of how your arches feel and try doing a few hard steps to see if your feet feel okay with it or if they need more support.
Try A Shock Absorbing Insole
Okay, so you've found a pair of shoes that are designed for the surface you play on, they're comfortable and they fit great. But, you're finding your feet still feel a little bit sore from all the impact pressure you put on them. Not to worry, there are some great products to remedy this, in particular, shock-absorbing insoles. These insoles are designed for people who are hard on their feet and tend to do a lot of heavy steps. A pair of these can really elevate your trainers to a new level of comfort. Trying out a set of these with your tennis shoes is a great hack for getting an extra good pair of tennis shoes.
What An Ace!
Tennis is a really fun sport and a great way of getting exercise. However, tennis is also pretty brutal on your feet, so you need to have a decent pair of tennis shoes to support you. With so many brands and types to choose from it can be hard to figure out which ones would be right for you. Hopefully, by following the advice in this article you should be able to easily find a great pair of tennis shoes.