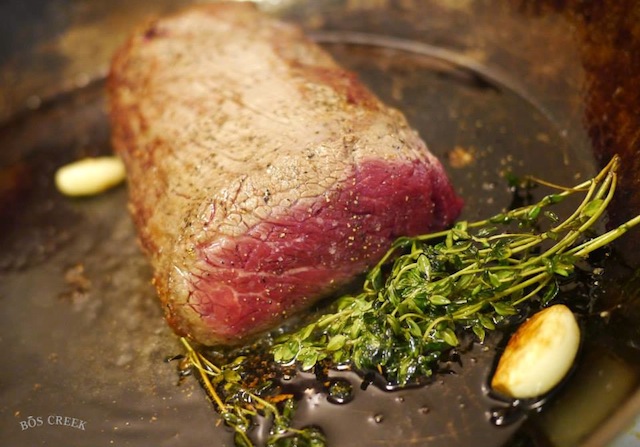 Beef Carpaccio with Deep Fried Capers
Equipment Required:
1. Spatula or Tongs to turn steak (generally Spatula is preferred as pressing too hard with tongs will squeeze the juices out of the meat)
2. Blue Steel or Cast-Iron pan
3. Paper Towels
4. Cutting Board
5. Very sharp Knife
Ingredients:
For Beef:
1. Diamond Crystal Kosher Salt
2. Freshly Cracked Black pepper
3. 3 cloves Garlic
4. Grapeseed Oil
5. 2 sprigs thyme
6. 1 or 2 Bos Creek filet mignons
For Salad:
1. Parmigiana Reggiano
2. Nonpareil Capers
3. Grapeseed Oil for frying
4. Juice from 2 Lemons
5. Extra Virgin Olive Oil
6. Diamond Crystal Kosher Salt
7. Freshly Cracked Black Pepper
8. Arugula
9. Maldon Salt
Directions:
For Steak:
1. Bring steak to room temperature by taking it out of the refrigerator for at least 15 minutes.
2. Salt and pepper 1 to 2 Bos Creek Filet Mignons depending on how large your crowd is. Crack the pepper fresh so you can taste some of the heat from the pepper.
3. Set pan to Medium-high heat and pour 2 tbsp of grapeseed oil. Let oil heat up and ripple but not smoke. We're going to sear the outside of the steak only and keep the inside rare. Place steak in oil Sear on Medium high (not super high for grass-fed) with 3 clove of garlic and thyme. Steak should have the tell-tale "sizzle" sound when it hits the oil.
4. Just color the sides lightly brown (as pictured) and do on all sides of the steak quickly.
5. Let it rest and cool down in refrigerator or quickly in the freezer if using a meat slicer.
For the Salad:
1. Mix juice from two lemons and slowly slowly whisk in olive oil then whisk more rapidly until the dressing is a bit viscous. This is a basic acidic dressing to go with hearty arugula that can stand up to the acid. The dressing should be lemony but not sharply acidic.
2. Salt and pepper the dressing and whisk again.
3. In a fryer or wok, heat up enough grapeseed oil to fry some nonpareil capers. Deep fry some nonpareil capers in enough Grapeseed oil until golden brown/green and dry on paper towels or a very fine mesh rack.
4. Take a few handfuls of arugula and place in a salad mixing bowl. Lightly season the salad, then pour some of the dressing around the salad and start mixing the leaves from the inside out to incorporate the dressing evenly.
To Finish:
1. Cut filet mignon thinly and arrange on plate. (To get a more circular cut, roll meat in plastic wrap like a tootsie roll wrapper, then spin it forward until the meat compresses and gets shorter and fatter).
2. Season with Maldon Salt and cracked pepper.
3. Place nice heaping handfuls of lemon-dressed salad, shave parmigiana reggiano on top of salad and add crispy fried capers on top, add a squeeze of lemon and drizzle good olive oil around the plate.