This week we take a moment to review the very popular and Paleo friendly Grass-Fed Paleo Stix's from Steve's PaleoGoods. 
Item: Steve's Grass-Fed Paleo Stix
Price: $5.50 for a pack of four
Retailer: Steve's PaleoGoods
Purchase: http://www.stevespaleogoods.com/
Over the past few years, Steve's PaleoGoods has become one of the most well-recognized and popular snack brands within the CrossFit community. In addition to creating paleo-friendly snacks, Steve's PaleoGoods have the reputation of not only tasting good, but coming with a side of good, as 15% of proceeds from sales of Steve's PaleoGoods go to Steve's Club, a non-profit that brings fitness, nutrition guidance and mentorship to at-risk youth.
One of the most popular products offered are PaleoStix, the paleo alternative to Slim Jims made popular by The Macho Man Randy Savage, gas stations, and convenience stores worldwide. PaleoStix are priced at a premium compared to conventional, armageddon survival kit-worthy beef sticks, but are they worth it?
So what's in them?
Steve's Grass-Fed PaleoStix have a total of eight ingredients, all of which are recognizable:
Beef
Sea salt
Paprika
Beet powder
Black pepper
Garlic powder
Celery powder
White pepper
The world's best recognized beef stick, Slim Jims, of which 50 million are sold worldwide every year, are made of a questionable grade of beef and mechanically separated chicken, corn and wheat proteins, sodium nitrate (to prevent the meat from turning gray), and hydrolyzed soy, which involves a process that typically results in the formation of monosodium glutamate, according to Wired Magazine.
Admittedly, if you can stand the grease, Slim Jims occasionally don't taste half bad when on a road trip and you're forced to choose from the many delicacies at your middle-of-nowhere highway (including those infamous, horribly delicious pies for one).
What if you could replace these snacks with something paleo-friendly that tastes good instead?
Steve's Grass-Fed PaleoStix typically come in a pack of four, with each stick providing 7 grams of quality protein, equal to one block of protein for those who follow the Zone diet.
For those who aren't familiar with the benefits of grass-fed versus grain-fed beef, grass-fed beef is lower in fat and calories, provides more healthy Omega-3 fatty acids, and is higher in vitamin E compared to its grain-fed counterpart. Grass-Fed PaleoStix cost a dollar more than the conventional PaleoStix for a pack of four, or about $.25 more per stick.
PaleoStix cost about $1.35 per stick, compared to around a dollar per stick for a Slim Jim of comparable size, depending on where you buy it. PaleoStix are more expensive, but for such a low cost item, it's a small price to pay for a huge upgrade in quality, in addition to supporting Steve's Club. Even if you think that PaleoStix cost 30% more than Slim Jim's, it's still a mere $.30. You could likely find the difference between the cushions of your couch or under your car seat, a small price to pay in exchange for fueling your body with a better alternative, in my opinion.
PaleoStix have a shelf life of six months when stored at room temperature, but should eaten within three months for optimum freshness. After opening a package, PaleoStix should be eaten shortly thereafter, much to the delight of nearby friends who are around when you open a four pack.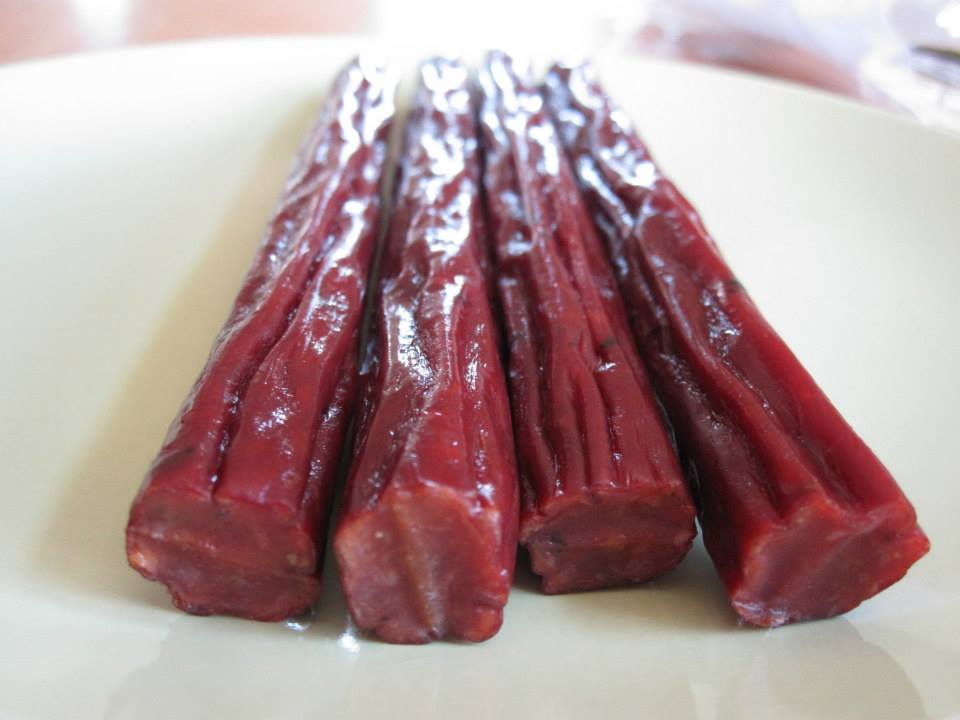 The Good
Taste: Without exaggeration, PaleoStix are some of the best tasting, if not the best tasting, jerky-like snacks I've ever had. As someone who has had more than his share of Oh Boy! Oberto (yes, even the bacon kind) and other common jerky products, the balance of spices in the Grass-Fed PaleoStix made for a delicious, meaty treat. They're not spicy, nor overpowered with pepper flavoring like many jerky snacks. They're just good and good without the greasy mouth aftermath that comes along with Slim Jims or other similarly shaped beef sticks.
Satiation: To put PaleoStix to the test, I had one for breakfast at 7:00 in the morning to see how far it would take me. I found that I was pretty well satisfied until almost 12:00 noon from my meat stick (I know, that's what she said). Granted, I wasn't doing Murph or Hidalgo that morning, but I was pleasantly surprised to find how well-satisfied I was off a single stick (Stix? Again, that's what she said).
Sure, I could have eaten more. However, if you have some restraint, a four pack could be reasonably split between you and a friend or two. PaleoStix aren't meant to be a meal replacement as far as I know, but if you need a snack with real protein that can carry you between meals through the morning or afternoon, PaleoStix should do the job and do the job well.
They're not Slim Jims. They're better: Made from grass-fed beef and ingredients you probably have in your own kitchen, PaleoStix taste great and are made of quality beef that won't leave you feeling guilty about what you put in your body between meals. Since they're well packaged with a good shelf life, they can still make for great snacks for a hike or an intermeal snack. Not only are PaleoStix better for you than other meat sticks, I think that they taste better than other long shelf-life meat sticks as well.
Steve's Club: Ordering PaleoGoods helps support Steve's Club, a "national network of programs through which at-risk or underserved youth of any socioeconomic background can join in the CrossFit Community at a reduced, low or no cost structure." By giving teens the opportunity to work out alongside people from their local community, Steve's Club helps at-risk youth benefit from the positive, supportive environment that CrossFit communities provide.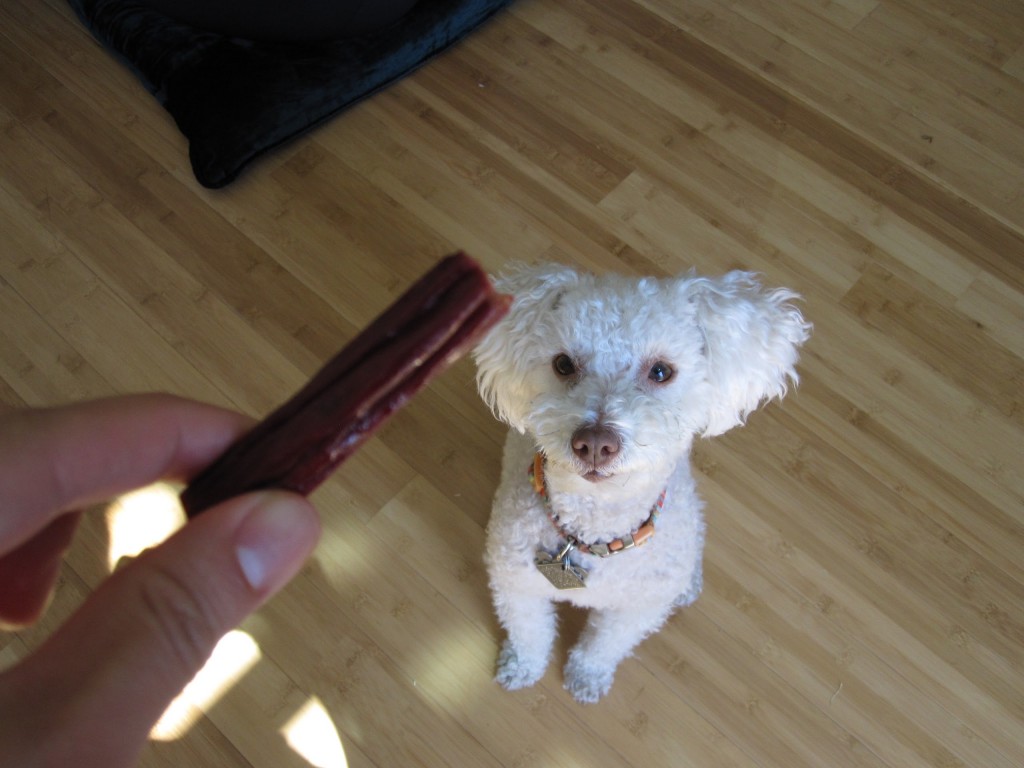 The Bad
Cost: Depending on where you buy either product, PaleoStix, especially the grass-fed kind, can be about 30% more expensive than other meat sticks. Granted, meat sticks aren't all that expensive, but if you eat for volume and would rather get 4 Slim Jim's instead of 3 PaleoStix of comparable size, PaleoStix might not be for you. Original PaleoStix (not grass-fed) are a dollar less for a pack of four and make a great option for the more budget conscious.
Availability: Very few of us feel proud of ourselves after snapping into a Slim Jim, but the fact of the matter is that they are available at some of the finest gas stations, convenience stores, corner liquor stores, and supermarkets near you. As of right now, PaleoStix are not available everywhere and would take some forward-thinking planning to order or buy them at your box, rather than impulse buying, to have them stocked in your pantry, backpack, or glove compartment.
Your friends will fight over them: With the four-pack being the standard size for PaleoStix, you will find yourself in situations at the gym where the beefy, grass-fed, peppery aroma of PaleoStix will make you the Pied Piper of the Box. You will be followed by post-workout zombies fiending for quality protein all the way to your car and your snacks will mesmerize your gym's best behaved mascot. With four in a pack, you will be forced to make tough decisions about the people with whom you share your delicious Stix.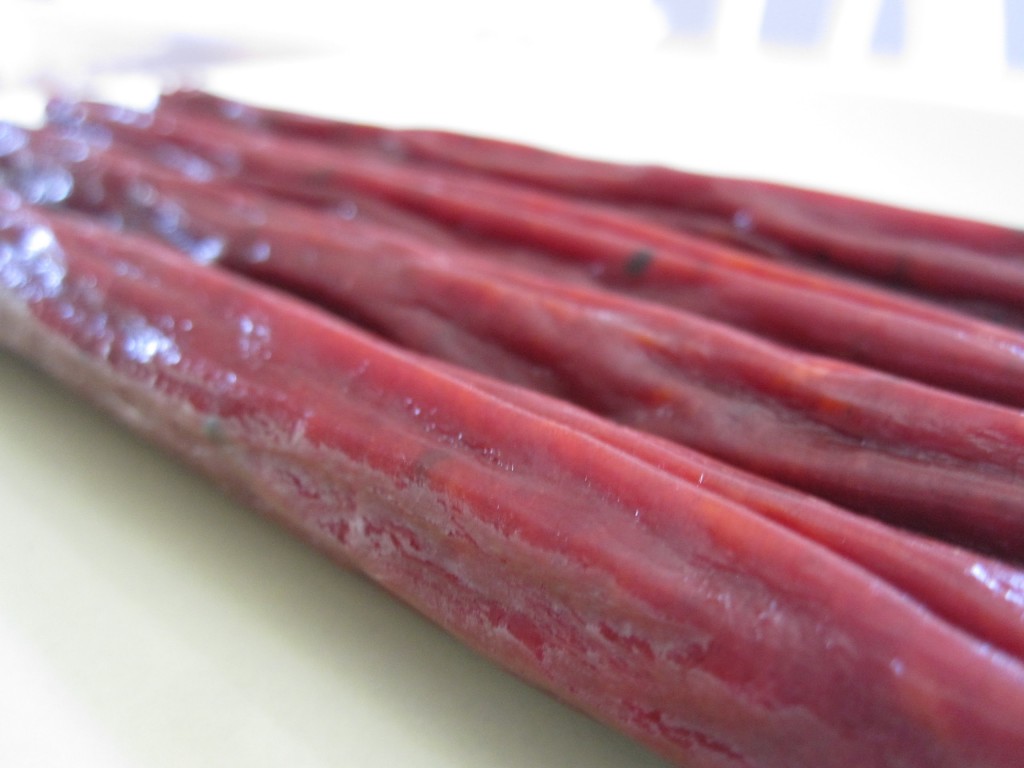 Conclusion
While more expensive than some conventional meat products shaped like sticks, Steve's PaleoGoods Grass-Fed PaleoStix provide a protein rich, additive-free paleo-friendly, portable snack with a delicious flavor that nearly all meat eaters will enjoy.
If you subscribe to the Paleo diet and can afford a few extra dollars here and there for a meaty snack that could potentially prevent you from making a bad eating choice, you may have found your new favourite snack.