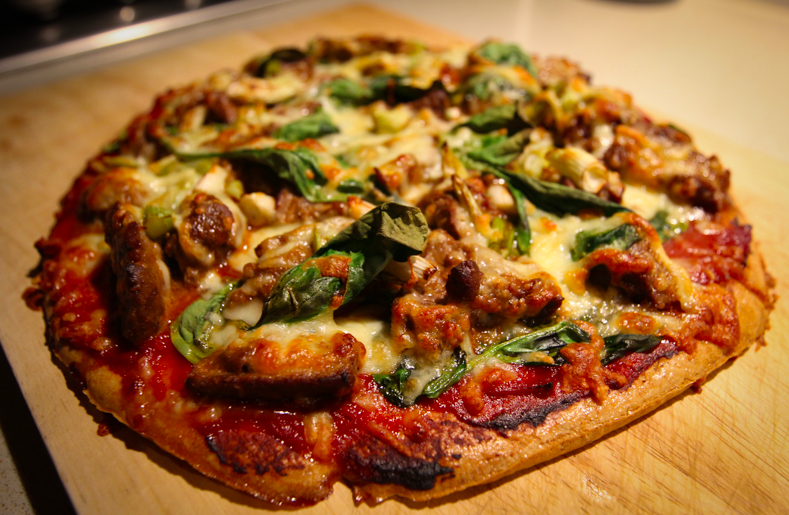 In our quest to prepare the perfect Christmas there are times where a few quick dinners come in handy in the lead up to the big day. So I thought it might be useful to bring you a recipe that won't stretch those Paleo limits and will remind you of your happier pre-Paleo days with this Paleo Pizza recipe.
Ingredients:
Crust

2 cups of Almond meal
2 eggs
3 teaspoons of Olive Oil
¼ teaspoon baking soda
1 ½ tablespoons of fresh rosemary (optional)
Topping
Like any Pizza topping feel free to use your imagination with this one. The below are a combination of Ingredients that I use and alternate.

Tomato puree
Spanish onion sliced thinly
Olives
Roasted pumpkin
Turkey meat (you can also use ham, bacon, cooked mince- the size of the base is the only limit).
Method

Preheat oven to 350 degrees Fahrenheit or 175 degrees celsius.
To Prepare the crust, mix all ingredients together until combined and thick.
Form dough into a ball and spread it out into desired Pizza size. I like to make small individual pizzas but you can do a single decent sized one too.
Bake the crust in the oven approximately 10 minutes.
Once the crust is baked spread the tomato puree over crust and go wild with the toppings.
Bake for about 25-30 minutes depending on toppings.
Oven times may vary so my advice would be to check the oven the first time you experiment with this recipe.
Some other things I have noticed is that the base can sometimes be a little too thick for my liking so I usually use a pizza stone to cut the base in half and double the amount of pint sized pizzas.
This is a recipe not to be tampered with, especially if you miss those easy Friday night meals that once topped off a heavy week. The finish product is pretty damn delish and best of all it will give you time to fit in those late night shopping escapades that the Christmas period entails.