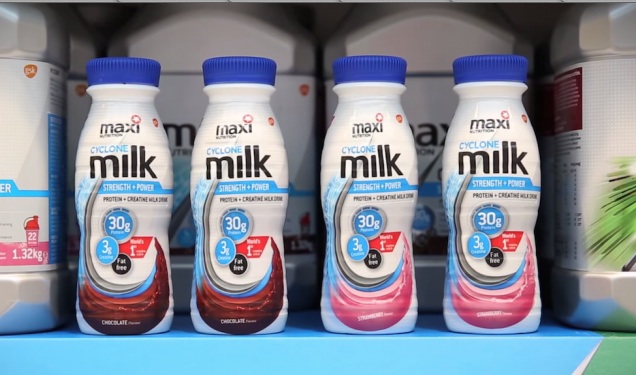 MaxiNutrition has made a huge advancement in the world of fitness, nutrition and muscle building, launching what it claims is the world's first creatine milk.
Cyclone Milk is a revolutionary and exciting new product which hit the market in early June.
While we haven't tested the product ourselves, here's what we know about Cyclone Milk. Each serving contains 3 grams of pure creatine monohydrate, along with 30 grams of high quality Max Pro protein, in one convenient 330ml beverage. Each bottle has just 201 calories and is entirely fat-free, offering a massive muscle building boost for the body.
For those who aren't familiar with creatine, it is a non-essential compound which is naturally present in the body's muscle tissue and is utilized in the supply of energy for muscular contraction. While it's only present in the human body in limited quantities, it's also found naturally in many protein-rich foods, such as meat and fish.
Delivery of creatine at the right time, in the right place, and in the right amount, leads to greatly improved muscle-building results. It has been scientifically proven to be both safe and effective for increasing muscle building, as well as maintaining muscle mass.
Up to this point, creatine was mostly only available in powder and capsule form. While effective, this delivery system was also sometimes inconvenient, requiring users to mix the powder manually into a beverage, or take multiple tablets/pills throughout the day.

All of that has now been changed with the introduction of Cyclone Milk. Cyclone Milk offers the perfect combination of protein and creatine, and helps aid the creation and maintenance of lean muscle mass, all in one simple drink.
Cyclone Milk is also very convenient for users as you can take bottles to the gym for a post-workout protein boost, or keep a few in the office for a light snack during the day, or after a lunchtime workout.
Carefully formulated to exacting standards, Cyclone Milk is available in two different flavours: chocolate and strawberry, and allows users to combine their protein and creatine supplements into one convenient and cost-effective format.
Cyclone is already the UK's number 1 protein powder, and this exciting new product promises to take the brand to even greater heights.
Cyclone Milk is convenient, safe, effective, and on paper, appears to be a revolutionary product for the fitness industry.
Labelled the world's 'first creatine milk', Cyclone Milk is a patent-pending product. More information on Cyclone Milk can be found at MaxiNutrition's official website.