.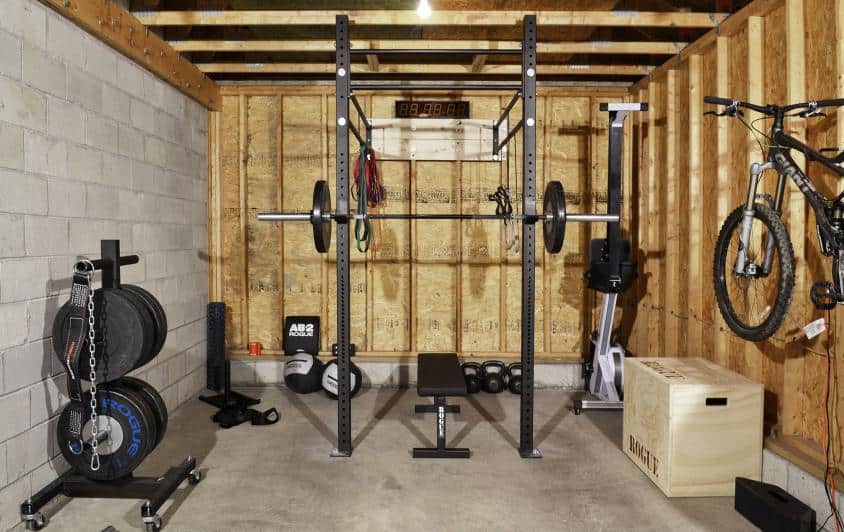 With the last two years' health crisis, many people have set up a gym in their interior, in order to continue doing their physical exercises despite everything. 
Bedroom, living room, garage, or even terrace and garden – any sufficiently spacious room can turn into a sports corner. But do you know which space in the house is the most suitable? How much area do you need to create an indoor physical activity zone? Or, what temperature is recommended so as not to suffocate during a workout session?
Here are 10 tips for setting up a sports corner in your home, whether you live in a small flat or in a house.
Dedicating an entire room to a gym is a real luxury. Usually, one is satisfied with a small space in the living room or in the bedroom. But if you have a studio, we think you could agree that the living room is not conducive to the installation of such a zone. 
Another imperative, in addition to the need for space, is storage. Equipment and accessories are sometimes bulky. How and where to hide them in this case? 
In addition, playing sports in a small space can be noisy for neighbors. To avoid hurting yourself or making enemies, follow these 10 golden, practical and clever rules.
Tip #1: define the room where to install the gym
Choosing the perfect room depends on the space you have. In a studio, the main room, and therefore the largest, will be the one. In a flat, we recommend the bedroom, which is a place where you feel safe and in harmony. 
Playing sports or working out feels easier in a room where you feel comfortable, because stress hormones are released when you don't feel well and prevent you from practicing sport effectively. 
Moreover, keep in mind that 5 to 15 in are the minimum you'd need if you want to play sports at home. If you practice activities like yoga or meditation, slightly more than the size of a yoga mat is sufficient.
We also recommend a sufficiently large room, equipped with certain equipment that can be useful in the sports area. The living room, which often has the largest screen, can be a privileged space. Usually spacious, the office, games room or laundry room can also be used as a gym.
In summary, the rooms to be favored are the bedroom, the living room or an annex space. The key is to have enough space, as well as a good height of the ceiling, in order to carry out its movements without embarrassment and to have a good time there.
Tip #2: use a dedicated room, if possible
Again, it all depends on how much space you have in your home. If you decide to dedicate a room to your sporting activity, you will feel psychologically more in harmony with your leisure time. 
A bedroom, the attic or a garage can become a sports room, provided it is well ventilated, with an area of ​​at least 110 sq ft, to install heavy equipment. If you are creating a custom-made room for sports, you can set up a micro-room hidden behind a concealed door, or separate this space with a fencing or a canopy to take advantage of the natural light in the room.
Tip #3: regulate the temperature of the sports area
When exercising indoors, it is recommended to ventilate the room well, in particular to regulate the humidity level in the air. A certain temperature must be maintained to avoid overheating or, on the contrary, hypothermia. We recommend a moderate temperature, neither too low nor too high. Ventilate as much as possible and avoid fans or air conditioning, which encourage dust build-up. It is often easier to just leave a window open throughout your session.
Tip #4: bet on an insulating floor
When you live in a studio or flat, you have to be careful to respect the neighbors. For this, the choice of a suitable floor covering is essential. Parquet, tiling or even concrete resonate, particularly in the practice of activities with weights. To remedy the risk of noise pollution, opt for flexible and soft surfaces, such as a carpet, which absorbs shocks and noise, or a sports carpet. Depending on the sport, a thin mattress might also be a solution.
Tip #5: opt for modular lighting
Always prefer a room which has one or more windows to ventilate the space and let in natural light. Otherwise, you can use wall-mounted lamps or play with the brightness using a light dimmer to modulate according to your needs. For yoga or meditation, daylight or a soft and soothing light is to be recommended. While for the practice of fitness or the stationary bike, a more powerful light is preferable.
Tip #6: choose materials at hand
Regarding equipment, it's not necessary to spend a thousand dollars to practice sports at home. Your place contains enough solutions – you can use what you have available like chairs or a sofa already bought from nyfurnitureoutlets.com to do squats, a table or even the stairs. Always favor the material at hand. 
You can also make your equipment a part of the home decor. For example, hang your weights and ropes on the ceiling, or on beams, making them decorative elements in their own right, practical to use at any time. 
Tip #7: clear the space to avoid injury
Before starting your session, it is essential to push the furniture a minimum of 7in around your exercise area. Moreover, it is safer to keep your sports shoes on during training, to avoid injury. Plus, remember to bring a bottle of water and a towel to have at your disposal during your workout. Thus, you will avoid unnecessary movement around the house or flat.
Tip #8: make clever storage for your equipment
Once the equipment is used, it must be put away. When you do not have a lot of space, decide on a simple box that you'll use to store away all your equipment. To keep it handy, store this box near the area where you exercise.
It can also be a cupboard or a dedicated piece of furniture. The important thing is that all the equipment is gathered in one place, so as not to waste time looking for it during your session.
Opt for hidden storage. A hatch, drawers under the bed or a swiveling storage wall save space.
Tip #9: paint the walls in color
The environment and decoration can play an important role during sports sessions. If possible, paint a wall green or red, these are colors that encourage creativity. Soft and natural colors, such as blue or pastel pink are also suitable for a space dedicated to relaxation activities.
Tip #10: create a motivating atmosphere
In addition to the beautiful color of the walls, the atmosphere must be pleasant and energizing. To do this, choose a room with a large screen, and rely on a sound system playing catchy music to motivate you. A mirror can also make the space bigger and help you correct your posture. 
Finally, choose a quiet place where you can be calm, with a view of the outside to get away from the rest of the day's routine.