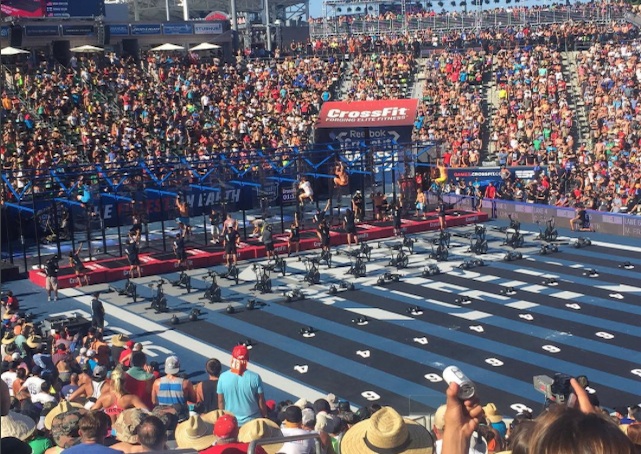 CrossFit has millions of followers around the world—a whole 5.9 million if former CrossFit Facebook and Instagram accounts are tallied together. Since the revolutionary training regime began in the early 2000s, it's become increasingly popular with fitness buffs.
Those who have participated in CrossFit know it's not any old training regimen. Athletes gravitate to the lifestyle because it's more creative, grueling, and rewarding than other fitness programs. As such, CrossFit gyms tend to be places where local athletes build community.
Unsurprisingly, many trainers and athletes work together to get fit enough to compete in a CrossFit competition. Those feeling up to snuff can test their strength in local competitions and the CrossFit Games alike, heading into regional qualifiers before moving their way up.
Despite the varied competitions, global presence, and teamwork that goes into preparing top athletes, CrossFit isn't an official sport. That may not always be the case, though. Looking ahead, there aren't any insurmountable barriers standing between CrossFit becoming its own sport.
Official CrossFit: Teams, Leagues, & Stadiums
There are two aspects working in CrossFit's favor when it comes to transforming into a fully-fledged sport. First, CrossFit is a private company, which simplifies launching a league similar to the NBA or NFL, which are both private entities.
Second, most athletes competing in CrossFit already consider it a sport. This would make forming teams and launching a league easier for executives. With the CrossFit Games, there are already sponsors and infrastructure in place 
Another consideration for an official CrossFit league with competing teams or athletes would be wagering on competitions.Fans like to back their team or select a dark horse by testing their statistical knowledge, but what those bets look like isn't yet clear.
Should CrossFit continue to gain steam around the world, fans will surely want access to sports betting odds like those offered on similarly grueling sports, like UFC and rugby. This would help develop star power around certain athletes, like Brooke Ence or Mat Fraser. 
An Easy Transition from CrossFit Games
As mentioned above, CrossFit already has a winning model for future worldwide leagues and competitions in its annual CrossFit Games. The event has a wide range of sponsors, from Reebok (former) to Nobull (current), and even a lucrative broadcasting deal with CBS Sports (still active).
From a business perspective, CrossFit is a revenue giant that has staying power. From a sports fan's perspective, it's got one thing working in its favor: innovation. At its core, the CrossFit fitness regime has revolutionized modern strength competitions. 
Not only are the events varied and highly intriguing for the average spectator (who may know nothing about sports), but they're designed to highlight weightlifting and gymnastics feats. No dunking, no touchdowns, no grand slams—just brute strength and agility.
Additionally, there's a wide variation of divisions in the CrossFit Games, including team, individual, and adaptive events for competitors with physical impairments. Athletes are also hit with surprise events, which are added each year by the organizing committee.
Recent additions include a 'snail', a large object partially filled with sand, that competitors must drag to a certain location. Then, there's a 'pig', a heavy block encased in rubber that will also be moved across a field. Clearly, organizers have thought of entertainment value at every step.
But the CrossFit Games aren't just shaking things up a bit with high-octane, gruelling obstacles. T event also stands out because women and men compete in the same events during the same period of competition (though not at the same time). 
The only other sport with comparable gender neutrality would be NASCAR, which doesn't divide competitors by gender. Though leagues like the NBA have a WNBA counterpart, seasons and competitions take place on separate schedules.