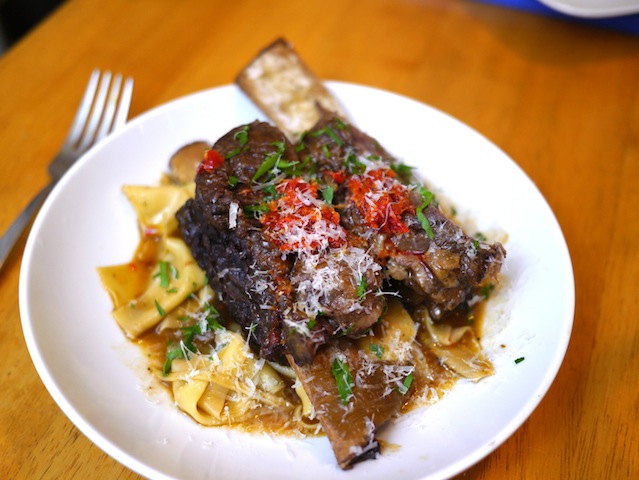 Prep Time:
30-minutes
Cooking Time:
45 minutes in pressure cooker, or 3 hours in a brazier/Dutch oven or slowcooker
Equipment Required:
1. Cast iron or blue steel pan to sear the meat
Ingredients:
1. 2 cloves garlic
2. Bunch Fresh thyme
3. 32 oz chicken stock
4. 6 pounds short ribs or chuck roast
5. Kosher salt
6. Fresh ground pepper
7. 3 carrots
8. 1 yellow onion
9. 2 leeks light green and white parts
10. 1 bay leaf
11. 10 black peppercorns
12. 1 bottle dry red wine
13. 32oz chicken stock
14. 16oz San Marzano tomatoes
Optional– Garnish chopped parsley and parmigiano-reggiano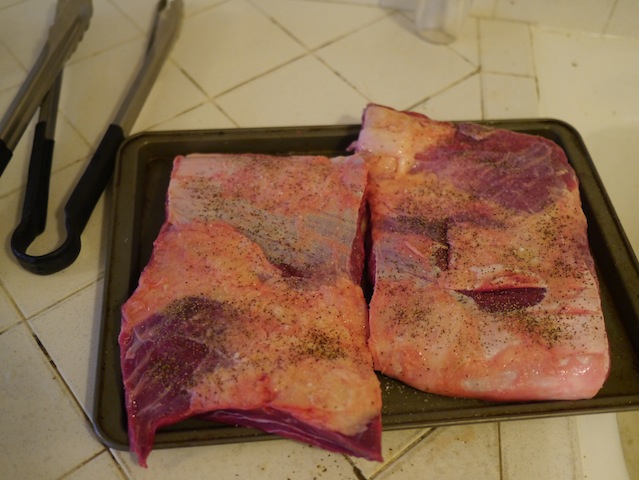 Directions:
1. Heat a large bluesteel pan over medium high heat. When you place your hand over the pan and it feels warm two inches away, pour a few tbsp of grapeseed oil. When the oil starts to ripple, place the meat in the pan. Sear the meat with a few cloves of smashed garlic and a few sprigs of thyme in the on all sides until slightly past golden brown.
2. Pour out all the juices and reserve in a bowl except for 2 tbsp – lower the heat to medium and soften the carrots, onions, and leeks till it starts to color.
3. Place cooked vegetables and ribs in your braising vehicle (i.e pressure cooker, Dutch oven or crockpot/slow cooker), pour in a bottle of wine and heat on high until wine reduces in half.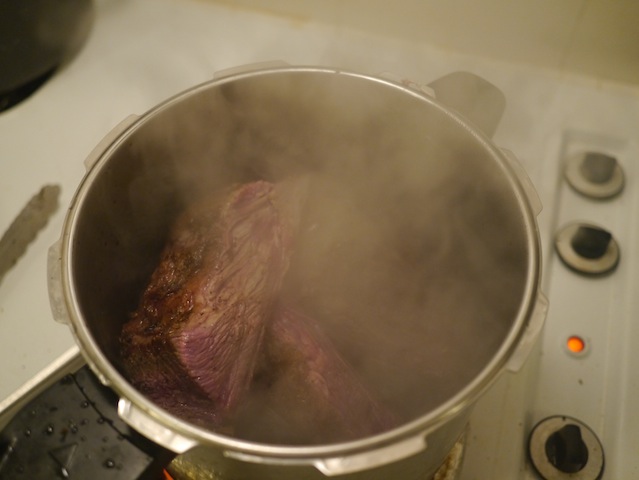 4. Place the remaining ingredients (chicken stock), a few sprigs thyme, bay leaf, peppercorns, and San Marzano tomatoes in the pot, and cook until tender (approx. 1 hour in pressure cooker or 3 hours in Dutch oven/slow cooker).
5. Taste for seasoning. Add salt and pepper as necessary. Garnish with Parmigiano reggiano and parsley.
6. Enjoy with warm bread or pasta (optional) and spicy Calabrian chiles.
7. Eat like a BOS.