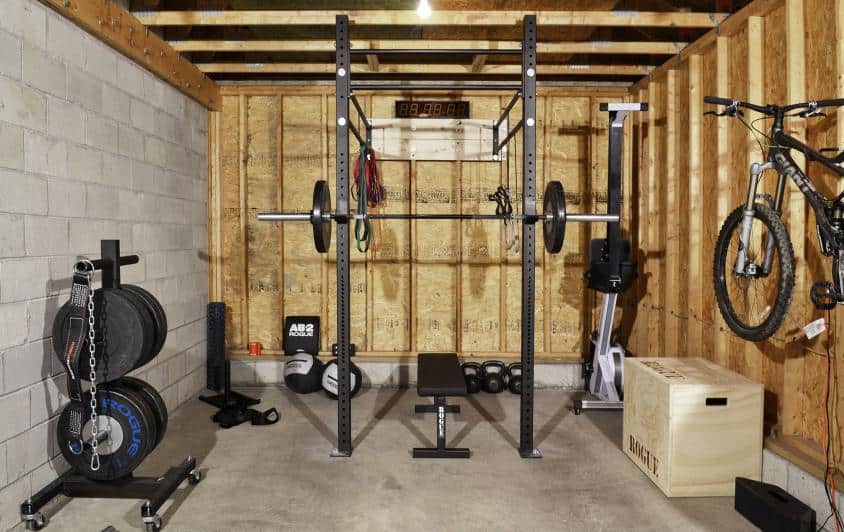 Not everyone can afford a membership to a fancy gym, and even if you can, you don't always have the time to dedicate an hour out of your day. However, if you had all the tools at home, you could fit a 20-minute workout into your schedule.
Luckily, you don't need the fancy gym equipment to maintain a healthy, active lifestyle – just a few stable pieces. On that note, here's all you need to set up your own efficient home gym.
An Exercise Mat
An exercise mat is among the most important items needed to start your home gym. These mats are essential for so many workouts, from yoga to pilates, and, of course, they allow you to get a good stretch after any session. Stretching is so important and should never be dismissed. A mat helps you not only accomplish a great workout, but it is actually one of the most beneficial and versatile pieces of exercise equipment. Additionally, if you are going to be doing gymnastics or martial arts you'll want to know whats an air track mat, as these inflatable mats provide more protection if you are going to be practicing tricks.
Resistance Bands
Resistance bands take your workout to the next level and aid in strengthening your muscles. These help your muscles grow and tone-up, so you will definitely want to include these add-ons during your sit-ups and other exercises to take things up a notch.
It's important to understand what gadgets will benefit your fitness journey, especially if you can't splurge on the big equipment. After checking reviews, it'll be easy to determine what type of little tools will aid your workouts and suit your needs. The fitness enthusiasts from Sport Life Adviser explain that simple exercise items can transform your home workouts, from exercise balls and balance boards to handlebar tapes, among others. You don't need to spend a small fortune on big machinery and heavy equipment. There are many affordable solutions to keep fit, which can even include a mini trampoline in your backyard.
Set of Light-Weight and Medium-Weight Dumbbells
It's recommended that you maintain some upper body strength, whether lifting weights is your thing or not. However, never start with heavy-weight dumbbells to avoid severe injuries. Instead, start with a set of light weights and gradually progress to medium-weight dumbbells when the light weights are becoming too easy to handle.
Adjustable Dumbbells
When you are ready for heavy-weight dumbbells, consider purchasing adjustable dumbbells to give yourself a challenge. Moreover, this will allow you to progress at your own pace as there will be days you're ready to take on the challenge and other days when you'll prefer to modify your workout. As you progress and gain more experience performing specific exercises, you might want to consider combining the dumbbells with functional trainer machines. These offer you the possibility of performing not only isolated but also full-body exercise routines.–
Kettlebells
Kettlebells are known to help you improve your core, flexibility, coordination, and overall strength and balance. They help you build lean muscles; however, you should start easy. It's recommended that men start with a 10 or 12kg kettlebell, while women will find a 6 or 8kg weight effective. When it comes to leg exercises, men can take it up to 16kg and women can opt for a 12kg kettlebell.
Full-length Mirror
Now, this isn't a necessary item to include in your home gym, but it will certainly help you create the right atmosphere. Having a full-length mirror helps people keep an eye on their form and notice significant changes.
Moreover, if you're practicing yoga positions or lifting weights, you can make sure you've got the correct arm or leg placement by checking your posture in the mirror.
Jump Rope
The jump rope was classified as an efficient workout in gym class at school, so it makes sense that it's a viable workout for your home gym. Jump rope provides many benefits from burning calories, improving coordination, and producing stronger bones. In fact, just 10-minutes of jump rope exercise can lower the risk of injuries and improve your heart health.
Gliding Discs
Gliding discs are a great way to spruce up your home workouts. They help you test your balance. So, if you're up for the challenge, you'll have an improved core strength after just a few sessions. These tools are a great addition to your home gym because they don't take up much storage space, and they work to sculpt your entire body.
TRX Suspension Training System
A TRX all-in-one system is a great item to have in your home gym. This effective total-body training system allows you to get the same efficient training that you would at a fancy gym with expensive equipment. You'll be able to hook it up wherever you want and get an extensive workout then and there.
The great thing about all these simple exercise tools and equipment is that they don't take up much space. They can all be stored easily and brought out whenever you're ready to break a sweat. So, make a note of the items listed above and get yourself a fantastic home gym setup!