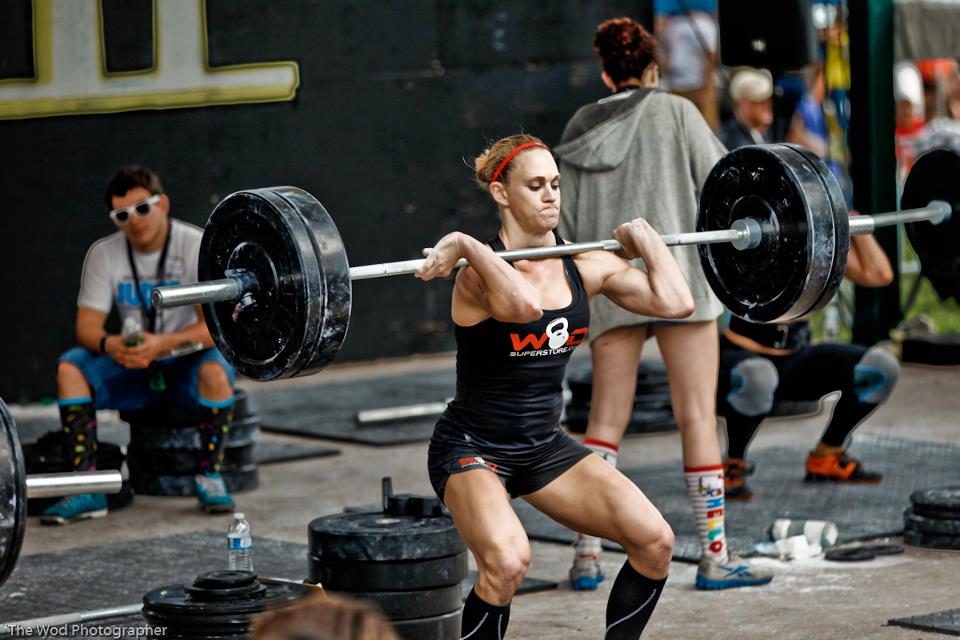 At the age of 31, Talayna Fortunato competed at the CrossFit Games for the first time last year. By the end of the competition she was crowned the '3rd Fittest Woman on the Planet'.
A year later, Fortunato is preparing for another appearance at Carson, California, after winning the 2013 South East Regional and qualifying for her second straight Games.
After picking up a new sponsor in WOD SuperStore, Fortunato has had more time to focus on her training over the past 12 months, and has seen solid improvements under new coach Doug Katona.
With Annie Thorisdottir withdrawing from this year's competition with a back injury, and last year's runner-up Julie Foucher taking a year off the sport to concentrate on her studies, Talayna Fortunato will be going into this year's CrossFit Games as the highest ranked female performer from last year.
The Rx Review caught up with Fortunato recently to find out how she's feeling in the lead up to the 2013 CrossFit Games and what her expectations are at this year's competitions.
In the following Q&A, Fortunato from CrossFit Real Fitness talks about life under her new coach and new sponsor, how she got into the sport of CrossFit and who are main competitors are at this year's CrossFit Games.
Firstly Talayna, congratulations on qualifying for the 2013 CrossFit Games. How did you find the South East Regional?
Going in I actually felt in better shape than I did last year. But I didn't know how I was going to stack up against the other competitors. I didn't know how much better they were going to be.
I was actually kind of surprised to see myself leading as much as I was after the first few days, but I was happy with it, that's for sure!
We're now just weeks away from the 2013 CrossFit Games. How are you feeling heading into this year's competition?
I'm feeling pretty good. But I won't feel quite ready until I'm finished with my training and am put up against to the other athletes. It really all just comes together in the final week out from the Games.
What will you take out of last years CrossFit Games that will help you this time around in just your second time competing in Carson, California?
I kind of want to have the same approach I had last year, this year. Just trying to be consistent, you know. If you go to the Games and try to win every Event, it would probably not work out so well.
People like Rich Froning and Annie Thorisdottir just try to be consistent and come in top 10, top five in everything. I mean, if you come like 7th or 8th in every workout, you'll probably win the Games.
What sort of workouts/exercises are you hoping for when Dave Castro announces the Events for this year's Games?
I like really odd stuff. Like the more awkward it is, the better it is for me. So I like the gymnastics stuff, I like a lot of snatching and things that have a lot of mobility.
What sort of exercises or movements are you not hoping for?
I don't mind some of the strongman stuff like the yoke and things like that, but I would probably say I don't want a bunch of heavy squatting or heavy deadlifts. Like the mono-structural, 'as heavy as you can' kind of thing. I'm not bad at it, but it's not my best thing. I'm better at athletic, co-ordinated exercises.
With CrossFit becoming more professional, more and more athletes are beginning picking up sponsors. Do you have a manager that handles that stuff for you?
I have a sponsor but not so much a manager. I mean I have a sponsor and I go back and forth with them and I communicate with them frequently.
We saw during the 13.3 workout, and during the South East Regional you were wearing WOD SuperStore clothing. I'm guessing that's your sponsor you're talking about?
Yeah, that's my only sponsor right now. And I'm allowed to work with other people, like other brands that are sold on WOD SuperStore, and I mean, they carry a lot of products. So I'm allowed to work with any of the products they carry. But yeah, right now I'm just working with WOD SuperStore.
So how did that come about? How does a CrossFitter actually get sponsored these days?
It was kind of funny because I had a bunch of people reach out to me about sponsorship, but a lot of the deals weren't that great. Like people were offering me free protein powder, but I was only allowed to wear their clothing and be committed to them for the next five years. They didn't sound like the best deals.
Then Mark Chandley from WOD SuperStore contacted me on Facebook and said he actually went to my gym. At the time I thought, 'oh, this guy's actually local, so how serious can he be?'. But I sat down with him at my gym one evening after a workout and spoke about my goals with him. I spoke to him about how I wanted to decrease my work hours, especially around this time of the year, and still have enough money to pay my bills and train more like a professional athlete.
I just told him what I wanted and I didn't really expect them to come up with an offer, but they did.
And how has the offer been for you?
Great! Like right now I'm actually just working around 22 hours a week, which is a huge difference from working 40. It allows me to do a lot more, and sleep more!
So it's fair to say the partnership is going well?
Yeah I think so. I mean, I think I really helped them with the workout with Kristen Clever, in the 13.3 Open workout. I was able to wear their shirt and pretty much every CrossFitter who was doing the Open saw that, which was more than the people who would have watched me at the South East Regional.
Focussing on the Games again, Annie Thorisdottir has confirmed she won't be competing at this year's Event. With her being out, who do you think can claim the title this year?
If you look at it, there are a few people up there at the top, and then there is a drop-off. I think there are around 10 girls, and any of them have a shot at winning it. I think a lot of it is going to come down to who comes into the weekend feeling good and what the workouts are.
In our sport you can't ignore the importance of the workouts and how it can dictate who is going to win.
So who do you think are your main competitors this year?
Camille Leblanc (Bazinet), Rebecca Voigt, Elizabeth Akinwale. I've never met Danielle Horan but she did really well at Regionals. Valerie Voboril, Lindsey Valenzuela, and, I mean, I think (Kristan) Clever – her shoulder might be hurting, but she'll be up there.
Do you think you have the ability to win this year?
Um, yeah. I do.
So what are your expectations this year?
I want to do better than last year. Last year, in the very first two events, I really went all out and I had nothing to lose. But then when I saw my standing I started to play it a little bit safer, especially towards the middle. Like, on the handstand push-up workout I probably could have gone unbroken, but just to be safe, and because I didn't want to fail, I went 'four-three' on everything.
This year, I think I'm just going to go all out. I'm not going to try to game it as much and just go all out.
What about the mental side of the Games?
It's good to train for the whole year, but you kind of have to mentally prepare yourself, because the volume and the 'digging deep' in each workout will catch up with you. You know that going 100 per cent versus 85 per cent on each workout is going to make a difference. So it's also hard.
Before CrossFit, what was your background in sport?
I was a gymnast. My mum taught me from when I was four, and I did that all through high school and in college. I also mixed in some track and field in high school. It included hurdles, long jump, high jump, pentathlon, and that soon turned into the heptathlon. I did that for a couple of years in college and I tried some pole vault and I was OK at it. Mostly it was always gymnastics. I was really tall for a gymnast so I had to work harder than all the other girls, but I loved it.
When I got out of that, I was 23 and that was in 2003, and I didn't really find CrossFit until 2009.
In between that time I was a bit of a gym-rat, doing a bunch of spin classes, and body pumps and step class and doing some triathlons. And then my trainer said, 'I think you'd be good at this CrossFit thing'.
At the time I was still strong, but not as strong as I am now. It took a while for my body to get back to being like an athlete again. But I walked in and tried it and thought, yep this is it, this is what I want to do.
What are your plans once the CrossFit Games are over?
Last year I didn't really take much time off afterwards, like maybe a few days, and I when I got home from vacation I got right back into it all. But this year I think I might take a few weeks off!