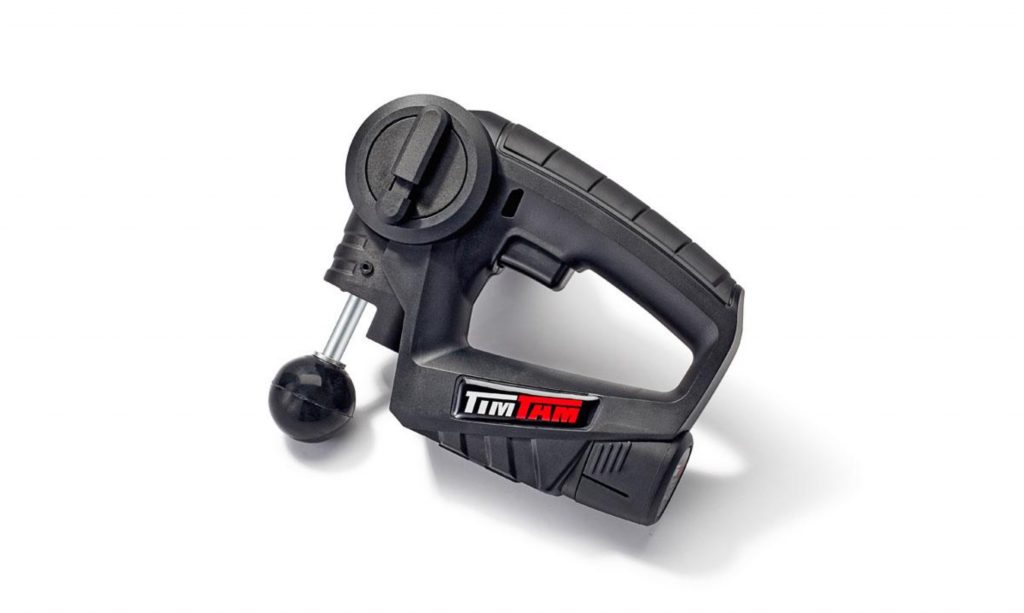 This week we take a moment to review the self mobility product called the TimTam Power Massager.
Item: TimTam Power Massager V1.5
Price: $399 USD
Manufacturer: TimTam
Purchase: www.TimTam.tech
I must admit, I was a bit skeptical when I first got my hands on the TimTam Power Massager to review.
During my time working in the fitness industry i've used and reviewed all kinds of massage tools from foam rollers to vibrating trigger point devices and many more in-between. However, I had never come across a 'power tool' massage device until I got my hands on the TimTam.
Put bluntly, the TimTam is essentially a power tool that is designed to be used as a self-massage tool. It is loud and scary looking to some, but most importantly, it's effective!
According to the TimTam website, the power massager V1.5 is:
"Our second generation powered handheld massager. It has the same amazing power as our first generation massager and now includes our patent pending threaded shaft that improves its durability and overall performance. The TimTam Power Massager massages muscles to help break down knots, increase blood flow, and release stored lactic acid."
Included in each TimTam Power Massager are:
A V1.5 TimTam Power Massager
1 Li-ion Battery
1 Batter Charger
Round Therapy Head
Premium Carrying Case
I've been using the TimTam on a regular basis since first getting my hands on it. Here is what I think about the massage tool. Read on to find out whether or not I feel it is a product worth spending money on: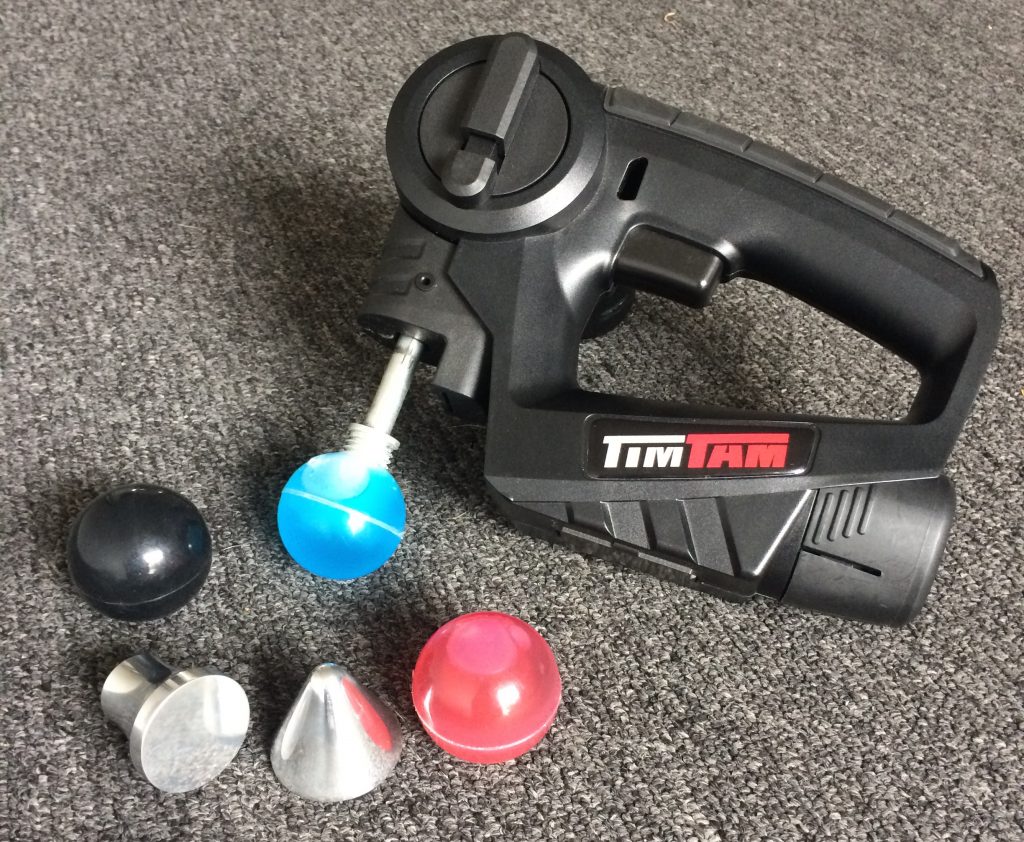 The Good
Effectiveness: When buying or using a massage tool, the main priority is whether or not it is effective. There is no point using a device if it isn't releasing knots and tension and improving your overall mobility. It's fair to say the TimTam is effective at doing just that. Charged by a 12V battery, the power massager reaches up to 2,000 strokes per minute and is very effective and releasing tension in tight muscle areas. If you have a tight or troublesome area in your body, I would say the TimTam is one of the best products on the market to help release the tension.
Easy to Use: The TimTam is a hand held massage device. Basically all you have to do is place it on a particular area, and pull the trigger. Unlike some other massage tools which require you (or someone else) to apply force, the TimTam's power functionality does it all for you!
Precision: The TimTam Power Massager comes with several different massage heads to suit the exact type of massage you require. Some of them include a softer rubber tip, a flat tip, a metal tip, a 'hot tip' you can microwave to heat up and a 'cold tip' you can put in the freezer. Using this range of tips you will be able to target any major problematic area in your body.
Sturdy and Reliable: In my time using the TimTam, I haven't had any problems with the battery cocking out, or the device overheating etc. Overall it has been quite a reliable and sturdy product.
Endorsed by Leading Trainers and Athletes: It is also good to know a product you are using is backed by leading athletes and trainers. UFC star George St. Pierre (GSP), Dr. Kelly Starrett and Muay Thai champ Firas Zahabi are some of the many identities to endorse the Power Massager.
The Bad
One Speed Only: One of the main criticisms of the TimTam is that there is only one speed on the device. Personally, there were a few times I was using the device and would have preferred to be able to slow the speed down a bit. I think it something the brand should look at implementing in their next upgraded model.
Loud: Like all power tools, the TimTam is loud. It will be hard to listen to the TV while using this device, and using it in crowded areas will sure get a few people looking over. By no means will you need ear plugs to use it, but the noise level is something to keep in mind.
Industrial Looking: I've said it before, I often judge products by how they look. On first glance, the TimTam comes across as a bit of an intimidating product you wouldn't usually see in the 'massage' section of a store. It looks more like something you'd see on a construction work site. That being said, while it may look a little 'industrial', it makes up for it with its effectiveness.
Price: While it might not be as expensive as some other self massage devices like the Compex, the TimTam isn't exactly cheap. Selling for $399 USD, the power massager is one of the more expensive products on the market.
Conclusion
Overall I had a positive experience using the TimTam Power Massager V1.5.
While I was a bit skeptical when I first cast my eyes over it, my doubts were quickly gone once I started using it. The power massager is effective, reliable, precise and easy to use. During my time using the TimTam I certainly noticed an improvement in my mobility, and found it to be a lot easier to use then some other self-massage tools I own.
That being said, I still feel there is room for some improvements. Things like a speed control, reduction in noise, and a more appealing design may be things for TimTam to consider moving forward.
But all in all, I would have no hesitation in recommending the device to any athlete or trainer looking for an effective self massage tool.