This week, we take a moment to review Altrient's ME Vitamin B Complex.
Item: Altrient ME Vitamin B Complex
Price: $39 for carton of 30 sachets
Manufacturer: Altrient
Purchase: www.Altrient.com
Last month I wrote a review on the high performance supplement Altrient C. Now it's time to have a closer look at Altrient's other high performance supplement, Altrient ME.
For those of you who aren't familiar with the brand, Altrient is a high performance supplement maker, based out of Las Vegas. The brand is making its way into the CrossFit community and was one of the major sponsors of the 2012 CrossFit Games.
They sponsor a number of leading athletes including 2012 CrossFit Games runner-up, Matt Chan, and the 15th Fittest Woman on Earth, Cheryl Brost, who both swear by Altrient's supplements.
Altrient ME is a proprietary blend of a Vitamin B complex, trace minerals and cinnamon extract specifically designed to release more energy from the foods you eat. It's better and more effective than ordinary Vitamin B pills and designed to give your body more energy.
Altrient states on their website:
Our proprietary, high-performance blend of B vitamins, trace minerals and cinnamon extract:
Helps your body burn fuel more efficiently *
Unleashes more energy from the healthy foods you eat
Delivers safe, natural, long-lasting energy *
Contains no sugar, no caffeine and no glutens
Supports Paleo, Zone and Vegan diets
Altrient™ ME™ gives you More Energy with no "jitters" and no "crash". Guaranteed!
Just like Altrient C, Altrient ME uses the Liposome Encapsulated Delivery (LED) system. LED is a dosing system designed to protect all nutrients, allowing them to be delivered throughout your body more efficiently.
In Layman's terms, the delivery system ensures each dose of Altrient ME is strong enough to withstand your body's harsh digestive acids, and go straight into your bloodstream, rather than being wasted by your body.
In terms of its effects, Altrient ME aims to help your body burn sugars and starches more efficiently, so it can utilize more energy from the foods you eat.
I put Altrient ME to the test and took a daily dose of the high performance supplement every day over a 2-month period.

The Good
Natural – Unlike other products like pre-workout drinks, energy beverages, and coffee, Altrient ME gives your body energy in a natural way. Rather than using stimulants to provide energy, Altrient ME helps your body draw more energy from the whole foods you eat. In addition, the supplement contains no sugar, no caffeine and no artificial flavours or preservatives.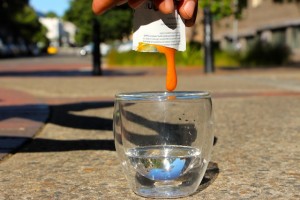 AGE Preventive – (Another unique advantage of ME's proprietary blend) Every time your body converts sugar and starch into energy it produces toxic waste called Advanced Glycation End-Products (AGE) that can't be removed from your body. After time AGE piles up in your skin, joints and muscles and can cause joint inflammation, plaque build-up in your arteries and impair nerve function. Altrient ME attacks these sugar and starch by-products and helps eliminate them from your body before they can be converted into AGE.
No Crash – There are plenty of energy supplements that claim to have 'no crash', however, many of them fail to deliver on their promises. During the 2 months I used Altrient ME, I didn't experience any kind of 'crash', and never felt fatigued or abnormally tired.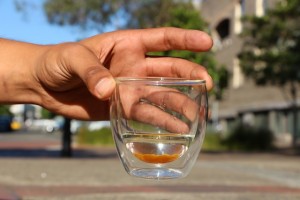 No Jitters – Many energy supplements can give you the jitters, and personally, I hate the feeling. The spike in energy you get by taking some pre-workout and energy drinks can often make it hard to sleep at night, and make you feel uncomfortably energetic. I never experienced any form of jitters while taking Altrient ME, and never had any unnatural levels of energy.
Paleo and Zone friendly – As mentioned before, Altrient ME contains no sugar, no caffeine and no artificial flavours or preservatives. The supplement supports Paleo, Zone and Vegan diets.
Great for Hangovers – I used Altrient ME while I was overseas on a surfing trip. There were a few nights where I broke Paleo and had a few beers. In the morning, after taking my daily dose of Altrient ME, I felt no effects of a hangover, and didn't feel tired at all.
Easy to Take – Altrient ME is very simple to take. All you need to do is pour the gel contents into a small amount of water, and drink it in one mouthful. You do not need to stir or mix anything. Just squeeze the gel into a glass of water and drink away!
The Bad
Taste – Just like the Altrient C, the taste of the Altrient ME can be subjective. Personally, I found it to have a bitter, cinnamon like taste, and I would generally drink a bit of water afterwards to try to wash away the taste. However, if the taste is an issue, you can always add the gel into juice instead of water. Flavoured juice is able to mitigate the taste almost completely.
Price – Selling for around $40 for a months supply, the Altrient ME is one of the more expensive Vitamin B supplements on the market. You can reduce that price to $29 if you buy 12 or more cartons at one time (if you had a few people at your CrossFit box who were interested in trying the product, this could be an option). So basically, you're paying around a dollar a day to take a dose of Altrient ME. If you have the money, the product is definitely worth it, however, if you are on a budget, cheaper Vitamin B supplements are always an option.
Messy – Only a minor gripe, but because you have to squeeze your daily dose out of a plastic sachet, it's easy to get on your hands, and sometimes on your clothes.
Smell – Another minor issue. Personally, I found the smell of Altrient ME to be slightly off-putting. By no means was it over-bearable, but it is probably worth noting.

Conclusion
Once again, I should note that Altrient is a sponsor of this website. However, we make no profit, benefit or commission on any sale. In fact, I chose to review the product on my own accord simply because I had heard so many great things about the product from a variety of CrossFitters I wanted to try it for myself.
Over the past two months, I took a dose of Altrient ME every day, usually first thing in the morning. Overall, my experience with the supplement was positive. I definitely didn't feel tired or fatigued while taking it, and I did notice a slight increase in my energy levels. In addition, I never experienced any 'crash' or 'jitter' feelings, and also never felt any kind of sickness while taking Altrient ME.
If I could only afford to purchase one product and had to choose between the Altrient C or the Altrient ME, I would likely lean towards the Altrient C. That is not say Altrient ME is not a great product, but simply a recommendation for anyone that is price conscious and only wants to try one of their products first.
Scientifically, Altrient has one of the best Vitamin B supplements on the market. Compared to other Vitamin B supplements like pills, drinks and powders, Altrient ME is more effective and more efficient in its delivery.
In my experience, I certainly felt the difference when using Altrient ME. I noticed increased energy levels, a reduction in fatigue and tiredness, and my overall well-being was enhanced.
I would have no hesitation in recommending this product.