This week we take a closer look at a new water bottle to hit the fitness market, the Contigo Kangaroo Water Bottle. 
Item: Contigo Kangaroo Water Bottle
Price: $14 USD
Manufacturer: Contigo
Purchase: www.gocontigo.com
I should get this out in the open from the beginning. I love water bottles. For whatever reason I always seem to be purchasing them. If you open my cupboard today you will find it overflowing with countless water bottles that have now fallen by the wayside.
At one time or another I have tried them all. From the Nalgene, CamelBak, Kor and countless other brands, all of which were great within their own right. But time and time again I found issues with each of them. Some of those issues were further compounded when I started CrossFit training.
If I'm doing a workout there are very few times I reach for my water bottle to drink. I'm usually so zoned in I just wait till I finish. Taking a break during a Fran, Helen, Wood or any other WOD for that matter equates to precious seconds I cannot afford to lose.
Yet there are those days, you do in fact need a quick sip of that vital H2O. That's when I found screw tops in some of the Nalgene bottles, straws in the CamelBack or latches on other bottles a little impractical.
Enter the Contigo range of the water bottle line, in particular the Contigo Kangaroo Water Bottle 24oz/750ml, which has fast become my favorite water bottle to date!
Here's why: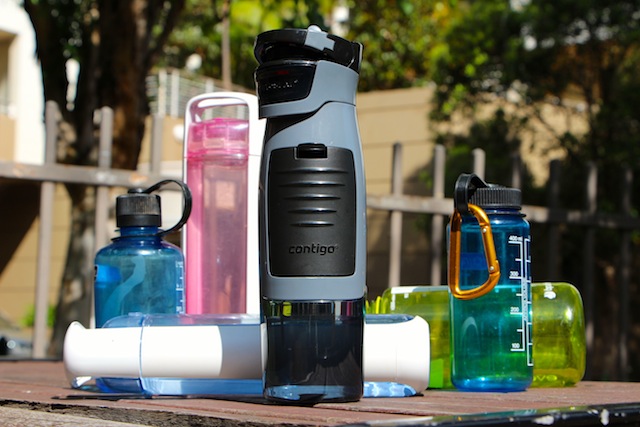 The Good:
AUTOSEAL Technology – This is by far my favorite feature and the main reason I love this water bottle. Simply press the AUTOSEAL button on the back of the bottle and you have instant access to your water. No cap to remove, no lid to unscrew, no spout to open, latch to release or straw to fumble with. This bottle's AUTOSEAL button allows for easy one-handed use, meaning if you keep it by you during a workout it is simple and most importantly fast to drink from.
Storage Compartment – This is another great feature that is just so practical. Most of the shorts I have, and CrossFitters wear, don't have pockets. I can recall countless times I have showed up at the box and would have to place my cash and keys on the windowsill. However, this problem becomes nonexistent if you have the Kangaroo bottle because of the small storage compartment.
Sadly it is not big enough to hold your iPhone but it will comfortably fit a few keys, some cash, ID, credit card, or your electric swipe you use to get into your building. Initially, I thought I would never use this feature, but after testing this bottle for some time I cannot tell you how handy it is.
Handle – The adjustable and easy to hold handle at the top of the bottle is a nice feature that I always find myself using. The fact it can also be used to attach itself to your gym bag makes it just that much more useful. Heck if you get bored you can even use it for a round pseudo-kettlebell swings 🙂
Solid – The bottle is made out of Tritan which makes it highly impact resistant. One of the things I love about my Nalgene water bottles is the fact they are practically indestructible. Although I'm not sure if this Contigo is as solid as the Nalgene. But I can tell you this, in the time I have had this bottle I have dropped it off a table a meter high, had it slip out of my hands several times onto the concrete pavement and every time it has held up well with minimal marks or scratches.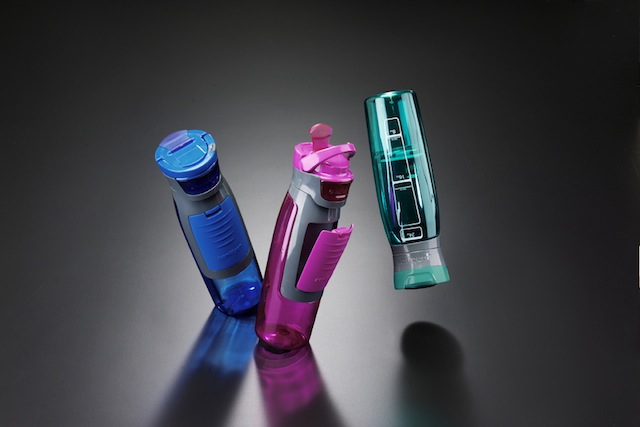 The Bad:
Autoseal Technology – Although I noted this is a my favorite feature above, it also proved to be the bottle's biggest failure. On the Contigo website it claims the AUTOSEAL lid is"100% leak-proof and 100% spill-proof." While that may be true to some extent, I failed to see what could happen if you do not place the bottle in a "safe place." So when I took it on a flight and placed it in the overhead compartment, I thought it would be fine.
Yet when another passenger squashed their bag right next to mine it actually pushed opened the AUTOSEAL button, meaning water got all over my computer, and on just about everything in my bag. So despite the fact it is a great bottle for the gym, I do not think it should be used for travel and is where my Nalgene screw top water bottles are better suited. If Contigo were able to make a way to lock the AUTOSEAL button in place, I think that would be a great solution but may lead to a little over engineering.
Smell – This is a problem many water bottles encounter despite all manufacturers claiming they have some type of magic technology to prevent it. Every water bottle I have had at some point in time begins to smell no matter how well you clean it. Contigo state this bottle is made from Tritan so it, "won't stain or retain odors." I will say when I used it just for water, I never encountered any issues with smell.
Although if you make the mistake of using it for anything else, be forewarned there is likely to be a lingering smell. We tested it out with Gatorade, several juices and a few other supplements people are likely to use. For the most part we were able to get rid of most smells. However, protein power was a whole other issue. It took several runs through the dishwasher to remedy the awful smell it retained. My recommendation is keep this bottle for water use only. Although if you have to use it for something else make sure you clean it out right away.
Cleaning – If you take the lid off this the bottle it is extremely simple to clean. The Kangaroo compartment also detaches which is nice if you need to get in there are clean that as well. Yet the real problem with this bottle lies in the AUTOSEAL lid. If you get protein, juice or other liquids stuck inside it does pose a problem, as we found it very difficult to clean.
Running it through the dishwasher several times may do the trick but there is no guarantee. Contigo recently released a set of 3 cleaning brushes designed for their bottles so this may help. Although once again, my advice is keep this water bottle just for water and you will be fine.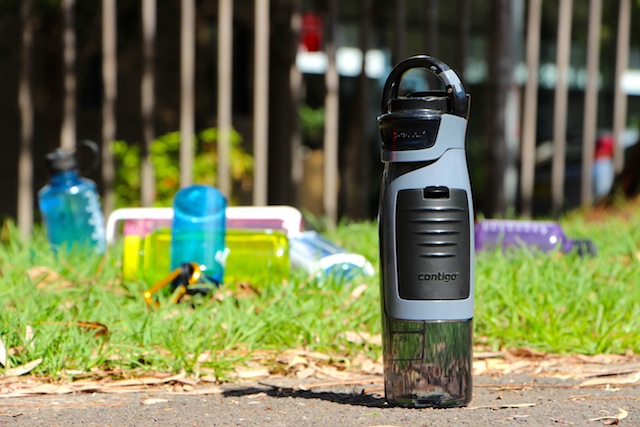 Conclusion
Initially, when I saw the Contigo Kangaroo water bottle I was not sure I liked the look or design. Although after using it for some time now, I will admit I am a huge convert. It is so functional and practical I literally never train without it.
Despite the fact I noted several issues with the Contigo Kangaroo water bottle above, I should make it clear, I personally only use this bottle for water. If I take a pre or post supplement, I use my wide mouth Nalgene which is much easier to clean.
That being said, I'm happy to state this is by far my favorite and the best water bottle I have come across for training. The fact it is BPA free, has a quick release AUTOSEAL button, storage compartment, 24oz/750ml size and a nice functional handle means it has found a perfect home during my CrossFit training.
If I was going to recommend any water bottle for you to take to your box, this is the one! And I don't think I have ever met anyone as enthusiastic about water bottles as me!