Andi Lew is a qualified food, lifestyle and wellness coach who has been working with functional fitness athletes and their diets for several years. The Rx Review caught up with the published author recently to film a video on how to make Chia Seed Pudding.
In the above video I show you how to make a natural, healthy Chia Seed Pudding!
If you plan on trying it at home, here's what you need to know:
Ingredients
1/2 cup of chia seeds
1 and 1/2 cups of coconut cream or nut milk
1/4 cup of berries or pomegranate or banana – something to top it with
Stevia drops to taste
Coconut or rice malt syrup to taste
2 tbls cacao powder from PowerSuperfoods
Method
Place all ingredients into a large mixing bowl and stir. Allow seeds to soak up liquid. The chia will become like a gel. Serve into bowls or glasses and top with fruit or Cocofrio dairy alternative Icecream. You may store in airtight container too for a few days.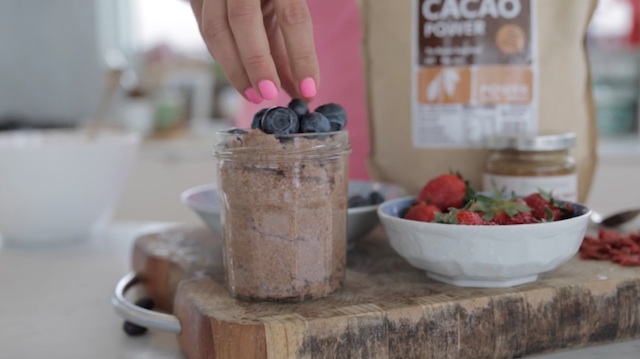 If you'd like to learn more healthy, natural recipes you can find them in my book Real Fit Food, which can be found by clicking here. You can also check out my recent videos on natural sugar, salt and fat alternatives for functional fitness athletes
Alternatively, if you'd like to ask me a question, or find out more about my food, lifestyle and wellness tips, head to my website by clicking here.