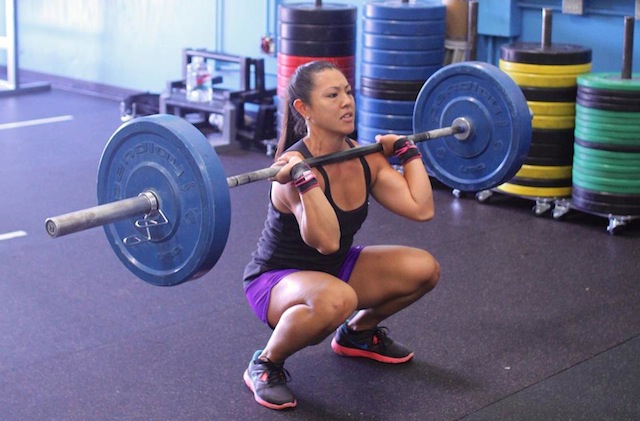 Over the past two years, former Division I collegiate basketball player Jamie Hagiya has become one of the top female athletes in CrossFit's ever-competitive Southern California Region.
During the 2013 Open, Hagiya finished with the top female score in Southern California for 13.2 – ahead of former Games champion Kristan Clever, her recent competition partner Rebecca Voigt, and 2013 Games runner-up Lindsey Valenzuela.
After the Open, Hagiya finished in fifth place at SoCal Regionals. As a relative newcomer to the sport, she found herself asking in disbelief, "What am I doing in heats with Kris Clever, Becca Voigt, Lindsey Valenzuela, Val Voboril and all these other amazing women?!" Though Hagiya didn't know what to expect from the Regionals, she "had a blast" competing with some of the world's best athletes.
As we know, there are no weight divisions at the CrossFit Games. While many strength programs prescribe weights at a percentage of your max, for most regular workouts, "Rx'ed is Rx'ed" – regardless of whether you're jerking your bodyweight overhead, while the person behind you is happily moving 50% of his or hers.
To help give us a different lens into understanding "How much weight is a lot?", I asked Hagiya for her current 1 rep max weights for a variety of lifts and compared them to her body weight. While moving heavy weights isn't everything in functional fitness, it can be helpful to understand what some of world's top athletes are doing when setting our own goals.
| | | |
| --- | --- | --- |
|           Lift          |             Weight           |      % of Bodyweight  |
| Snatch | 173 LB / 78.6 KG | 119% |
| Clean | 230 LB / 104.5 KG | 159% |
| Clean & Jerk | 215 LB / 97.7 KG | 148% |
| Back Squat | 315 LB / 143.2 KG | 217% |
| Front Squat | 255 LB / 115.9 KG |  176% |
| | | |
Hagiya's road from professional athlete to CrossFit Regional competitor might be one that we'll be seeing more often as the sport continues to grow and gain mainstream popularity. Despite being a bit hesitant about the sport at first, Hagiya said, "I ran a basketball clinic for the [WNBA's Los Angeles] Sparks and my current co-owner [at Torrance CrossFit, Dan Uyemura] brought his daughter and wrote me a Facebook message after saying he owned a gym and I should come try it because he thought I'd be really good at it. So after politely declining his first few invitations, I finally gave in and went one time. The rest is history."
Hagiya found that she loved CrossFit® workouts for the variety, new gymnastics skills, the challenge of learning Olympic lifts, and how even the shortest workouts can take the most out of you. With her background in team sports, Hagiya also found that she loved the community, competition, and of course, the clock.
Though Hagiya is competing in a different sport today, she realizes that her disciplined training has carried over from her former career.
"Playing basketball at USC and professionally overseas, I took my training very seriously. It basically was my job and I loved every minute of it. I had to constantly work on improving and perfecting my craft and skill of ball handling, shooting and all aspects of my game. I'd spend endless hours in the gym and multiple workouts a day working on my game."
Hagiya feels her background gave her a "good base of what I need to do with my CrossFit® game". Hagiya credits her former coach, former Lakers NBA champion Michael Cooper, for much of her training attitude and philosophy.
"[Cooper] would always talk about his philosophy of the 5 D's: determination, dedication, desire, discipline and decision making. Whether it's basketball or CrossFit training I feel that these are necessary, along with believing in yourself!"
Today, Hagiya operates Torrance CrossFit (formerly Fit Lab), in Torrance, California – a 6,500 square foot training facility that she opened with her sister Lexie and Dan Uyemura, who originally got Hagiya interested in the sport at LAX CrossFit. The gym offers everything from functional fitness classes to aerial silks, and of course, a professional basketball hoop. With team group training, and a CrossFit Kids class coming soon, Torrance CrossFit has been growing quickly since opening six months ago.
In addition to her functional fitness training, Hagiya continues to run basketball clinics and personal training for students and athletes looking to improve their game. Though CrossFit® has become a large part of Hagiya's own training, her love for basketball hasn't faded. Hagiya's next basketball clinic will be on December 21-22 in Carson, California, just three miles from the site of the Reebok CrossFit Games.
As the CrossFit Open season approaches, Hagiya is taking her Regionals experience to identify the skills she wants to work on before the 2014 Open. In addition to her overall conditioning and Olympic lifting, Hagiya has been focusing on improving on her gymnastics strength and movements – pull-ups, muscle-ups, rope climbs – in hopes of making in back to Regionals next year.
Living near many of the sport's top athletes in Southern California, Hagiya feels "grateful and very lucky" to have gotten to train with the likes of Valley CrossFit's Kristan Clever, Becca Voigt, Chad Melton, and Trixie Arya.
Hagiya has also trained with Lindsey Valenzuela, Kenny Leverich, and a number of her fellow SoCal Regional competitors over the past year, in addition to her regular training with members at Torrance CrossFit and her brother, who comes out to push her.
Though her current PRs and body weight to strength ratios will undoubtedly continue to reach new heights in the coming year, knowing where one of world's top functional fitness athletes strength numbers are today can help us with setting our own strength goals.
With a fast-growing community at Torrance CrossFit and a whirlwind rise to becoming one of the sport's elite in just a couple years, Hagiya looks forward to the next Open season and is hopeful for a return to SoCal Regionals in 2014.