The 2014 CrossFit Regionals delivered plenty of surprises. Along with the numerous big name competitors who failed to qualify for the Games, we also had a few new faces make a name for themselves.
Rookie Zeke Grove was one of them.
The 22 year old was easily one of the biggest surprise packets at the Australia Region with a 7th placed finish in Wollongong.
Going into the competition, Grove had less than 18 months of CrossFit training behind him and lucky to even be there.
Grove initially failed to qualify for 2014 Australia Regional after finishing two places outside the region's top 48 at the end of the CrossFit Open. While he was consistent for most of the Open, there was one workout that let him down, costing him a place inside the automatic quaificatio zone.
"I struggled through the deadlift box jump workout and came 250th, which really hurt my overall score," Grove said.
"When the scores were being finalised after the last event I was in 42nd to 46th place before the last few athletes put their scores in and my mates were watching the leaderboard while I was coaching, but I slid down the rankings a little bit at the end."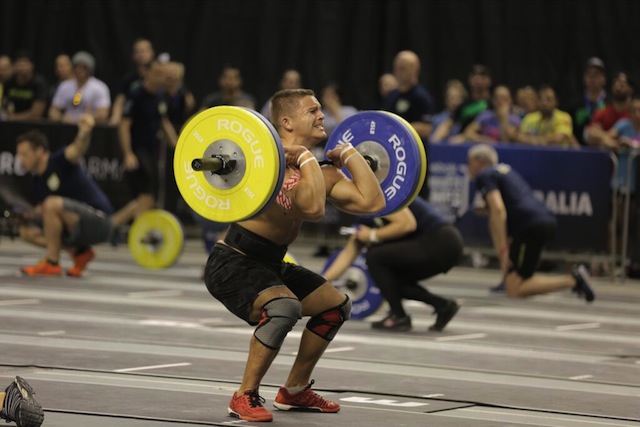 However, after two athletes chose to decline their individual invitations to the Entertainment Centre in Wollongong, Australia, Grove was given his chance and offered a second round invite to compete in the Australia Regional.
"I was over the moon to get there and went in with no expectations," he said. "I just wanted to give it a solid crack."
As always, the programming for Regionals was released well in advance and Grove said it suited him.
"I was pretty happy with it because it was gymnastics based, which is my strength," he said. "Being a shorter guy with shorter leavers it works in my favour, especially the strict handstand push-ups."
Grove showcased his gynmastic ability in just the second Event of the Regional, finishing seventh overall in the handstand walk. On Day 2 he did even better, setting the event record for Event 4, finishing the handstand push-up, front squat, burpee workout in a time of 9:51, beating the previous mark by more than 20 seconds!
"I didn't even realise how well I had done until afterwards when I finished," he said. "In training I'd completed the workout about a minute slower.
"I had no intention of it (breaking the record) and didn't think I would, but the atmosphere egged me on and the whole time the only thing I could hear was the crowd screaming CJ Walker's name so I felt like I was behind.
"I liked the burpees and the handstand push-ups and the front squats were heavy but manageable."
Grove's performance on the event catapulted him into the top 10 and, with an incredibly tight competition in the men's half, made him a genuine podium contender.
"I was pretty stoked," he said. "It was a little unexpected and I was lucky to be there anyway."
At the end of the three days of competition, Grove finished in 7th overall with four top 10 finishes, which included a tie for third on the final event consisting of pull-ups and overhead squats.
Despite an impressive end to his first Regional campaign, Grove said there were weaknesses in his arsenal that were found out during competition.
"When the workouts were released for Regionals, the high rep deadlifts worried me in Event 5 and that showed in my result," he said.
Event 5 was Grove's worst finish of the competition with 42nd place.
Since Regionals, Grove has signed on with Darren Coughlan from Give Em' Cold Steel who also programs for CrossFit Games competitors Pip Malone and Michele Letendre.
"Before Regionals I'd just been doing my own thing and had neglected my posterior chain, but being with Darren's been good," Grove said.
"He's helped me be a bit smarter in my training."
Unlike many of the rookies who've become recognised names in the 2014 season, Grove doesn't come from a professional weightlifting or gymnastics background.
"I grew up playing competitive golf and started playing rugby league when I was 12," he said. "My fitness came from rugby league as we did a lot of CrossFit-style circuits.
"But I'm a really competitive guy so if there's something I can't do I work really hard to be able to do it."
With eight months until the CrossFit season starts back up in 2015, Grove has his eyes set on a trip to the StubHub Centre in Carson, California as an individual competitor.
"After Regionals I got a bit of belief and confidence in myself that I could have a solid crack at it," he said.
"The Games is a definite long-term goal. If not next year, the year after."