After being struck down by debilitating shoulder injuries in late 2011, Denae Brown assumed that qualifying for the CrossFit Games would be the most surprising thing to happen to her this year. It wasn't.
At the 2012 Australian Regional, the 32-year-old athlete had gathered a legion of fans, who fell for her broad grin and cheered her 11th-hour comeback. When the Games rolled around, many were left wondering at the 'WD' against Brown's name on the leaderboard.
The truth behind the withdrawal of our third-placed woman only came to light in the past week or so: Denae Brown is pregnant with her first child.
This news makes her superhuman effort at the Regional that much more astounding. Brown had gone into the 2012 Open still nursing two upper body injuries: bursitis in her right shoulder and tendinopathy in her supraspinatus, a small muscle in the upper arm.
"It got that bad that a one point I couldn't even hang out the clothes on the line without being in absolute agony," she tells the Rx Review.
"After the Open, I realized I possibly had time to overcome the injury that had prevented me from going overhead for almost three months…  [but] my heart sank when I saw the 70lb dumbbell snatch and snatch ladder."
In true CrossFit spirit, Brown says she was ready to head to Wollongong and "leave it all out on the floor".
Even at the Regional, Brown didn't look like a podium contender until the last minute. Another crowd favourite, Amanda Allen, had placed between 4th and 6th for the first five events and the 41-year-old looked a dead certainty for Carson.
Going into the brutal chipper, Brown knew she was almost certainly out of contention. "Looking at the scoreboard, I needed about 14 points to step onto the podium going into the final event.
"With the field reduced, it didn't take long to do the math and realize the chances of doing this required me to finish between 1st and 3rd place and Amanda Allen to basically finish last," she adds.
But in one of the biggest shake-ups at the competition, Amanda Allen's efforts were undone in the first couplet of movement in the sixth event, where athletes had to complete three rounds of deadlifts and muscle-ups before progressing. Watching Allen no-repped again and again on the rings was one of the most downbeat moments of the weekend.
Allen came 15th and Brown tied with eventual Regional winner Kara Gordon to place first in event six, overcoming injury and the odds to claim a position on the podium.
Nothing would stop Brown from throwing down in the Home Depot Center. Nothing, it turned out, except for what she calls "one helluva surprise".
"It was about a week and half after the Regional. I had commenced back into my training regime, but instead of feeling like I was getting stronger and faster, I just felt more fatigued and lacking in my usual vigour and energy," says Brown.
"I decided to go see my local GP and she started asking me a heap of questions about my training and the Regional comp. She ran a few precautionary tests, then I went back to see her a few days later. She just sat me down straight away, looked at me gently, smiled and said: "De, congratulations… you're going to me a mum!"
Not only had Denae Brown done what so few CrossFit athletes will ever manage, she had done it while four weeks pregnant.
Getting to the Games is an impossible task for most CrossFitters, so how did Brown secure a spot with a passenger on board?
She says the first question she asked herself is not whether winning a Games berth was harder due to the new passenger, but whether the baby could have been a secret weapon.
"I have since read articles about women who shortly after conceiving a child, can experience an increase in oxygen uptake," she says.
However, she agrees it is a bit far-fetched to think this helped her. In fact, the advantage "is relatively short lived, and after the baby begins to develop it tends to absorb all of this additional oxygen".
No, Brown says her elite performance is not due to baby but Benji – Ben Schwartz, owner of Schwartz's CrossFit Melbourne. He had been Brown's coach when she lived in Melbourne and he remained her trainer after she followed her partner, Rohan, to pursue his job as an electrical supervisor on a construction project in Western Australia.
"What many people do not realize is I had actually begun my road to the 2012 CrossFit Games at Schwartz's CrossFit Melbourne where I had trained under the guidance of arguably one of the best CrossFit coaches in Australia, Benji Schwartz.
"So when I made the move to WA, I really felt I was incredibly fortunate to have such generous offering of support from Ben, who continued to provide me with a remote training program and daily phone calls for discussions about how my training was going," says Brown.
It was thanks to the Schwartz programming that Brown found her podium-worthy form and went on to take the bronze position in Wollongong.
Having overcome near-insurmountable obstacles, did she ever consider going to the Games anyway, baby bump and all?
"My doctor said the safety of the unborn baby was at risk and she could not suggest it was a 'safe' option for the baby and advised strongly against competing.
She concedes this medical advice was a bitter pill to swallow. "I remember feeling then, what I can really only describe as a complete state of ambivalence. When you consider the circumstances under which I was able to qualify for the CrossFit Games, I thought I had been given my dream shot to go there and had a chance to etch my name in CrossFit history.
"But I could only ever do this under the right circumstances. I don't know how I could have lived with myself if I was only ever remembered as 'that pregnant woman who competed against her doctor's orders anyway and lost her unborn baby'."
After finding out about the pregnancy, Brown swiftly informed CrossFit HQ, but beyond that, the news was kept strictly under wraps. Pregnancy is a sensitive, personal matter and not the kind of news to be rushed out among the CrossFit community until the right time. So Camp Pendleton came and went and CrossFit fans were left stumped as to why the Aussie was absent from the leaderboard.
"As soon as I found out after the comp I was pregnant, I contacted the CrossFit HQ and explained my situation and the reason that I was unable to go. As it was still quite early in the pregnancy, I asked them if they could maintain confidentiality in case there were complications."
She had hoped her withdrawal would open the door for another competitor to head to the States, but it wasn't to be.
"I wanted to give another athlete who hadn't been cut from the Regional an opportunity to go. As it turns out, the rules for the CrossFit competitions are very clear: only the top three competitors who actually qualified at the Regional can go," says Brown.
Giving up her spot was a crushing blow. Brown couldn't even bring herself to accompany the 30-strong Schwartz crew over the States – the disappointment was too much. "I knew it would be way too hard being at the comp while it was on and knowing I couldn't be out there competing," she says.
Instead, the country girl, who was raised in the small rural town of Pinnaroo on the South Australia-Victorian border, went bush to escape the disappointment.
"I went to the only place I knew that I could go and find some refuge away from it all – the country! My partner and I packed up and headed on a road trip down along the south west coast of Western Australia. I think subconsciously I just wanted to be as far away from the Games as I could possibly get."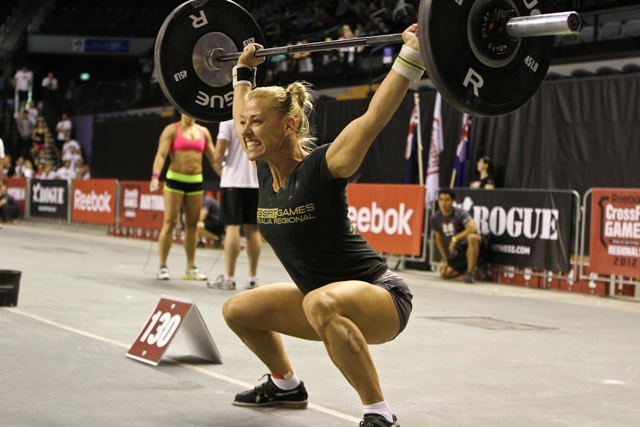 Now back in Perth, where she splits her training between West Coast CrossFit, The Mill and outdoor workouts, Denae Brown is still hitting the WODs, but toning things down from the kind of brutal conditioning she was doing pre-Regional. She admits: "I can still sometimes get a bit carried away."
With a January due date, it's safe to say the 2013 Games are unlikely, but does Brown see herself getting another chance for the Games?
"It is still a little too early to say exactly. Everything has changed so dramatically for me in the past few months. I guess all I can really say to all the Rx Review readers out there is watch this space."