How to Make Paleo Pancakes
We all know one of the best accompaniments to bacon is pancakes. The only problem with this favoured breakfast combination is that the Paleo diet forbids the consumption of a traditional, fluffy, white pancake, for obvious reasons.
So anyone currently on the Paleo diet or who has gone grain and dairy free, is often left with two options. One, cut your losses, wipe away the tears and forget that pancakes ever existed (not happening). Option two, find a more suitable replacement for those ingredients and make yourself a Paleo approved pancake recipe.
Now I will admit, there are countless Paleo Pancake recipes floating around. And yes, I have tried many of them before I was forced to come up with this variation. The problem I found was most of the recipes I tested, either saw the pancake fall apart mid-flip or left them too runny.
So this recipe comes to you after much trial and many, many errors in the kitchen. Over time, I selected the ingredients by combining, adding and eliminating the contents of other Paleo pancake recipes leaving me with this final product.
I know a lot of recipes use banana as a primary ingredient in their Paleo Pancake mix, but I have an aversion to the curved fruit so you won't find it in this mixture. I will say this variation is probably the best tasting Paleo Pancake that I have tried to date. The ingredients will bind together and will cook all the way through, even maintaining the consistency of a regular pancake (well almost).
Now before the hard lined Paleo enthusiast decides to point out that protein powder is not Paleo, I'll concede that point but note, we are working within a tight parameter so have to make some exceptions.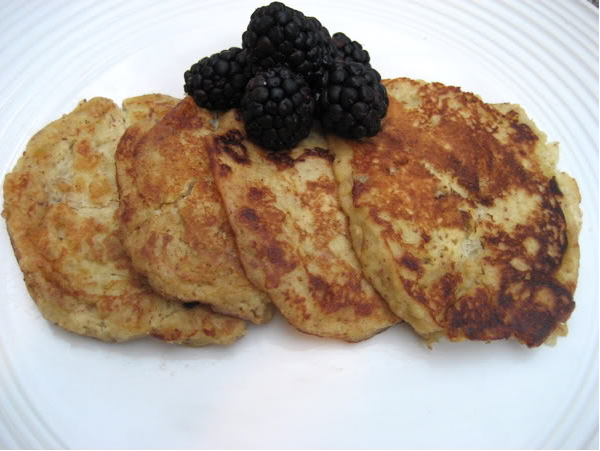 Paleo Pancake Recipe
Ingredients
1.   2 eggs, beaten
2.   ¼ cup of almond milk
3.   ¼ cup of water
4.   ¾ cup of almond meal/flour
5.   ¼ cup protein powder (optional), I use 100% whey protein isolate in chocolate/coconut flavour
6.   1 heaping tablespoon of coconut flour
7.   A dash of honey
8.   Oil for cooking, (I like to use coconut oil)
Method
There really is no pretty way to put it other than mix everything together in a bowl. There is no special order but be sure to beat the eggs before the stirring process begins.
After the eggs are beaten I then add the almond milk and water to the eggs and follow by adding the almond flour, protein powder and coconut flour. I like to finish by squirting just a dash of honey into the mix.
Cooking
1. Once all of the ingredients are combined, heat some oil in a pan and cook over medium heat.
2. I like to keep the pancakes to about palm-sized, so I usually spoon the mixture onto the pan with a soup spoon.
3. Cook until golden brown on each side, times will vary depending on the stovetop. I have noticed that it takes approximately 1-2 minutes to cook the perfect, paleo pancake.
As I mentioned above using protein powder obviously violates the true paleo experience. So if you prefer to cling on to those caveman ways then you can eliminate the ingredient altogether. If you do decide to skip the protein powder then you must make up the extra ¼ of a cup with either almond meal or coconut flour.
Once you've beaten, stirred, spooned and flipped all that's left is to add the finishing touches. I'm not too adventurous in the toppings department but you can spread honey over the top if you're craving a little something sweet with that salty bacon or even decorate with a few fresh berries.
If you have your own unique way of  making Paleo Pancakes please let us know in the comment section below.