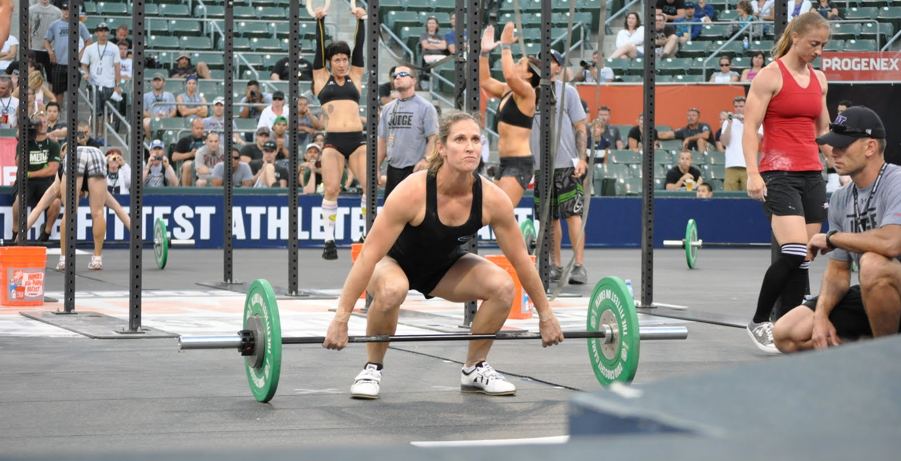 Every CrossFit box has a nice guy. In fact, they're usually in abundance. You know the ones – they're always smiling, welcoming new people and encouraging everyone to push harder and further. However, there's something special about my box's resident Mr Nice, and indeed his entire family, which makes them stand out.
On my very first day at my now-beloved CrossFit 2600 (Canberra, Australia) when I rocked up shaking in my boots (well, in my completely inappropriate runners), Alex was the first to come up and introduce himself. At first I thought he was only making an effort with me because fear was written all over my face. But after a few weeks I realised he's like that with absolutely everyone.
Then I met his wife Megan Smith, a top 10 Australian Regionals finisher who manages to fit in a large amount of training around five daughters, a husband who does long stints overseas for work and a full-time job. Meet Mr and Mrs Smith – a regular name for an extraordinary family who say that CrossFit doesn't dominate their lives, but its influence cannot be ignored.
Alex is a 16-year Australian Air Force veteran, with countless overseas trips under his belt. In 2011, he competed at Regionals as part of the CrossFit 2600 team, based out of Canberra. Currently on deployment in Afghanistan, he says for him, Service to his country is a privilege not a duty.
Alex was in Afghanistan when the Australian soldier deaths occurred in August this year.
"I was in the area when the incidents occurred and there was feeling of obvious grief and loss, but also of steadfast resolve. The spirit of mateship and brotherhood amongst these soldiers is one that Hemmingway would struggle to put into words," Alex said.
Alex says that, whether it's a two day trip to Perth or a 6 months deployment, it's never a good time to be away from home, but he's very lucky to have a strong woman at home.
"If I know things at home are good then I can focus on doing my job," he said.
Megan is a former Australian Institute of Sport (AIS) swimmer and has been CrossFitting since 2009. Self-taught in a gym, she finished 7th at this year's 2012 Australian Regionals.
"We started out just having a play with different movements in the gym, from what we'd seen or heard about. The trainers that worked at the gym used to give us hell, saying it wasn't going to do anything – but now they all do it!" Megan said.
"I'm 40 years old, but I'm aiming to finish top 10 for next few years and then do masters. I competed at the Games in 2010 in the US, when I'd only been doing it a few months. But the weights are getting heavier, and it's more popular now. You have to really want it. And I do!"
Alex also started CrossFit in 2009, when he was endurance mountain biking and training for a 100km event.
"Megan had been saying for a while that I was wasting my time riding for 3-hours when I could do a series of 10-20 minute workouts that would increase my strength, power, speed and endurance. I said bullsh*t but agreed to give it a try anyway. After the initial shock and pain (Filthy 50 was my first WOD!) I was hooked and, I hate to admit it, but she was right. My riding improved exponentially and the only difference was CrossFit," he said.
When I asked Alex about why he makes an effort with each and every new person to our box, he explained that he feels it's important to foster a sense of inclusion.
"Turning up to a box for the first time and seeing physically imposing individuals destroy workouts can be intimidating and could be the determining factor in whether someone stays or goes. The sense of community amongst CrossFitters is very welcoming and inclusive. With the amount of travel I do I'm lucky enough to be able to visit other boxes and the warm welcome is always the same. It's not long before you're establishing links and forming relationships that you simply don't see in orthodox gyms," he said.
We Aussies love to beat the Brits, and Alex is no exception. He'd been in Afghanistan for a few weeks when he ran his first CrossFit class with troops from Australia and the United Kingdom, and took great pleasure in showing them the ropes.
"It was really a fundamentals class, as none of them have done any CrossFit before. I taught them squats, push press and deadlift and then did a 20-minute WOD incorporating those three movements," Alex said.
"There was plenty of gobbing off by the young blokes before we started about 'only doing a 20-minute workout but there were bodies all over the floor when we finished, particularly the Poms – success!!"
Alex and Megan have five girls – aged between 8 and 21 – all of whom are involved in the sport in some way.
"CrossFit doesn't dominate our lives but its influence on the family cannot be ignored. The obvious effect has been the focus on the holistic approach to general health and wellbeing. As well as its strength and conditioning benefits, we eat a very healthy diet and have been doing it for so long now that it's just normal," Alex said.
"They just want to do it. We've got a full garage setup and our little girls spend hours on the pullup bars and rings. They love making up their own WODs and use the bands and other equipment – and just generally having fun!" Megan said.
Alex says their 20-year-old daughter Michaela is now competing at local comps and getting good results.
"It won't be long before she hits Regionals. She's already stronger than her mum and she's got the drive and motivation to go further. As a Dad, obviously it makes me proud to see her sporting achievements, but I'm far more impressed with her ability to stick with something that can be difficult," he said.
There are a range of reasons why we CrossFitters flog ourselves to such an extent in the gym. Some are after weight loss and increased fitness, some want to compete, and some want to have fun and enjoy being a part of the community (or a combination of all of the above). But, like other parents, Alex's motivation extends beyond this.
"It might sound cliché but my motivation, at all times, comes from my children. If I'm to fulfil my role as a Dad, I need to provide an absolute example of what I want my girls to grow up like and I do that through my actions," Alex said.
"I'm not a saint, everyone makes mistakes. But if I want my girls to eventually be contributing members of society, I need to set an example for them in everything I do."
This awesome twosome's training differs. Megan schedules her workouts around 12-hour shifts at work as a nurse, while in Afghanistan Alex make it up as he goes.
"We're a bit short of equipment but have heaps of sledgehammers, truck tyres, and ammo boxes full of rocks. And, being engineers, we can craft a pull up bar out of just about anything. Although programming is important from a developmental perspective, doing anything is better than nothing – so at the moment, I'm JMSU (Just Making Shit Up)," Alex said.
Many have noted CrossFit's gradual commercialisation over the years and Megan has also seen changes in the sport. Remarkably, she donates her time to new CrossFitters, training them for free.
"CrossFit should be about the community, but because it's more commercial now it's not as inclusive at it once was. It's become exclusive because it can cost a fair bit. I have people that I train for free, as my way of giving back to the community," she said.
As someone relatively new to CrossFit, one thing I was keen to know from this super couple was what advice they had to newbies.
"Learn the basics first. Get mobile. Get the mechanics of the movements down pat before adding weight. You have so much time to learn these things properly. A mistake many people make (yours truly included) is that we want it all right now and that often comes at a cost – injury. It's good to push yourself, but know your limitations," Alex said.
And to all those that are contemplating trying the sport, Alex says there plenty that's good about it.
"In terms of day to day stuff, for me variation is important. But in terms of the bigger picture – if I offered you the choice between decrepitude and ending up in nursing home because you can no longer move your own body, or 3-4 functional workouts a week with awesome, likeminded people to help stave off 'Father Time', which would you choose?"
It's a no-brainer really.