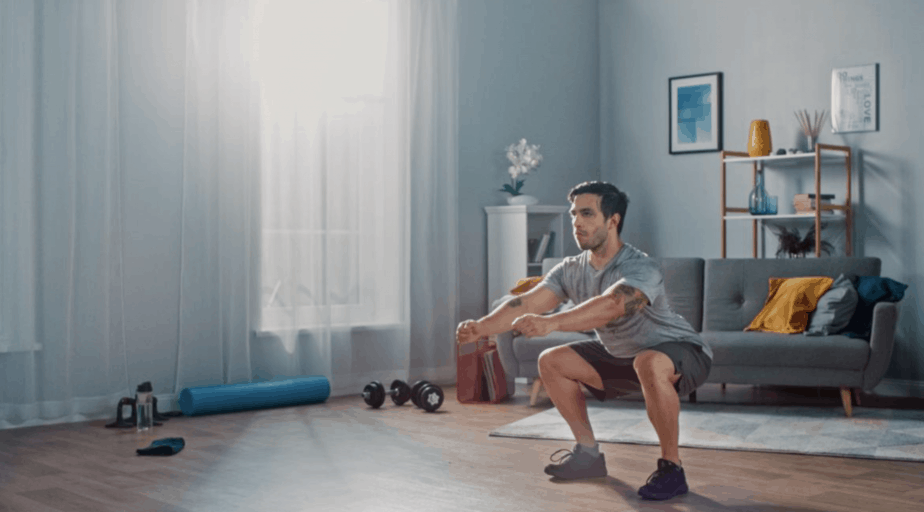 Are you working from home during the current Covid-19 pandemic? Do you hate going to the gym? Is your schedule busy to get gym time? Is getting gym services expensive for you?
If so, there is no need to worry as there are many ways of keeping fit at home without breaking your bank.
The highly contagious Coronavirus, has led to people staying indoors and working from home. For many people, staying and working at home can fuel laziness and low levels of productivity. It is vital to commit to staying healthy by keeping fit.
Create a space in your home for working out
Creating a work out space is the first step to take. A Spacious spot in your home from where to do workouts is a perfect motivator. You do not want to be sweating in the middle of your living room and inconveniencing other family members while watching tv.  
Most homes from competent real estate listings such as movoto have made keeping fit at home easy because of the incorporation of gym rooms and big yards from where you can work out.
Alternatively, you can create a gym corner in your house near a window or use the balcony and keep it clean. The critical consideration is getting the circulation of fresh air as you work out.
Jog and walk around
Sitting down for a more extended period leads to fatigue and is not friendly to your body. 
Jogging out or walking around for some minutes every day will keep you healthy in a surprisingly big way.
Invest in core equipment for doing workouts at home
A piece of simple equipment like a skipping rope is valuable to keep you fit without denting your pocket. Rope skipping in the yard is a simple, exciting way of working out.
You can purchase other simple equipment like tummy trimmers, and if you have resources, equip your gym with a variety of tools like lifts, weights, etc.
Do workouts
There are different work out moves that you can do to help keep your body fit and flexible, and that does not require heavy machines. These  are core workouts to do at home, including but not limited to: 
Jump ups
It is directly jumping up and down and raising your hands over your head each time. It is a cardio workout that keeps your heart rate up.
Sit-ups
Sit-ups are done by lying on your back and lifting your upper body while maintaining a straight position. Your legs should at no time bend or curve. It helps burn stomach fat to give you a flat tummy and develop abs.
Squats
Do squats by bending into a seating position while the back is straight and hands stretched out and stopping at the knee level. It helps tone the body.
Bicycles
Bicycles workouts are body toners. Lie on your back, hands behind your head, suspend your feet in the air, bend the knees, and pump your feet forward in a bicycle motion as if riding.
Choose a few simple workouts that you can exercise every day.
Use social media
Nowadays, technological advancement has changed a lot of industries. Gym trainers and health coaches guide people on wellness though social media with fitness tutorials
Stream live videos of a working session and follow what they are doing. Youtube and other platforms have fitness coaches and bloggers ready to work with you on the internet to get a healthy body.
Furthermore, wellness and fitness tv programs provide live sessions to help you work out at home.
Make the most out of the home surroundings
An example is a stairwell. Running up and down the stairs or using it as jumping steps is an innovative way to work out. Also, if you live in an apartment, avoid using the elevator and opt for the staircase to burn calories.
Be creative with your fitness. For example, while sitting on a chair using your computer, you can stop for a while, stretch up, and try different body movements while still sitting.
Also, you can play your favorite music and dance around to it. It is an excellent way to be happy and protect the heart.

Exercise yoga and meditation
Yoga and meditation are natural ways of keeping you healthy and fit. You can utilize these spiritual ways to calm anxiety, stress, depression, and emotional control.
Learn yoga poses and use them to meditate or sit in a chair and do it.  Yoga and meditation enhance your mental wellness and being.
Play with your kids and pets
Kids love playing. Chasing them around, playing games like football, and basketball in the yard is a way to keep fit while bonding with them.
Staying at home gives you a chance to bond and pamper your pets. Playing with them will excite you and make you happy, thus keeping mental problems like stress at bay.
Develop a positive attitude
A positive mindset is everything. With the wrong mindset, you will find it hard to do a lot of things. Reflect on positive quotes and incorporate them into your lifestyle.
Do not force anything, take a deep breath, exercise self-care, and be more kind to yourself.