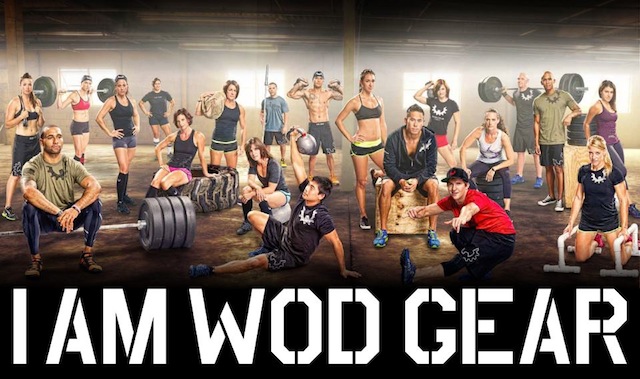 This week, we take a moment to review a pair of WOD Gear's Crop Pants.
Item: WOD Gear Crop Pants
Price: $65 USD
Manufacturer: WOD Gear
Purchase: www.WODGear.com
During my very first CrossFit class—a fundamentals course—I wore a pair of shorts that still haunt me to this day. They were navy blue mesh shorts with an interior lining that came down to a little lower than mid-thigh. I've worn them before to do everything from rake the yard and read a book to take a walk and ride my bike. Despite having not worked out in them all that much, I really didn't think they'd cause me many issues.
I was a wrong.
For skill work that evening, we did partner handstands, where you kick up your legs into the hands of another person. Not too brag but for my first day, my handstands were actually quite good (thanks, yoga!)—that is until my short legs shifted down and I looked like a was wearing adult pull-ups. Still, it was a short amount of time, and my partner—did I mention I was paired up with my coach?!?!—didn't point and laugh. I figured I survived.
That is until wall balls.
Apparently, the short legs slide easy when upside down, but not so much when right side up. Instead, the lining kept getting caught up on my bulging thigh muscles (or cellulite—I'm not here to argue semantics) causing the waist to pull down ever so slightly with each squat. Despite a lot of stopping to readjust, I know it was all "I see London, I see France" in that class. From that point forward, I pledged my allegiance to crop pants.
I've worn all sorts of crop pants (or as my husbands calls them, "shants" for short pants), so I was pretty excited to try WOD Gear's brand. I gave both the Pink and Gray Crop Pants and the Black and Quilted Crop Pants a go. They were both very similar to one another, so except where noted below, I'm going to refer to them as the same pants. I apologize in advance for the type casting of athletic wear.
The Good
Stays Put—If you didn't already know, crack is whack. And CrossFit crack is even whacker. I prefer my business to stay my business, which requires a waistband that stays put and doesn't offer peep shows. These pants kept my dairy aire covered whether I was upside down, right side up or on my side.
Rightly Tight—I'm a pear, or in song terms "Baby Got Back"—and I'm baby (just don't put me in a corner…that's a Dirty Dancing reference I couldn't pass up). With this in mind, I require my crop pants to keep as much wiggle and jiggle out of it whenever possible. These pants have a "four-way stretch material providing both support and mobility." For the sake of the WOD, I want the mobility, but for the sake of my peers, I need the support. The material held me in snug as a bug in rug.
Cuteness—I know the men reading this might be rolling their eyes, but I think my females will back me when I say a little bit of cuteness goes a long way for your confidence. The Pink and Gray pair (also available in Purple and Gray) has a pink waist band with the WOD Gear emblem. The color is cute and the logo looks tough, which together makes it Grrrrrr-ly.
Length—While I tend to wear crop pants that come to just below my knees, these pants are a little longer and come to about end of calf. At first I didn't think I'd like this, but I found that I could push them up a bit or wear them long. Come winter, the length will keep the chill off my calves. So it turns out the extra inches makes it more versatile, proving once again—size does matter.
The Bad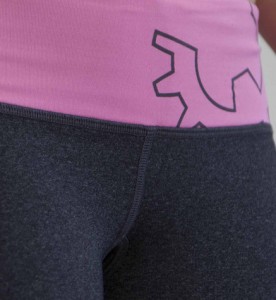 Seams—I typically either work out or coach in the morning, which on any given day means I potentially go from wearing crop pants to wearing a skirt or dress at my corporate day job. The seams of the pants leave lines on my legs that take a while to go away. While this isn't a complaint of only these pants, as I've yet to find a pair of crop pants that don't do this, I'd have given five thumbs up if the pants left my skin seam-free—and if I had three extra thumbs.
Useless Pocket—Just left of center is a pocket that is in the waistband. Again, just about every pair of crop pants I own have a pocket somewhere, but I rarely if ever use it. The pocket is big enough to hold your driver's license or maybe your iPod depending on the player model. Some of my pants have zippers or fold-over flaps to protect what's inside. However, in the WODGear pants, it's just an open slot, which makes your belongings somewhat vulnerable. If you're a small pocket user, feel free to shift this to "The Goods." Otherwise, I just don't think it adds much.
Sheen—When crop pants are cheap or worn, they can start to dull out, and your skin shows through. And if this describes your pants, for the sake of everyone, it's time to buy new ones! When I first wore the WODGear pants, I got a little nervous, because there is a slight sheen to the material that at first had me doing double takes thinking it was my skin showing through. I'm happy to report that it's just the material. However, if I thought it was my skin, it made me worry that other people thought I was wearing see-through pants. It doesn't stop me from wearing them now—and I really don't think about it anymore—but it is good to notice, and correct others if they're staring at you oddly.
Conclusion
If you're looking for pants that offer support, coverage, and mobility, these WOD Gear crop pants are for you. I wish the price wasn't so high. WOD Gear is a newer apparel company, so $58 seems a touch high. However, if they hold up and don't lose their stretch, than they're well worth the cash. I wasn't able to put longevity to the test just yet, so I didn't want to list the price as a bad. After all, you get what you pay for. And for me, coverage is well worth the cost.
You can check out WOD Gear's full range of clothing and apparrel at there website WOD Gear Clothing here  [wzslider transition="'slide'"]