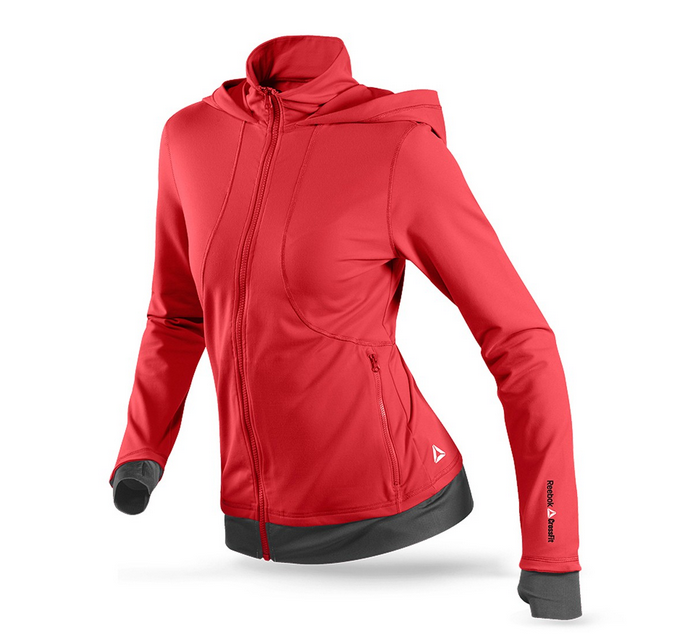 Item: Reebok Track Jacket
Price: $118.00 (currently on sale $59.00)
Retailer: Shop CrossFit Reebok
Purchase: http://shopcrossfitreebok.com/women-s-track-jacket-excellent-red.html
Reebok's Notes:
This hoodie track jacket keeps you cozy during those chilly spring and fall mornings when you have no choice but the 6 a.m. WOD. It's made with a 4-way stretch fabric that keeps you dry, has an oversized hood, mesh thumb holes and zip front pockets.
Our Review:
You had me at thumb holes…
Since I discovered Lululemon's range of jackets and jumpers around a year ago, no other brand has had a look in. Thanks to Lulu, I'm now a big fan of 'thumb holes'. If a jacket or jumper doesn't have them at the end of its sleeves, I just don't buy it.
The Good
Thumb Holes: I didn't have any expectations of the Reebok Track Jacket. But when I laid eyes on it and saw it had thumb holes, I got a little emotional – and in the traditions of the movie Jerry Maguire, the phrase 'you had me at hello' (or, in this case, 'at thumbholes') sprang to mind.
Sleeves: Not only does the Reebok Track Jacket have sleeves that are quite long (highly suitable for long arms like mine), the thumbholes at the end of the sleeves serve to pull the sleeves down over the wrists and prevent any cold air getting in – which will definitely come in handy during the fast approaching Australian winter.
Look and Feel: The material on this jacket is lightweight and form-fitting, yet thick enough to prevent cold air from getting in. The look and feel is superior to other hoodies on the market, and with the normal Reebok CrossFit branding you'll feel like a pro (even if you can't link your kipping handstand pushups yet!) With a zip up front, a high neck and a good size hood, in this you'd be ready for whatever the elements throw at you.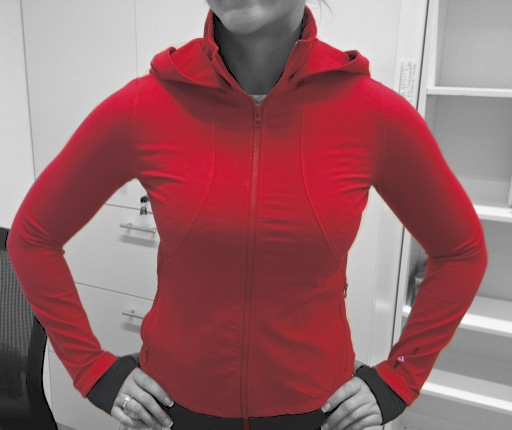 The Bad
Material: One of the few feature of this jacket that could be improved is the double layer of material. The lining is a different colour to the outside, and hangs lower than the bottom of the jacket and at the end of the sleeves. It looks good, but given it's made of a lighter fabric when you move it curls up and doesn't sit properly. However, this could be simply because of the tighter fit on me – a larger size might have sat better.
Size: Now anyone that knows me knows I'm certainly NOT small – nearly 5'11 with shoulders and legs that were definitely meant for a rower or a cyclist. I usually wear medium or large in Reebok CrossFit gear, and when I saw this was a size Small I thought there was no chance of it fitting. However, this style seems to be a fairly big fit and the small did zip up. So, on the sizing front, order slightly smaller than you usually would.
Conclusion
Overall though, this piece of clothing is great!
Call me crazy for getting emotional over a jacket (and maybe it's because I spend a lot of the year in a Canberra or British winter…) but trust me – a jacket like this is a necessity.