Carrie takes the time to give us her thoughts on the Reebok CrossFit Lifter 2.0.
Item: Reebok CrossFit Lifter 2.0
Price: $149.99 (Price may vary through local retailers)
Manufacturer: Reebok
Purchase: CrossFit Store
It's been a while since we've talked about my feet. As a quick update, they're still much too large for my average-height frame, are the culprit for most of my tripping (well, a lack of spatial awareness doesn't help), and regularly require me to buy men's shoes when it comes to most things CrossFit-related (eff you, Reebok…women have big feet, too).
However, my Sasquatch-sized stems are still an adequate foundation on a windy day and look pretty cute when my toe nails are painted. With that out of the way, let's talk shoes–specifically the CrossFit Lifter 2.0.
Since receiving my AdiPowers, my love for weightlifting has grown leaps and bounds. I was already more of a fan of heavy lifting WODs than the metcon variety, but the complete absence of running is what ultimately made me fall head over heels for snatches, cleans, and jerks. I will say, I love my AdiPowers a lot, so the Lifter 2.0 has some big shoes to fill…yeah, I went there.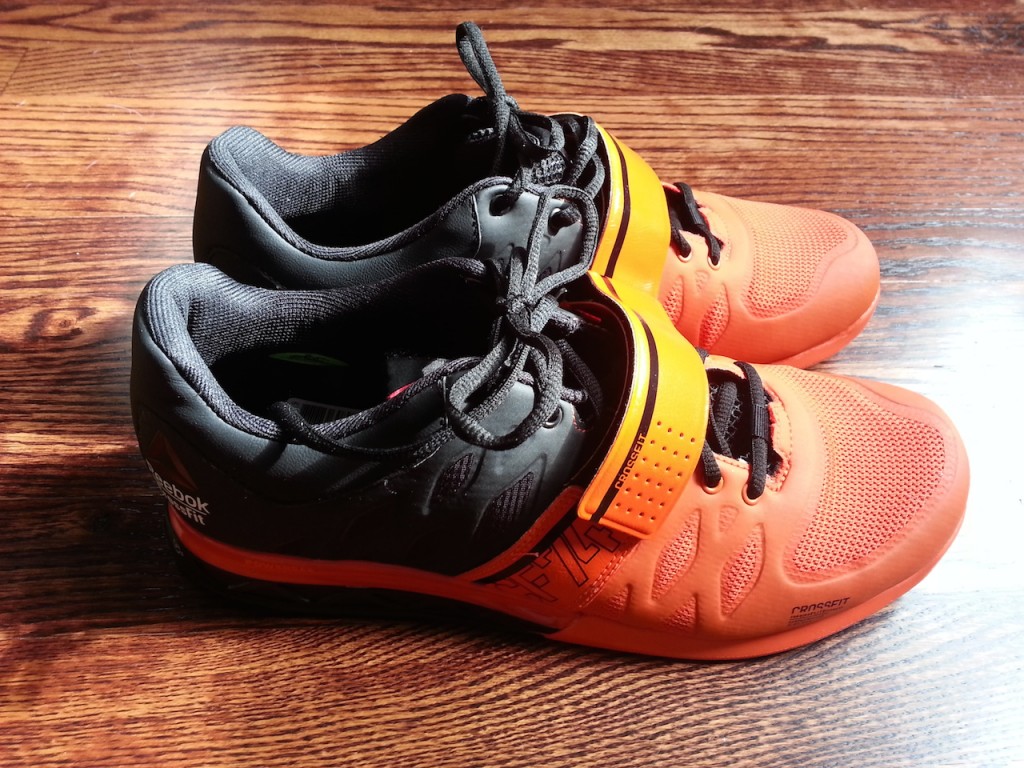 The Good
Style and Construction: If you're a fan of the Reebok CrossFit apparel look, then you'll love these shoes. The styling of the Lifter 2.0 falls right in line with sleek look of various Reebok Nanos. The uppers are a man-made material, with breathable mesh, and include the adjustable strap for locking in the foot expected with weightlifting shoes.
Fit: Similar to the Nano 3.0, the Lifter 2.0 has a roomy toe box, both in width and in height. In comparison to my AdiPowers, there is a lot more wiggle room both up and down and side-to-side. The tongue of the shoe is probably my favorite though. It's super cushy, making the shoe not only comfortable right out of the box, but also helps to hug the foot within the shoe. And who doesn't love a hug every now and then?
I also noticed upon first trying on that the shoe felt like it was already broken in. Weird, I know, but when I more closely read the Reebok description, I found that this was thanks to "3D FuseFrame technology, [which] provides superior fit and comfort, and allows a no break-in period." So not so weird as it was intentional. And I like it! They are great for running and now I am not in pain when I take my dog running on a leash.
WOD Worthy: I consider my AdiPowers to be wearable during some WODs that are not all about weightlifting. However, the Lifter 2.0 takes it to a whole other level. While Nanos seem to be the true hybrid shoe great for any WOD you throw its way, the Lifter 2.0 feels light and flexible enough to handle quite a few metcons–even with running, albeit, probably shorter distances.
Price: Almost two years after the fact, I still have a touch of sticker shock from my then $200 Adipowers. The Lifter 2.0 seems a little more reasonably and competitively priced at $150, especially given that they seem versatile enough to be used for more than just weightlifting.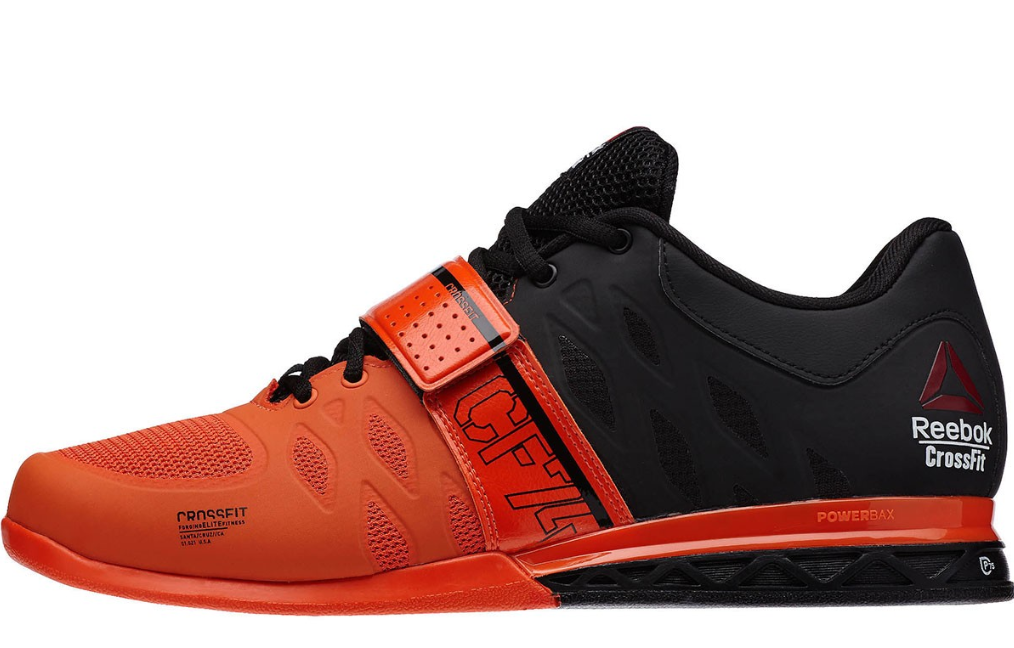 The Bad
Color: While the styling is classic CrossFit, the color options are limited. Men have three options from which to choose: Porcelain (pretty much just a white shoe with black accents), Flux Orange (a half orange, half black shoe), and High Vis Green (an all-black shoe with lime green accents). Women only have two options: Electro Pink (an all-white shoe with pink accents) and High Vis Green (an all-lime green show with black accents). I'd say the women's High Vis Green is my favourite, but since I have man-sized feet, I went with the Flux Orange. I can't help thinking that my feet look like they're celebrating Halloween (which is my favourite holiday, so that's not necessarily a bad thing).
Smell: I can only speak for the shoes sent to me, but when I opened the box they reeked of a chemically sort-of rubber smell. It was really strong. I'm hoping that keeping them out of the box and letting them air out a bit will help. Otherwise, I hope to grow taller so that the fumes don't doesn't cause me to pass out. In the meantime, I make sure to use them in a well-ventilated area.
Stability: The flexibility that seems to make these shoes more versatile comes at the expense of the stability I love in my AdiPowers. I noticed a bit of slippage in the Lifter 2.0, but I had this same issue with the Nano 3.0, which leads me to believe it's the wider toe box. With my Adis, my foot feels locked in and solid to the ground.
However, the Lifter 2.0 feels softer and more athletic-shoe like. This is especially noticeable in the heel. I put one Lifter 2.0 on one foot, and on AdiPower on the other foot, and just walking around on wood floors, you can hear the difference. There is a hardness to the AdiPower that feels lacking in the Lifter 2.0. This could be due to the heel design, which Reebok describes on their website as having a "PEBAX TPU clip with an engineered design to eliminate excess weight and provide exceptional response and efficiency." Some people will love this fit; I just prefer a more ski-boot like fit when weightlifting.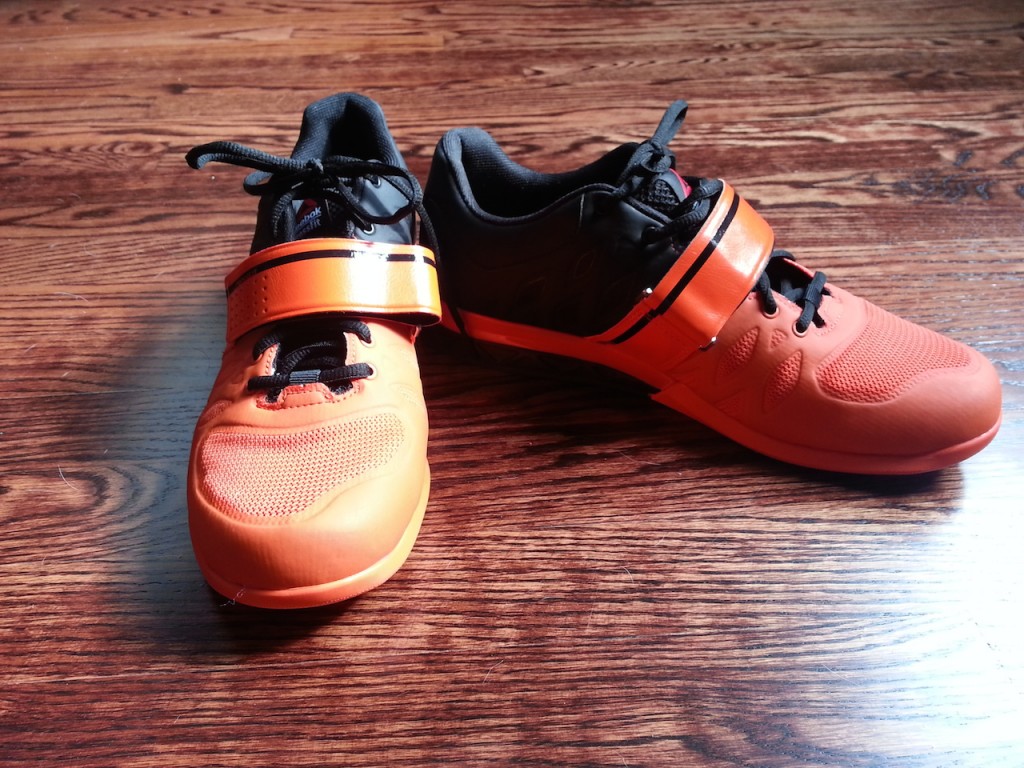 Conclusion
While the Lifter 2.0 provides the stability you need for squats, O-lifts, and anything else under a bar while also allowing you to get your metcon on with the best of them, my AdiPowers still have my heart. When lifting, I want a shoe that feels solid as a rock with little wiggle room, and the Lifter 2.0 just doesn't measure up.
It seems to me that Reebok has fallen short with this shoe, given that the purpose of the Nanos is to be able to lift and metcon without a shoe swap. While the Lifter 2.0 takes that purpose up a notch, focusing on lifting, they just doesn't feel like the traditional powerlifting shoe that I expected to receive.
[wzslider]