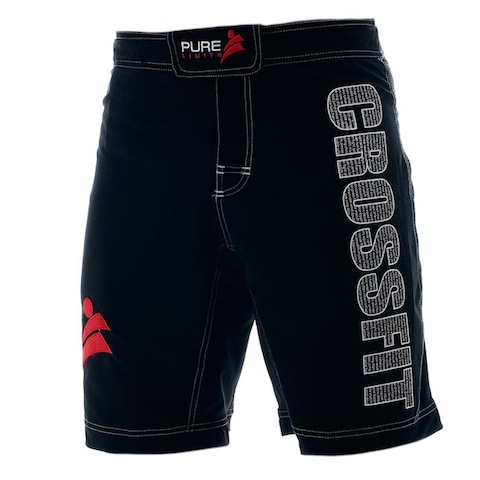 This week, we take a moment to review a pair of Pure Limits Training Shorts.
Item: Pure Limits Training Shorts.
Price: $49 AUD
Manufacturer: Pure Limits
Purchase: www.PureLimits.com
Having played Australian Rules Football for the past 20 years, I've always been the kind of guy who likes to wear short shorts when training. For me, the higher they sit above the knee, the more I like them!
In the past few years, however, I've branched out a little and tried out a few different styles of training shorts, from basketball shorts, to soccer shorts and have even tried plain old board shorts when training out of my CrossFit affiliate.
While some of them have been OK, many have been horrible. I still get embarrassed thinking about two years ago when I was in the middle of a WOD and my board shorts ripped in half during a thruster. With my underwear completely exposed I had no option but to finish the workout, much to the amusement of everyone else in the box!
From that day onwards I decided to stick with my Aussie Rules football shorts, which still haven't failed me yet!
So it's fair to say when I was asked to review the Pure Limits training shorts, I was a bit skeptical at first. Not because they come with a bad design (in fact I actually really liked the design at first glance), or because they are bad quality, but purely because they are a lot longer than shorts I usually wear.
I must admit, it took me a few minutes to get used to the feeling of having material touch the majority of my thighs, although once I got used to it, the shorts were actually really good to wear.
The Good
No Rips or Tears – Unlike the board shorts that I ripped in half during a thruster, these shorts come with four built in stretch panels to ensure you never rip or tear them during training. The elastic panels are found on the side of each leg, underneath the groin and along the back.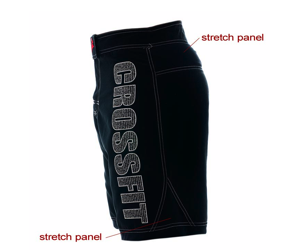 Full Flexibility – While these shorts were tight, and covered a fair bit of my thighs, I didn't find them to be restricting. I was still able to get full depth on my squats, perform a big kick while trying to muscle up and explode when doing my box jumps.
Cool Design – The shorts come in a black colour with a very simple design on the front and back. I particularly liked the 'CrossFit' logo that runs down the left side. They also come with a small in-built pocket that is perfect for an iPod or mouthguard.
Great for Swimming – While it's not a common CrossFit exercise, swimming was included in one of the workouts at the 2011 Games. I found myself sitting at Bondi Beach wearing these shorts and thought I'd try them out in the water. Not only were they comfortable and non irritating while free-styling, they also dried super fast and were not heavy in the water.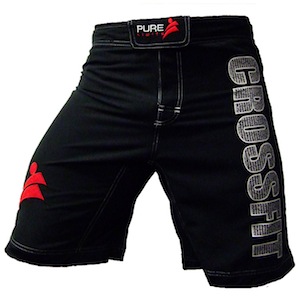 Price – For $50 AUD, Pure Limits CrossFit Shorts are more than affordable. Considering most pairs of board shorts sell for more than this, these shorts are great value for anyone interested in CrossFit.
Secure – The shorts come with a triple lock system, which includes a Velcro strap you wrap over the laces once they are tied. As soon as I put them on I got the feeling I was ready for a workout. In addition, all the stitching is flat meaning you don't have to worry about chafe.
The Bad
A Bit Tight – This is more of a personal preference than a design flaw, but I found the shorts to be a little tight, even with a larger 'L' size. While it wasn't restrictive at all, I found myself thinking about it a few times while training.
Bad for Kettlebells – Every CrossFit exercise I tried wearing these shorts was great, except for kettlebell swings. I found my hands were a little irritated when the kettlebell swung underneath my legs, although only minimally.
Too Long – As I've said many times in this review, I like short shorts, and I just found these a little big longer than what I like. There were occasions when I was squatting when I felt the bottom of them touch my knee, which was a minor deterrent. In addition, I also found myself to be inbetween sizes as a Large was too big for me, and a Medium was just too small. However, Pure Limits have told me they will have new sizes out later this year.

Conclusion
Before I tried these Pure Limits Training Shorts, I was convinced I would only ever train in Aussie Rules football shorts for the rest of my life. However, after wearing them for a few workouts, I've actually changed my opinion.
Pure Limits Training Shorts are designed specifically for functional fitness, and it shows. They allow great flexibility, they have stretch panels to allow full movement and made with flat stitching to eliminate chafing and other skin irritations. In addition, they are light, fast drying, and come with a pretty slick design.
Unlike some of the other styles of shorts I've tried over the past few years, these actually give you a good feeling when you wear them. I'm not sure if it's mental, but every time I put them on, I actually feel like I'm ready to tackle any WOD and dominate it.
While I still train in football shorts, I now find myself taking a pair of Pure Limits Shorts with me as well when I go for a workout.
You can find out more about Pure Limits functional fitness clothing by clicking here.
Rating: 8.5/10