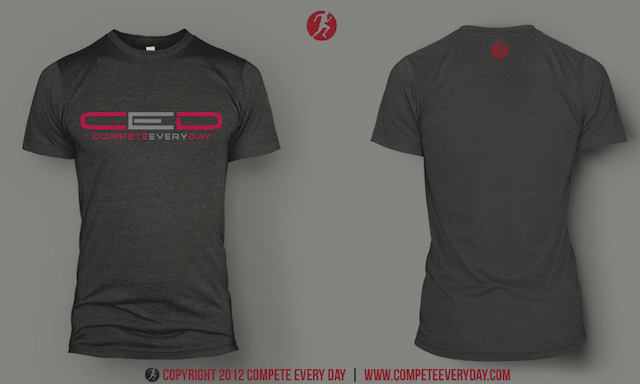 This week, we take a moment to review some of Compete Every Day's Training Shirts.
Item: Compete Every Day Shirts
Price: $30 USD 
Manufacturer: Compete Every Day
Purchase: www.CompeteEveryDay.com
Join me as continue down our quest to find the ultimate WOD apparel. CrossFitters need clothing that repels sweat, does nothing to impede or hinder our range of motion and more importantly is in line with the functional fitness ethos.
Let's take a look at Compete Every Day. Compete Every Day is a brand I truly admire. They have a remarkable brand and lifestyle-driven company that I feel like I can really stand behind. Compete Every Day is selling a lifestyle, not just clothing, and that is my favorite kind of apparel company.
CrossFit is exploding across the world right now, so we have seen a lot of people jump on the 'functional fitness apparel bandwagon', and Compete Everyday is not one of them. While other startups chase only your dollars, Compete Everyday has been around awhile and appears to be chasing inspiration.
From their website:
"Competing is a lifestyle for those who refuse to stand idle. We, at Compete Every Day, believe that inside of each person is a desire to compete for what they want in life. Encouragement is one thing, the will to compete after that initial push is something altogether different. Our goal is to fuel your fire but that's only the beginning. At CED we want to drive you; we want to help you see it through to the end. 365 days a year, seven days a week, 86,400 seconds per day. However long it takes. Compete Every Day."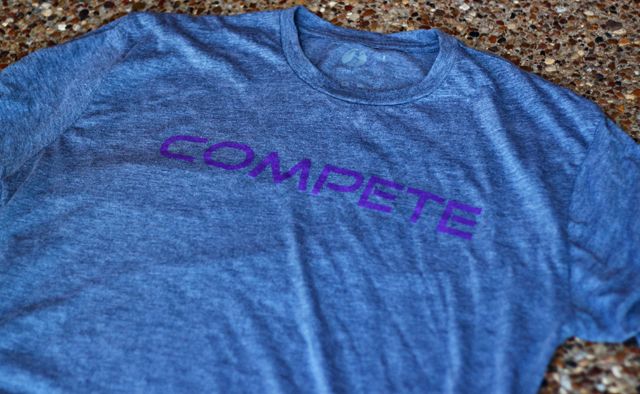 The Good
The Brand: To my knowledge, there is no WOD apparel brand that goes further than fitness to the same degree as CED. Compete Every Day is not only great WOD apparel but also a great brand. The branding on their shirts is awesome. I liked the fact they don't slap their logo or URL all over everything, which is great and I personally liked the designs of the shirts.
Quality and Fit: Compete Every Day has extremely high quality products and the fit is amazing. Not a single complaint about how their shirts are put together.
Neck hole: As you know from previous shirt reviews, I am the crazy neck hole guy. Like I've said in the past I have a rather thickset neck so I often find this to be an issue when purchasing shirts. Although I am happy to report Compete Every Day has amazing neck holes! They are tight but not too tight and they do not stretch out as the WOD/day goes on.
Price: Their shirts range from $25 – $30, primarily $30. $30 is about the most you will get me to pay for a shirt, so I feel they are on the high end (considering shipping). However, I list it as a "good" thing because if I drop $30 for a t-shirt I expect pretty good quality, and Compete Everyday delivers on their quality – well worth it!
Everyday Attire: I would wear my CED shirts all day everyday and I would wear them just about anywhere. Another reason I like their brand, versatility.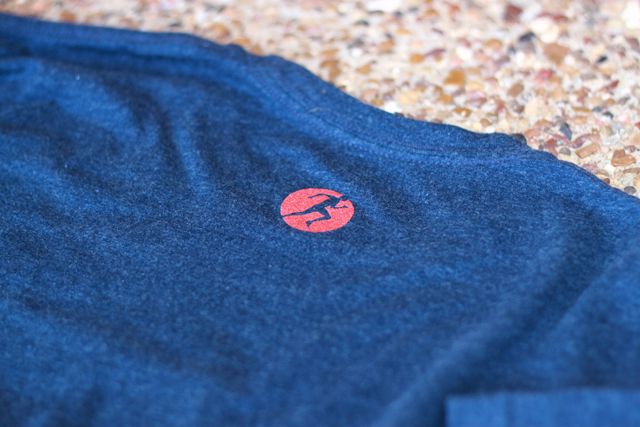 The Bad
Length: I have two shirts from Compete Everyday; one shirt seems like it was tailored specifically for me and the other is a little shorter than I like. There was not a huge discrepancy but something to note.
Weight/Material: As WOD apparel, the shirts seem a little thick and heavy. I am not talking wool here, just slightly heavier than I am use to. The blue shirt I tested was 50% cotton and 50% polyester, while the gray was 50% polyester, 25% cotton and 25% rayon.
WODs: This is where this shirt losses some of its points. Don't get me wrong, as an everyday shirt they are great. Although compared to my Reebok CrossFit shirts and the ReDefine:Fit shirts I use when working out, the weight and breathability of the CED shirts was not as exceptional. The best indication was the fact that I found myself tending to reach for the Reebok or ReDefine:Fit shirts over the CED's when heading out for workout.
Conclusion
I absolutely love this brand and their quality of shirt. However, I am also reviewing it strictly as WOD apparel. This shirt is not quite as forgettable during a WOD as ReDefine:Fit or the Reebok CrossFit shirts. As I mentioned above, I found myself reaching for the ReDefine:Fit and Reebok shirts over the CEDs when commencing a WOD. However for everything else I found I preferred the CEDs. So you have to remember the context for the review and that was under the guise of workout wear. So it is with this in mind I provide my final rating.
Rating: 8 out of 10
[wzslider transition="'slide'"]