This week, we take a moment to review ReDefine:Fit Shirts.
Item: ReDefine:Fit Shirts
Price: $25-$28 USD
Manufacturer: ReDefine:Fit
Purchase: WODshop
I'm the guy who says to himself every time, "Alright, I am going to wear my shirt for the entire WOD", but am shirtless about 37 seconds later.
That's why, when reviewing shirts – I'm the guy that can let you know if a shirt is something worth wearing.
Finding great WOD apparel can be tough these days. Last time I checked the Reebok site, they were selling shirts with Rich Froning's face imprinted on them…since when is that cool? If I am going to wear a company's logo while working out, they are going to need to give me a good reason to do so.
Today, we take a look at ReDefine:Fit, an apparel company geared towards CrossFitters looking to push themselves to new limits in their WOD. When looking at an apparel company how do you choose? You have to look at quality, fit and price, but you also have to believe in what the brand is trying to do. The guys at ReDefine:Fit have developed a very unique brand with a symbol to match.
From their website:
"ReDefine:Fit is a symbol of pride and accomplishment. It is intended to act as representation of a personal milestone, both mentally and physically. When you pull on a piece of our apparel you are making a commitment to yourself to ReDefine your fitness by pushing the limits of what you know to be possible."
So with that lets get to the review.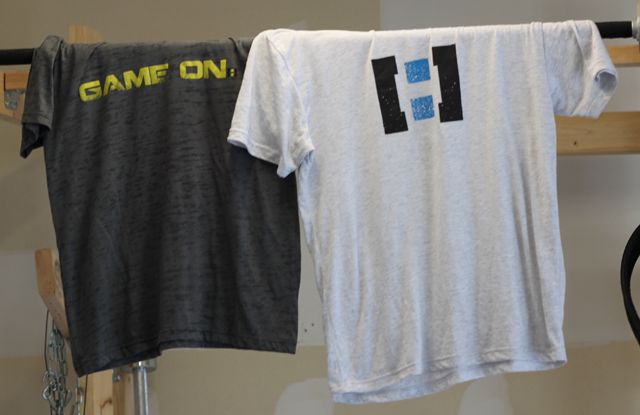 The Good
Lightweight: These shirts are a cotton polyester blend (I am pretty sure, the label was hard to read) and are a good weight for workout apparel. It makes for a very breathable and lightweight shirt that is great to wear in a hot box, garage gym or outdoors when hitting your WOD. I enjoyed the lightweight breathability while simply walking around the house and when working out in the garage in 110-degree heat under the Texas sun.
Forgettable: No, I am not saying the product is forgettable. I am saying that after I got going in my WOD, as a guy who hates to wear a shirt while working out, I didn't even think about the shirt. In my opinion that is the best quality of any workout apparel. If you don't have to think about it, it is doing the job.
Quality and design: One thing I look at when I buy shirts; does it look like I could have ironed this on myself? Well, for Redefine:Fit apparel, it is really high quality and definitely something I could not have done at home. Shirt quality, print quality and stitching are all at the highest level.
Price: Their shirts range from $25 – $28. I think they are perfectly priced, and due to the quality of the shirt I would expect to pay $30 for a similar shirt.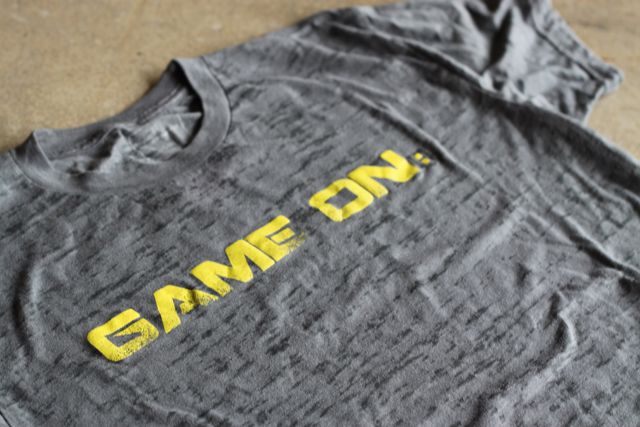 The Bad
Sizing difference: I got two shirts from ReDefine:Fit, both a large, and the sizing and fit are very different. One fit true to size, and the other very small. To their credit, they do say that the Men's Burnout Shirts run small and that most should go a size up. However, that means I would have had to of order an extra large for the smaller shirt to fit correctly, and I never wear an extra large. A sizing chart would be amazing.
Neck hole: This may be 100% a personal preference, but I am a huge stickler on neck holes. I like to have really tight neck holes. The ReDefine:Fit neck holes are not bad but they are also not as tight as I like.
Conclusion
I own a Reebok CrossFit shirt and I have to say I would pick ReDefine:Fit's shirt over the Reebok CrossFit shirt any day. Reebok is going for a more stylish tight fitting look as opposed to something I would actually like to wear during a WOD. Redefine:Fit has a product that I actually want to wear during a workout due to it's functionality. It is no wonder CrossFit athletes like Nate Schrader and Daniel Tyminski are often seen sporting their gear.
ReDefine: Fit has a lot of great stuff on their website and I would recommend their products to any CrossFitter. As a new dad, I am really looking into some of their baby clothes 🙂
Rating: 10 ouf of 10 
[wzslider transition="'flash'"]