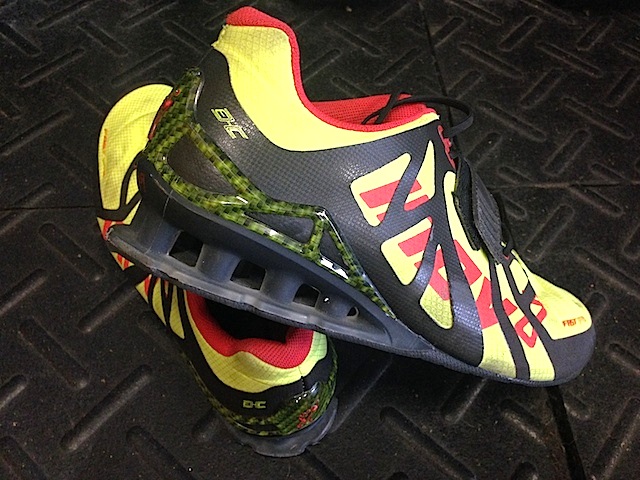 This week we take a moment to review the Inov-8 Fastlift 335.
Item: Inov-8 Fastlift 335
Price: $189.00
Manufacturer: Inov-8
Purchase: Inov-8/BarefootInc.com.au
I'm a CrossFitter who loves to lift.
I've tried numerous different weightlifting shoes for O-lifting and general WODs and I've had mixed results over the years.
Some I have found to be very heavy, such as the Nike Remoleos, which made double-unders or box jumps in them a no-go. My Reebok Oly-lifters, on the other hand, were great for those movements as they're a lighter, more flexible shoe.
So when I tried the Inov-8 Fastlift 335, I had high standards on what to expect in a good lifting shoe. It's fair to say the Fastlift's lived up to it's claims of being one of the leading functional fitness O-lifitng shoes.
The shoe offers great support in all lifts, especially in the bottom of the squat and they're light enough that double-unders, box jumps and rope climbs feel great in them.
Here's a closer look at the good, and bad points of the Inov-8 Fastlift 335: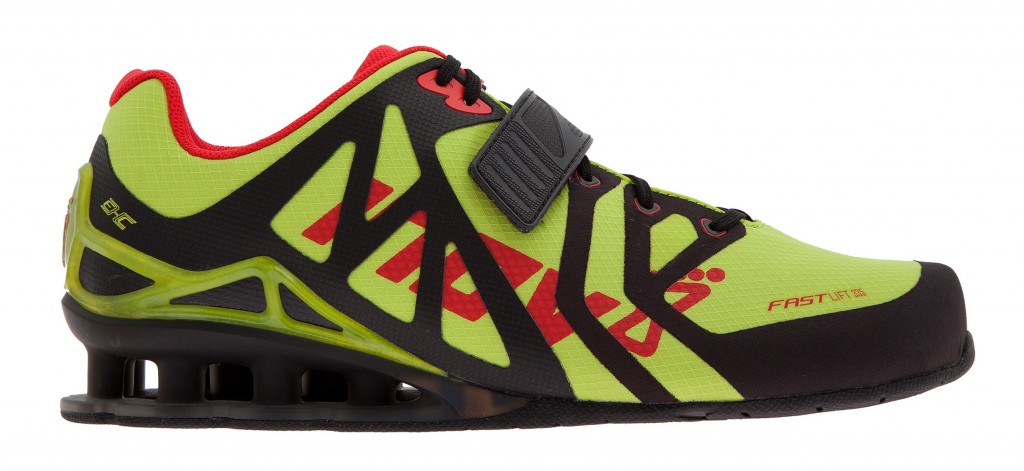 The Good
Weight: At just 335 grams, these bad boys are super lightweight and perfect for almost all your functional fitness needs. Just like most lifters though, they're not made for running, so while they're fine to wear during gymnastic movements, you might want to try a different pair of shoes for any workout with a long run in it. However, compared to other lifting shoes, the Inov-8 Fastlift 335's are a lot lighter.
Heel support and forefoot flexibility: The first thing I noticed about the Inov-8 Fastlift 335's was the extra stability I felt through the entire shoe. This was most obvious in squats when my ass was to grass. The upper synthetic materials of the Fastlift, with the added support of the 'external heel cage', reinforced ankle stability and kept the heel locked in a strong position. I felt completely supported in both the ankle and Achilles at all times.
The meta-flex design of the forefoot also allowed my foot to move through a natural range of motion when performing non-weightlifting movements like burpees, box jumps, double-unders and wallballs.
Sticky rubber grip: I mostly noticed this during rope climbs as I've never been able to climb ropes in lifters before. The shoes i've used in the past would usually slip out of the foot lock during most climbs.
However, the 335's were surprisingly a lot more grippy than any other lifter I have used in the past, almost as if someone had sprayed them with Gator Grip or something. When faced with a WOD full of heavy thrusters and rope climbs, I was glad I was wearing my Fastlifts.
Colour choices: The Fastlift colour choices will please even the fussiest of gym fashion junkies and for those who like brighter colours, these shoes stand out in the box or on the floor at Regionals. They come in a bunch of different designs with a range of different colours from fluro pink to black, black and yellow.
The Bad
Sizing: On the Inov-8 website you are instructed to choose a half size larger than your F-Lite's, which I did, but when I put them on there was way too much room in the toe box and my feet weren't secure like they should be when lifting.
I didn't have any trouble exchanging the shoe and ordered the same size as my F-Lite's which has given me a much more comfortable fit. It's not so much a bad point as it is annoying that I had to wait a few extra days to play with my new shoes.
Colour: I have put the shoes through their paces and it's hard to give any bad points, but if you're expecting your shoe colour to remain bright after a few workouts you'll be a bit disappointed. These bad boys get grubby fast and lose that 'new' glow.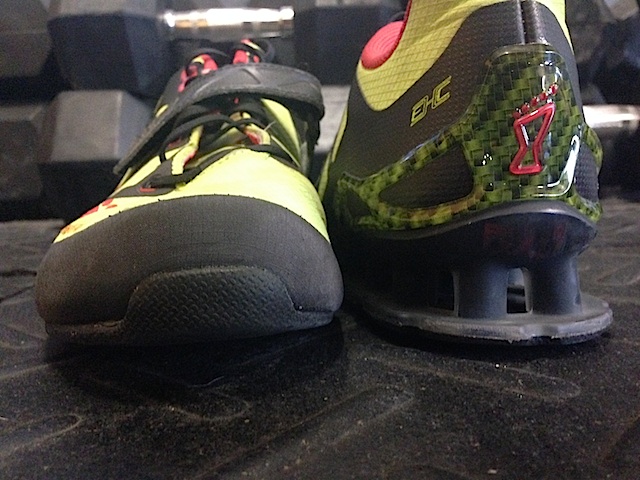 Conclusion
The Inov-8 Fastlift 335 are a great weightlifting shoe for athletes in need of a lightweight, flexible, functional shoe. They provide the support needed during heavy lifting, multiple lifts and barbell complexes.
At the same time, the Fastlift's will not hold you back from a max-effort box jump or a snatch/double-under combo.
I've trained and competed in the 2014 CrossFit Open and 2014 Australia Regional in my Fastlift's and they didn't let me down.
I have continued to hit numerous lifting PB's and I think am now an official Fastlift convert!
Review by Tama Cooper