This week, we take a moment to review a 24kg Pro Grade Kettlebell from NC Fitness Gear.
Item: NC Fitness Gear Pro Grade Kettlebell – 24kg
Price: $88 AUD ($34 for 4kg, $115 for 32kg)
Manufacturer: NC Fitness Gear
Purchase: www.NCFitnessGear.com.au
In theory, finding a good kettlebell shouldn't be too difficult. It's basically a cannonball with a handle on the end. As long as it you can grip it, swing it, lift it, and it doesn't break, then you should be fine.
However, the reality is, there are many important factors that separate a good kettlebell from an average one.
The kettlebell's construction, grip, handle width, finish, base, coat and overall size are a number of things buyers should pay attention to when purchasing a kettlebell.
During my time I have used a number of different kettlebells ranging in shape, size and quality. One thing I have noticed with a number of them is how easily they begin to rust, especially those at CrossFit gyms in hotter, humid climates. A combination of sweat and moisture in the air make it easier for kettlebells to collect rust, and more annoying for gym owners who have to spend time scrubbing the rust off!
So when I heard about NC Fitness Gear's stainless steel kettlebells, I was keen to put them to the test.
Based in Melbourne, Australia, NC Fitness Gear is one of the few online fitness stores offering a full line of competitive kettlebells, all with stainless steel handles.
I got my hands on a 24kg Pro Grade Kettlebell from NC Fitness Gear earlier this year and put it through some solid testing. Over the past few months I used the kettlebell in a variety of workouts both inside and outside. I also trained in the rain with the kettlebell and even left it outside for weeks test its durability and to find out how effective its stainless steel handles are.
After all that, here is what I thought of the NC Fitness Gear 24kg Pro Grade Kettlebell: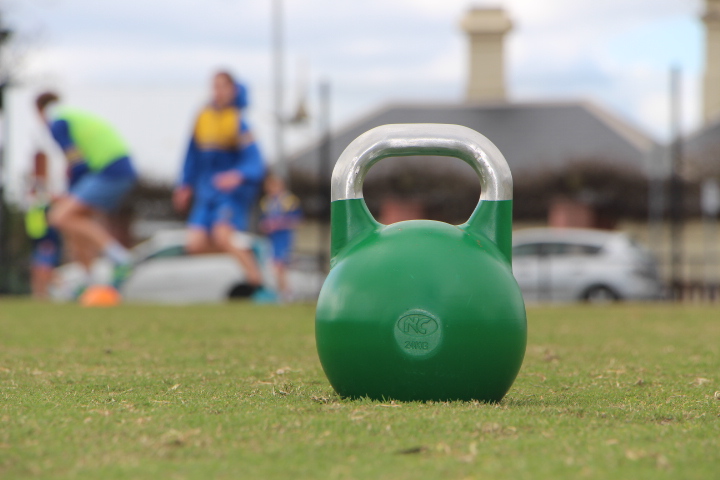 The Good
Stainless Steel Handles – It turns out NC Fitness Gear were true to their word. Even after working out in the heavy rain with the kettlebell, and leaving it outside for weeks in the middle of winter, the handle still didn't rust! This feature is great for anyone who likes their kettlebells looking nice and shiny, as the handle still looks the same way it did the day I first go it. Like many people, I can't stand the idea of picking up a rusty kettlebell. Not only do you walk away with orange hands, but there is also the health issue, especially for those who haven't had a tetanus shot for years! In my opinion, this is one of the best features of the NC Fitness Gear Kettlebell and one of the best features you can find in any kettlebell.
Strong and Sturdy – NC Fitness Gear's range of kettlebells are all one piece castings and are made with a strong, sturdy, high quality construction. There is no 'two piece assembly' and the handle and cannonball are all one piece, making it a safer kettlebell to use. The last thing you want is the ball flying off while you're lifting it over you head. During my time using the 24kg kettlebell, the handle was always strong and sturdy and I always felt safe using it.
Flat Base – One feature many people overlook is the base of a kettlebell. A flat, even base is critical if you intend on using the kettlebell for exercises like handstands, mounted pistols, and other ground based movements. Just like most other leading brands, this particular kettlebell had a solid, flat base and always sat flush on the ground.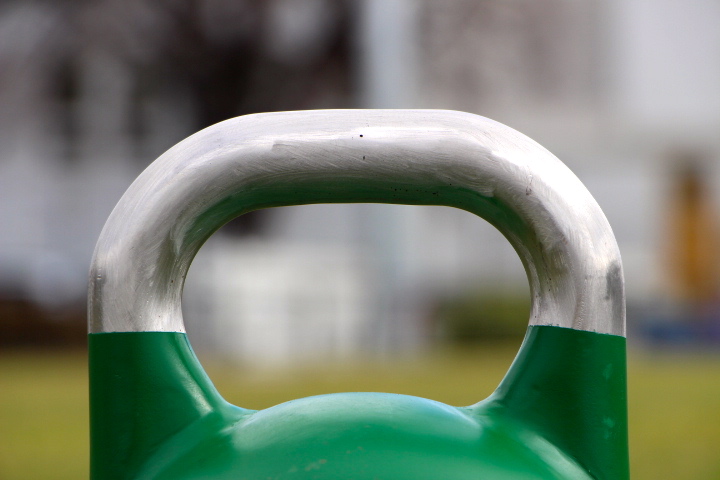 Good 'Bell-to-Handle' Distance – Another important feature many often fail to pay attention to is the distance between the bell and the handle. A number of kettlebell exercises require you to flip the weight behind your wrist, and if the distance is too long, or too short, it can place some unwanted stress on your wrists. These kettlebells from NC Fitness Gear have a good bell-to-handle distance, making them easy and safe to use in most workouts.
Pro Grade – NC Fitness Gear offers a competition range of Kettlebells meaning they all have consistent sizes. The handles and overall size of the bells are exactly the same in the Pro Grade range, regardless of whether it's a 8kg kettlebell or a 32kg. This makes it easier to progress up the weights as you can  consistently train with the same size kettlebell.
Colour Coded– A very important feature for those buying a set of competition kettlebells is to ensure they are colour coded in some form, to be able to differentiate between weights. As they are pro grade kettlebells, and they are all the same size, NC Fitness Gear has colour coded each weight. A green kettlebell is 24kg, a pink one is 8kg, while a red kettlebell is 32kg.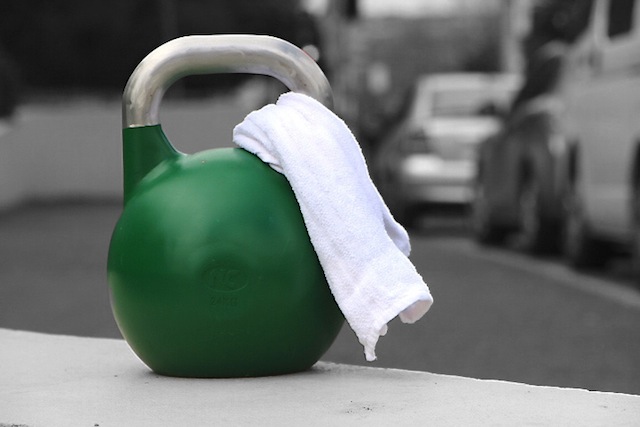 The Bad
Handle Opening – One criticism I picked up on was the actual size of the handle opening. It is important for kettlebells to allow enough room for two hands to comfortable fit inside the handle as many exercises require using both arms. When using the NC Fitness Gear 24kg Kettlebell, I found my hands were sometimes squished together in the handle opening. Personally, I would like to see the handle opening slightly larger and wider to allow for a more comfortable grip during two-hand kettlebell exercises.
Not Ideal in Wet – While the handle itself didn't rust at all during my time using it, I did start to find a little bit on the actual bell. After a few months of regular use without cleaning it, and after leaving it outside in the wet for days, I started to notice some small bits of rust appear on the top part of the bell. Now it should be noted that I did test the product in conditions not ideal for most kettlebells (rain/wet conditions), so the fact a small bit of rust did appear isn't surprising. The reality is, unless your kettlebell is completely made of stainless steel (which would cost a lot more to buy), small bits of rust are almost inevitable on kettlebells if you leave them outside in the rain and/or train in the wet. So the bottom line is, if you plan on using these kettlebells in the conditions they were built for (indoors), you probably won't see any rust. But if you plan on using them in outdoor environments, then just like most kettlebells, you may start to see some rust appear where the paint/coat starts to chip away. However, the stainless steel handles should remain be rust-free.
Price – Hard for me to justify it being a 'bad' point as $88 for a 24kg kettlebell is still a very competitive price and there are a number of similar kettlebells selling for a lot more. However, you can also find a number of online stores and distributors selling them for a few dollars less. If you try, you should be able to find a cheaper kettlebell, although the quality may not be as high as NC Fitness Gear's range.
Tough for Customers Outside Australia – NC Fitness Gear is an Australian brand, based out of Australia. So for customers outside the region it is a little harder to get your hands on these kettlebells. Unfortunately, the brand does not ship internationally, and only has limited services for customers in New Zealand.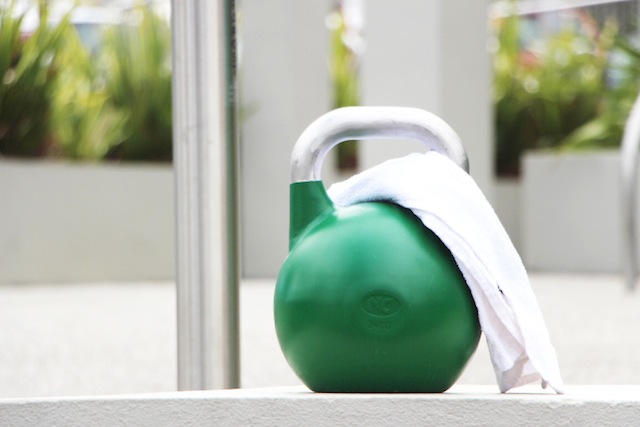 Conclusion
Overall, NC Fitness Gear has a high quality range of kettlebells, and I would happily recommend them to anyone looking to purchase one. From a buyers perspective, the brand's Pro Range kettlebells tick all the major boxes. The one piece casting is strong and sturdy, the handles are smooth and clean, the base is flat and secure, the distance between the handle and bell is sufficient, and overall, they are safe and easy to use.
In addition, the stainless steel handles means you won't have to worry about picking up a rusty kettlebell, even if you do like training in the rain.
However, the kettlebells are still not perfect. The handle opening could probably be a little bit bigger and just like most kettlebells, including leading brands, they are not completely immune to outside factors like rain.
But overall, the positives easily outweigh the negatives.
If you are looking for a safe and reliable kettlebell that will serve you well over a long period, than i'd have no hesitation in recommending NC Fitness Gear's range.