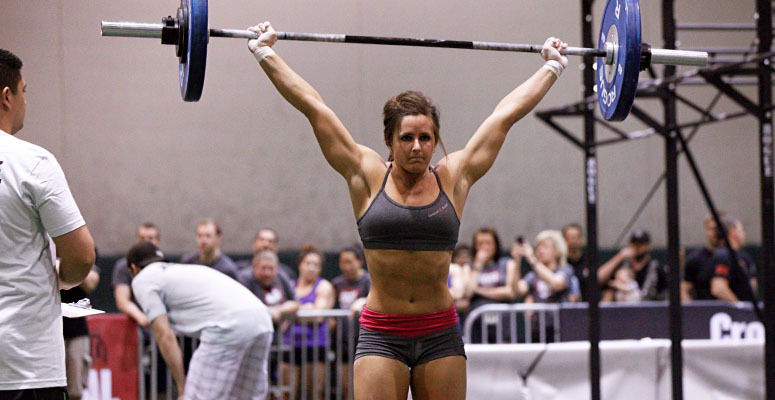 28 year-old Stacie Tovar is off to her fifth straight CrossFit Games, after her second place finish in the 2013 North Central Regional.
We caught up with 12th place finisher in the 2012 CrossFit Games from CrossFit Omaha to find out just how she is preparing for this year's competition against the world's fittest men and women.
In the following Q&A, Tovar shares her thoughts on competing at Regionals, her training leading up to the 2013 CrossFit Games, and her expectations for July's event in Carson, California.
Stacie, congratulations on making it to another CrossFit Games! How does it feel?
Thank you! It's always an honor to participate in the Games. I am really excited to be heading back to California in July and I look forward to competing alongside the fittest men and women on the planet for the fifth year in a row!
Amazing weekend at the North Central Regional, how did you find the competition against Elizabeth Akinwale and Deborah Cordner-Carson?
I make it a point to give my absolute best effort anytime I CrossFit, regardless of who may be throwing down next to me. With that being said, anytime you have the opportunity to compete against the 7th and the 14th fittest females in the world, you're naturally going to rise to the occasion. If you don't then you'll likely get left behind.
Considering I was battling a shoulder injury all weekend, the level of competition in the North Central Region certainly helped push me to my second place finish.
Now you have successfully qualified, how are you approaching your training? Is there anything you are specifically targeting in the build up?
I put my trust in my coach. He knows me best. Whatever he programs, I don't question. I just do the work with 100% effort. I am dealing with a fractured scapula and a strained rotator cuff right now so that is something I have to pay close attention to. Other than that it's business as usual and trying to keep things fun!
Have your past experiences at the Games helped you prepare for this year? Is there anything you have learned and are doing differently this time around?
Absolutely! I think having been to the Games before and having four years of experience is definitely something that helps.  Preparation aside, just being familiar with the whole thing alone helps ease the stress of it all. It's easy to get out of routine the moment you land in LA and get caught up in all of the bright lights. I really try to stay within myself and not let all of the distractions get to me.
If there's one thing I've learned though, it's to never underestimate the imagination of Dave Castro. There's always going to be the element of surprise or the "unknown & unknowable", and that is something that I've learned to expect and accept.
How about your diet and recovery? What works best for you to support your training volumes and perform at your peak?
My diet has been consistently the same for a couple of years now. I eat what I feel my body needs to perform well, recover well, and sleep well. I found out the hard way during the 2011 Games that you really have to listen to your body and sometimes eat even when you're not hungry. That is especially true leading up to, and during, competition which is something that took me a couple of years to figure out. I also rely heavily on supplements from All-Pro Science and PurePharma to help aid in the recovery process.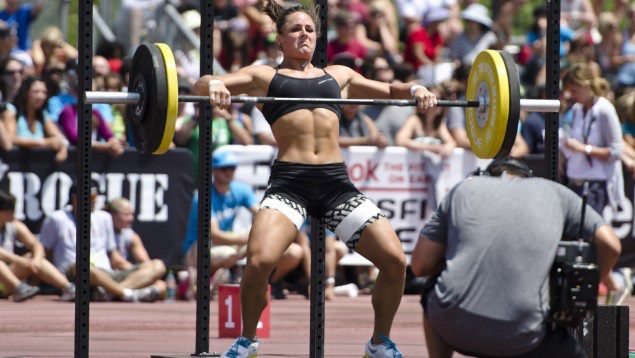 What are you most looking forward to during the Games?
Who will be standing at the top of the podium this year! I think it's going to be a fight to the finish.
What about your expectations? Are you setting any particular goals for yourself?
I've grown to keep my goals very personal and private. Trusting in my preparation though, I do expect to perform at a very high level while I'm there. I also expect to have a whole lotta fun throwing down with the toughest women this sport has to offer. It has to be an enjoyable experience for me. I've always told myself – if it's not fun then it's not worth doing.
Who do you think your main competitors are this year?
I personally would never make such a bold prediction considering that I'm competing against the fittest women on Earth. Do I believe in myself? Yes, without a doubt! I don't think that one person really stands out as my main competition. Anything can happen at any point during the competition. I think it really comes down to me in the end and executing to my fullest potential.
Who do you think might surprise the field this year?
There are a lot of new names this year but I don't think there will be any surprises. My prediction is that you'll see a lot of familiar faces battling for a podium spot.
It comes down to the final day, the final workout. The winner of the event takes first place and is the 2013 CrossFit Games Champion. What would the event be?
Hmmm… based off of the last two years, I would have to say one of "The Girls".  Who can do work the fastest!?
Imagine you have taken first place and are 2013 CrossFit Games Champion. What are the top three aspects you can attribute your success to?
My husband, my coach and CrossFit Omaha community, and my belief that I have been blessed with a natural athletic ability and I was put on this Earth to use my talent to its absolute fullest for as long as God lets me.
But more importantly how would you best celebrate your success?
That's a loaded question. Off the top of my head, I'd celebrate with a nice cold beverage and some greasy food first. Then I'd come back home and extend my passion for CrossFit to the rest of the community in Nebraska by quitting my corporate job and coaching full-time as a profession! Then CrossFit would be more than just a hobby for me… I'd get to wake up every day and do what I love!
Written by Andy Lee: Andy is an avid CrossFitter from Melbourne, Australia and trains out of CrossFit South Yarra. He is a contributing writer for the CrossFit Games website and a regular writer for the Blonyx website.