When it comes to big names in the Australian Region, there aren't too many bigger than Rob Forte.
At the age of 25, Forte is Games competitor, a CrossFit box owner and a head coach.
Along with the likes of Amy Dracup, Chad McKay and Amanda Allen, Forte has helped Australia grow from one of the forgotten Regions, to one of the best divisions outside the U.S.
This week, Forte heads to Carson, Cali. once again to compete at the Home Depot Center. It will be his second CrossFit Games appearance in as many years.
John caught up with Rob to find out his expectations on this years event, who he thinks will be his main competitors, and his relationship with some of the other Aussie qualifiers.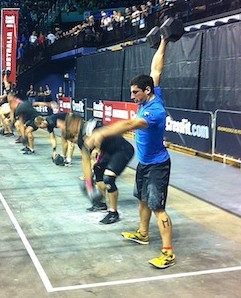 So Rob, first off, what's your training been like leading up to the Games?
Yeah, it's been pretty good leading up to the Games. It's been pretty much the same thing I've been doing leading up to the Regionals. My all year round focus has been training for the Games, not the Regionals. I know what level the other boys are at overseas and I'm trying to get close to them.
And how are you comparing to some of those other boys?
The top ten bunch are really impressive. If you compare my strength to Rich Froning and Dan Bailey, I am still a long way off what they can do, so I'm trying to close that gap as much as possible.
I'm looking at 2-3 years time from now to make the podium. I'm not expecting to make podium this year, it's a three-year goal to work my way up and get stronger every year.
Have you been speaking to the other male Aussie qualifiers, Chad McKay and Brandon Swan, in the lead up to the Games?
Not really. Everyone's got their own thing going on. We've sort of been in contact a bit to see where we are all staying and all that. We'll do a bit of training together when we get there, cos we're staying at same place.
I'm tipping we'll be hanging around a fair bit while we're over there.
This year will be your third Games campaign, can you tell us what it's like competing in CrossFit's biggest event?
It's definitely different. The crowd, the setup. Last year we had to do orientation the day before to know what was going on, and its just a lot bigger event. But for me, I know how to handle that pressure pretty well, so I'd say if you were getting there, don't let that get to you. Enjoy the atmosphere rather than let it affect you.
But being there is pretty cool to be able to do that is great. It's completely different to a local comp, with the media and all that. The Regional level (Australia) this year was very close to the Games set up, it was a Games sort of feel.
So now the tough question, who will win this year?
Probably Rich Froning. He'll probably take out number one. I reckon Ben Smith number two, and number three, probably Jason Khalipa. But I think it could be any one of eight guys depending on what workouts show up.
The Level everyone's at, at the moment, it really comes down to which workouts suit what competitor. Like me, if there are a few workouts that go my way, I'll do better than expected. Last year the beach workout was awesome for me, I got sixth in it, and if there's another workout with a long run I'd be happy.
What are your thoughts on the possibility of another swim this year?
It doesn't faze me. I've done a few swim workouts leading up. There's a possibility, but if it's in there, it wont be much. The pool at the Home Depot Center there has no seating, so if they're going to do it, it will be on the big screen or something. I can see it being something like, run out there, carry the weights from the bottom, do the workout, and run back.
Finally, what are your expectations this year?
I'd love to go, say top 15. I'd love that! I'm not having a specific goal, it's just about attacking every workout this year. To go in there knowing I can compete with those guys and not let someone's profile hold me back. I'll try not to be worrying too much who I'm up against