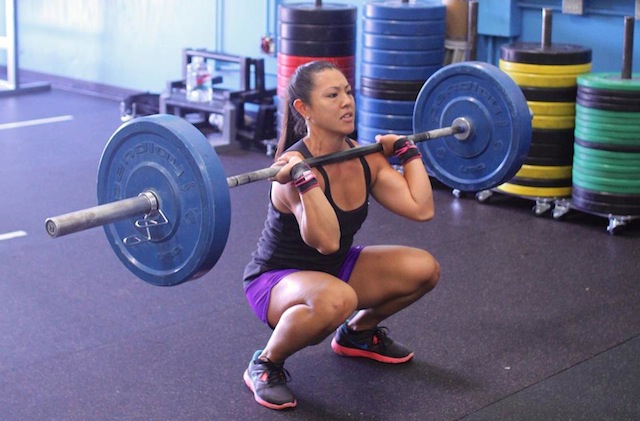 Jamie Hagiya is a former USC collegiate and professional basketball player that picked up CrossFit at the end of 2011.
This past week, Hagiya scored an astonishing 381-repetions in Reebok CrossFit Open workout 13.2. That placed her first for the workout in the Southern Californian Region, beating the likes of Kris Clever, Andrea Ager, Rebecca Voigt and Lindsey Valenzuela to name a few.
Beside competing in this years CrossFit open, Hagiya is currently in the process of opening her own CrossFit affiliate in Torrance, California. 
We catch up with Hagiya to find out more… 
Jamie, you've just posted the best score in the SoCal Region for week two of the 2013 CrossFit Open. What was your strategy?
I actually did it twice. I got 381 on Thursday and then I rested because my calves were on fire! I rested Friday and Saturday and did it again on Sunday.
I was hoping to get a couple more reps but I got one less, so at least I was consistent [laughs].
The funny thing is, I kind of feel better now that I've done it a second time. I thought I'd be way more sore, but I'm good.
So are you planning on doing all the workouts multiple times throughout the Open?
I'm still new to CrossFit and last year I think I did most of the workouts twice. I ended up making it to Regionals but this year I'm trying to do them once, unless I do terrible.
I did 13.1 once and I'm planning on doing the rest of them once, so I stay focused for Regionals.
Although with 13.2 the movements were well suited to me, so I thought I could try to get one of the top scores if I did it again.
So why did 13.2 play to your strengths?
My background is basketball, so all the box jumps were perfect because my lower body is a lot stronger and is used to all the jumps. Being on the shorter side, the push press and deadlift was good for me as there isn't too much of a range of motion.
When the workout came out on Wednesday, I was so excited but I didn't think I was going to do crazy good. I thought Kris Clever and Val Voboril were going to beat me, until I found out the news late Sunday evening.
Are you shocked that you scored number one in SoCal?
Oh yeah, I mean I knew I would get a high score, but there are so many big name girls in my Region — Kris Clever, Val Voboril, Lindsey Valenzuela, Becca Voigt, Andrea Ager, all of them, I really thought they were going to kill my score!
Can you tell me a little more about your athletic background?
Well I grew up playing everything, especially basketball. I played college ball at USC for four years.
When my best friend got drafted to the WNBA, I used her agent. So right after I graduated from college in 07', I went and played professionally in Greece and a little bit in Spain.
In fact, I was supposed to play in Australia, in Brisbane actually but had to turn down the offer because I had already set up my summer basketball camps for local kids in the area.
How did you find CrossFit?
I was trying out for the LA Sparks in August 2011, and I ran a huge clinic for them. It was during that clinic a guy brought in his daughter. After he saw me do the warm up he told me I was really good at the movements and that I'd be perfect for CrossFit.
So I actually used CrossFit to help train for my tryouts. Unfortunately, I didn't make the team, and I was kind of on my way out, so when CrossFit came in, it was perfect.
I'm short, I mean I'm 5'3", so I'm tiny and my height has always been an issue for me in basketball. But in CrossFit none of that stuff matters. There are no height or weight restrictions, other than you push as hard as you can, and everything you do is on you. That's why I love it.
I'm opening my own gym at the moment. We've got a place and have ordered all the equipment. We are now just waiting to affiliate with CrossFit and are thinking of calling it The Fit Lab. It's going to be in Torrance and we are hoping to open it in the next month or so.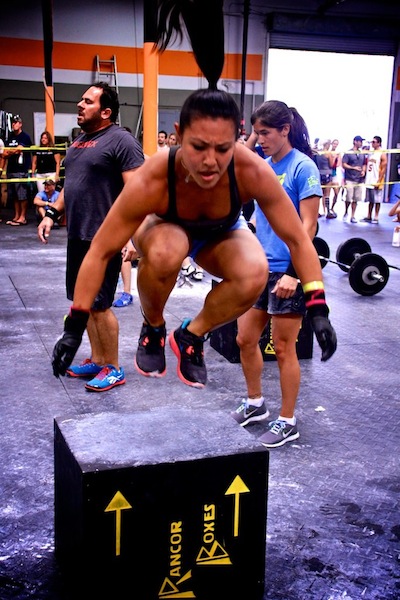 So is your basketball career over then?
I'm done playing basketball professionally. I still train kids and run camps and clinics as well as play for fun in my spare time. I'll never lose the love for the game, but as far as my playing career, yes I'm done.
I'd say the past five months I kept thinking maybe I should give CrossFit a shot and take my training more seriously, so that's what I'm focusing on.
What's your full time job?
I coach and train kids for basketball as well as coach CrossFit for a living. I have my own business called "Hagiya Basketball" and my full time job is personal training; small teams and groups as well as camps and clinics.
I'm very passionate about giving back to the community and once we open up our gym, that will be another way for me to do that.
Is there anything you're doing differently now in terms of diet and training?
I was following my gyms programming, which is great but more tailored for general conditioning.
Until recently one of the other coaches at my gym, mentioned they were following Outlaw, and he said, 'you need to get on this'. So I gave it a shot, and the last couple of months it has helped out a lot strength wise. But I do need to work on my gymnastics a lot more.
Finally what are your goals this season?
I really want to make it to Regionals and have a good finish there. I know all those women in my Region have freakish skills and are so good at CrossFit. They also have a ton of Games experience, so our Region is a tough one to get out of. But if I could finish somewhere right around them, I think that would be amazing!
I think right now if I keep on practicing and working on my skills, improving a lot of my weaknesses, then I'd love to go to the Games one day!