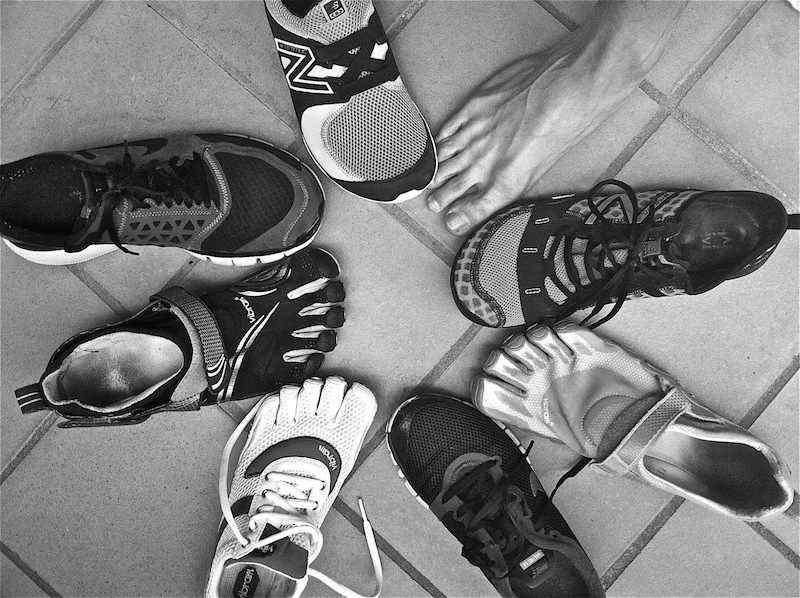 Buying the appropriate running shoe can be a daunting task; there are many different types and brands available on the market. There is a type of shoe for every type of feet out there, designed to meet individual needs. Therefore, there are many things you should consider to choose footwear that is perfect for you. Read on to learn some useful buying tips that can help you choose the ideal running shoes for you.
Get The Right Size
The most important factor you should consider when choosing a running shoe pertains to its size. If the footwear does not fit you, it can impact your running experience, and you will end up feeling pain which can lead to potential injury. You must try the shoes in the afternoon to get an accurate fit since feet tend to swell during the day. You should leave a gap of about a thumb between the end of the shoe and feet to prevent the toes from hitting the stones when running in rough terrain.
The shoe must fit comfortably around your foot, and it should not feel sloppy or pinch. Make sure your foot will be centered on the shoe's platform. Again, try to get the right width to accommodate your foot whether it is wide or narrow. Test the shoe first before purchasing it to ensure that it will not cause discomfort when you run.
Brand
You must select a running-specific shoe since it may look like different types of sneakers. When you are running, your foot will hit the ground in the same way, so they consist of specialized technology to make it easier for you when running.
Running shoes are designed to prevent injury from repetitive motion, and in some instances,  their features vary according to the brand. Because each individual has specific footwear requirements, the features found on Altra shoes can give you an idea of what to look for in a pair; especially if you want all-weather footwear designed to withstand elements. With the right shoes, you know that you have quality support, perfect size, support, and functionality.
When selecting running shoes, you must be focused on functionality, not fashion. You should be wary of the latest trends since brands slightly differ. In addition, you must know that some brands are wider than others, and slight differences can make a huge impact on your performance. Other brands, provide foot shape technology that allows your toes to relax and unclench while you run. With this technology, you can enjoy additional space, and you can spread your toes naturally. Increased support also helps reduce overpronation by giving you more comfort.
Type of Running You Want to Perform
Many running shoes serve different purposes, so you should choose something that suits the specific type of running you want to do. If you intend to run on rocky and dirty terrain, you should consider getting a pair of trail shoes. They provide a better grip on rocks, and they also have a more durable top. The other advantage is that they offer better ankle support which is vital when running on uneven terrain. Road shoes are ideal for pavement training since they provide more cushioning, and shock absorption to reduce the risk of injuries.
A hybrid running shoe works well on mixed trail conditions and paved roads since they offer a balanced mix of cushioning and grip. Everyday running shoes are more versatile, and they are designed to sustain all the running that most individuals do. This is the most durable type, and it gives you flexibility. You can use this particular footwear to perform various activities while enjoying great comfort.   
Posture
Your posture can also determine the right footwear you can get for running. For instance, different solutions come with various designs which support a longer arch, higher instep, and narrower heel. These features enhance the running experience and also provide balanced cushioning. The other good thing about considering posture when buying running shoes is that it helps you position your foot and heel correctly. This will help support optimal alignment and running form.
The technology also plays a crucial role in encouraging low-impact landing which is ideal for the condition of your joints. Balanced cushioning can also promote an upright posture as well as firm support when running. When your shoes are balanced, you can sustain long distances when running. It is essential to ask an expert in this kind of sport to advise about the best shoe that suits your posture. Your bodyweight should also help in determining the ideal footwear you can get if you want to enjoy the best experience.
Design and Comfort
Another vital aspect you should consider pertains to comfort or cushioning. Other shoes are lightweight and designed in such a way that you can feel the ground underfoot. You can also consider the appropriate thickness of the material below the midsole to get the running shoes that can make you feel good. The best shoes are those that offer you more comfort. Think about the cushion you want, and this is mainly determined by the kind of running you want to do. You must also take into account other factors like the durability of the shoe. When you get the right product, it can last you longer. 
Price
Regarding running shoes, you should know that higher price tags correlate with comfort and technology features that can make a difference. However, it does not necessarily mean that you should get the most expensive shoe to enjoy your run. While other cheap shoes are not that durable, you can still get a good pair that can suit your needs. Remember that quality running shoes range from around $100 to $250. Therefore, prepare a budget to get the shoes that suit your needs. It is vital to shop around to get the best deal.
Buying a new running shoe can be overwhelming since there are various types available on the market. With these tips, you can avoid the challenging shopping experience and manage to get a product that fits your specific needs. When you get the appropriate shoe, you can make running more enjoyable.