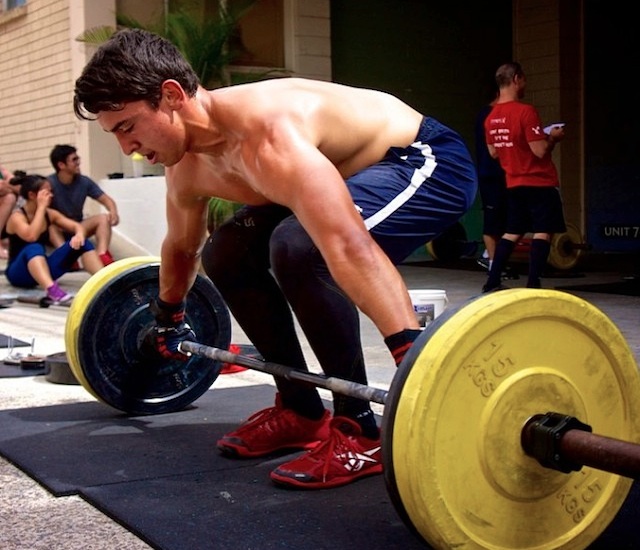 On May 16, 2014, Nick Fuentes will compete in is first ever CrossFit Regional.
With just two years of CrossFit training behind him, the 21 year old has made remarkable progress since his 371st finish in Australia in the 2013 Open.
This year, Fuentes finished 52nd in the Region in the online global competition, and faced a nervous wait to find out if he would receive an invitation to compete at the 2014 Australia Regional. Fortunately, some of the higher ranked athletes declined their invites, opening the door for Fuentes to take part as an individual.
We caught up with him in the lead up to the Australia Regional to talk about how he's preparing for his first ever Regional and his mindset going into the competition.
In the following Q & A, Fuentes gives us his thoughts on the workouts for this year's Regional, talks about his recent sponsorship with Wodnut and reveals who he thinks will be the athletes to beat at the 2014 Australia Regional.
Firstly Nick, congratulations on qualifying for the 2014 Australia Regional. No you actually finished the Open in 52nd place, which was outside the top 48. What was it like waiting to see if you had made it?
Definitely a lot of anxiety, but at the same time I didn't really expect to make the Regionals this year. It was never a goal, so I was content with 52nd and I actually started training as if I was going to train for the Regionals next year and started pretty much week 1. But then obviously the emails came for the back filling and I woke up one morning and saw that email there – it was a great feeling. A great feeling!
What was your plan heading into the final week of the Open? Of course you would have known you were on the cusp of qualifying?
If the goal's not in sight this year then you don't really train for Regionals specifically, but then as soon as you start realising 'oh okay, I could have a chance here. I could be pretty close' inevitably you start thinking 'what if I do get within that 48?'.
Training stayed the same throughout the Open, but then after, when you find out you've made Regionals, that's when the training changes.
Were you leaderboarding every hour?
I was definitely guilty of a bit of that at certain times. I tried to, in the first couple of weeks, to actually just stay away from it. As hard as it was, you're actually better off if you try and stay away from leaderboarding. Personally, I actually hate the competition aspect of it, so the whole comparing to other people and how they're going can drive you a little mad. I did in the last week though when I was on the cusp of it. You can't help but do it just in case you do creep into the top 48.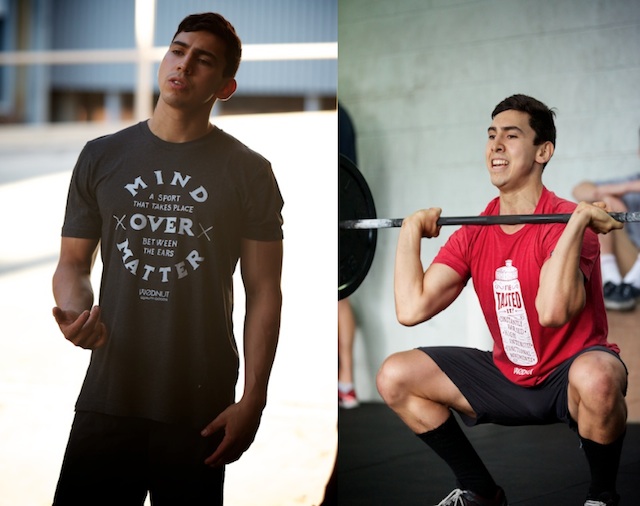 What are your thoughts on the rule changes this year? Video taping workouts, and stricter drug testing etc.
I really like it because it definitely adds a little more legitimacy to the sport, especially if CrossFit is going to grow in the right direction. It needs to have that backing, where it is a little more legitimate. Most sports, if not all sports at a professional level, do have those checks and balances in place so if CrossFit wants to grow and be a legitimate sport like others then it's a step in the right direction for sure.
Do you think there are any drug cheats competing in CrossFit?
It's hard. You can never say with 100 per cent certainty whether or not someone is or isn't. Unless you're in their inner circle and you personally know first hand that they do take drugs themselves then it's hard to make accusations against anyone. I'd like to believe people aren't. I don't know if that's naïve, but I'd like to and the way I test that is by putting myself through the process of training without using drugs to see if it's possible without. So far, it's proving you can do it without any assistance of drugs.
Now let's talk about your CrossFit journey. Last year you finished the Open in 371st place in the Region. This year you've qualified for the Australia Regional. How have you had such massive improvements over the past 12 months?
I had to take a step back from the way I was training and try and learn from the methods of training that more elite CrossFitter's in the world were adopting. So drawing inspiration from NC Lab and CrossFit New England and CrossFit Invictus and just mesh all the different methodologies together and adapt it to the areas and weaknesses I needed to work on. For me personally that was strength, because I haven't really developed old man strength like the other guys have yet. I needed to bring that up, so it was more about Viking strength, but making sure I was getting adequate conditioning throughout the week as well.
How are you preparing for the Regional?
Just like if you were back in school and you had an exam, and the teacher reveals the content of the exam, you study specifically for that particular content. The same thing happened with Regionals. Before the workouts were released it was training for the exercises that Regionals has historically put out. Your heavy dumbbell snatches, front rack lunges and all that kind of stuff that wasn't in the Open. But as soon as the workouts get released you know you have to hone in on specific exercises and that's kind of the way I structured my training.
As you mentioned, all the Events have now been announced, what do you think of them?
It was definitely a bit shocking because historically they've [the workouts] been structured very differently to this year. It seems to be a lot more gymnastics and bodyweight focussed this year in comparison to previous years, so maybe the guys that are used to throwing around a bit more weight might actually struggle in a few of the workouts. I was having a chat with my coach, and we were speculating as to what the direction of CrossFit will be in the future and he said that there's speculation that CrossFit will incorporate more gymnastics, whether it be freestanding handstand push-ups in years to come with some crazy iron cross movements on the rings. Could be things like that, so definitely more gymnastics focussed, which is different.
Which Event are you looking forward to the most? Which one are you least looking forward to?
I'm most looking forward to the 50s (Event 6) and probably least looking forward to the strict handstand push-up, front squat, burpee (Event 4).
The 50s is just a little more varied because there's more exercises to work with and it's a bit more variety so it doesn't get stale. But the programming is just made in a way, I don't know how he (Dave Castro) comes up with them, but it's just a nasty mix.
What are your goals and hopes at this year's Regional?
I think just to have fun with it and enjoy the experience. A lot of people have given me good words of advice and they've told me to just soak it all up and take everything in, don't take it too seriously and just live every minute of it while you're in there because you don't really get this opportunity too many times in your life so just have fun.
Who do you think will win the Australia Regional and who do you think will qualify for the Games?
I'd like to say either Rob Forte or Ben Garard will win. I think they're probably the two most complete athletes that we have at the moment. Those guys are just incredible.
I'd probably say those two and I reckon Chad Mackay will make it too. I don't know what his thoughts are on the programming this year, but he's got a pretty large frame to move around but I think he's pretty complete as it is, so I reckon we'll see him do really well despite the programming maybe not completely favouring him as such.
How did you find CrossFit and how long have you been involved in the sport for? What was your sporting background like before?
I played tennis, pretty much all throughout my junior years. I played that all through school and that was my only sport.
I heard of CrossFit back when I was 15 and I was training at Fitness First and one of the trainers there put me through Fran and I immediately went back to my old routine the day after. I just thought it was too much and then I revisited it about four years later when I was with one of my good training partners at Fitness First. I was just looking for a training method that would be a little more fulfilling and a little more challenging and so I went back to the CrossFit.com site four years later and it hadn't changed, exactly the same layout, and went from there. I tried the workouts at Fitness First and did the best that I could, but obviously you're limited by equipment and resources so I decided to join a CrossFit gym, which was CrossFit Chatswood, and it's been over a year now and it's been a really cool process. I think officially I've been CrossFitting about a year and a bit in a box. My first games day was in Gosford, the Riot that they have up there, and that one I went into about a year ago now.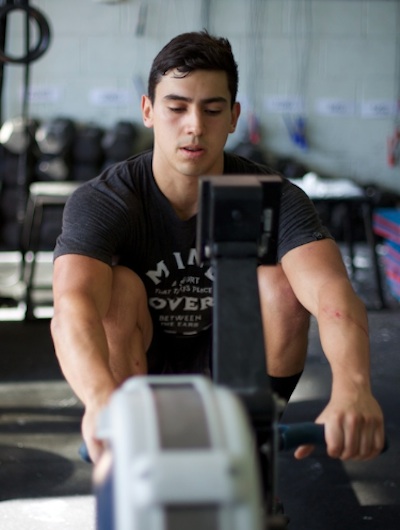 Are you sponsored at the moment?
Yeah, Wodnut. They provide me with shirts. Just recently, Linda Yeung is the owner and she's one of the members of CrossFit Chatswood and she provides me with shirts and things.
So what's your favourite item from Wodnut's range?
It'd probably be one of their new shirts (Work Hard Stay Humble), one of their new blue shirts that they have on offer at the moment.
Do you think you'd be able to survive as a professional CrossFit athlete without sponsorship?
Sponsorship for me was only recent, it was only a month ago and it's great obviously having it. You go through your shirts pretty quickly as a CrossFitter. Within 5-10 minutes your shirt is no longer usable because of the amount of sweat that accumulates during a workout, so having an extra few pair of shirts there is definitely very helpful.
Looking further ahead, who do you think will win the CrossFit Games this year?
I've got to back Froning again, he's definitely been one of my inspirations over the last couple of years, so I've got to say Rich Froning. The guy just works so damn hard. He trains up a storm everyday, it's incredible.
Favourite male CrossFitter?
Probably have to say Froning for sure.
Favourite female CrossFitter?
I really like Elizabeth Akinwale. I follow a few things that she does on her blog and I just sort of followed her story and I just like her outlook.
Hottest female CrossFitter?
I'd have to say my girlfriend.
Hardest CrossFit workout?
Probably have to say, personally, Amanda because it's so high skill.
And finally, what's your favourite cheat meal?
Gelato on a Saturday night.