This week 41 year-old Cheryl Brost will embark on yet another CrossFit season when the 2013 CrossFit Open gets underway.
For the past three years, the mother of two has been the oldest American athlete to compete in the open division at the CrossFit Games.
However, Brost is proof that age is not a factor, finishing 13th in 2011, and 15th last year.
In 2013, the AltrientTM sponsored athlete is hoping to book herself another ticket to the Home Depot Center for another shot at being crowned the 'Fittest Woman on Earth'.
The Rx Review caught up with Brost this week to find out how her preparations have been going, what her diet and training has been like, and what her expectations are in 2013.
Well first of all, how are you feeling as you head into another CrossFit season in 2013?
I'm optimistic and feeling really good about it. I'm ready for the Open to begin and ready for the Games to begin.
Any Specific Concerns or Injuries?
I did have a fall late last year, which didn't go quite as expected, having a back injury and some shoulder issues to deal with.
I was concerned about my back for a while because it took forever to heal. I mean, athletes go through injuries and a lot of it is about having the patience and the ability keep working at it.
But also a part of it is mental too. Like telling yourself that you are going to be OK and that you will get back to where you were and be stronger.
Once I got to that level where I could break through that component, where I was questioning myself, I've been getting stronger and stronger. And I'm a lot stronger than I was last year. So I'm feeling good!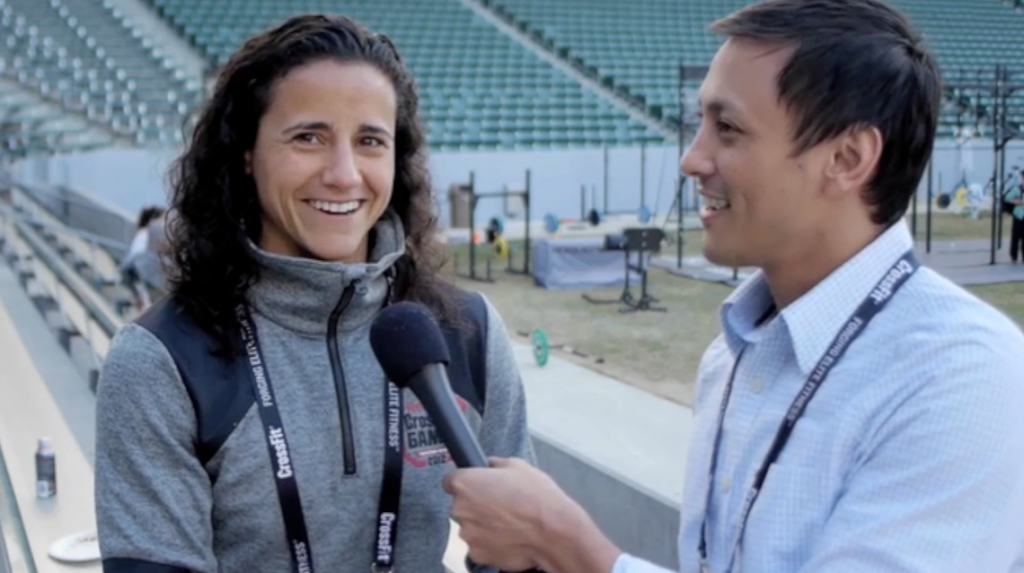 The 2012 CrossFit Games finished in July last year, what has your training been like during the off-season?
Basically my goal, like many other top CrossFitters in the off-season, is to really build my strength. With my back injury, I've had to modify things a little bit, and I've ended up doing a lot of bench-pressing instead of other lifting movements because I couldn't do any squatting.
I've been really hitting strength hard and heavy since the start of the year. Right now I'm still in that phase and will be transitioning that to a more speed and quickness phase soon. So that's kind of the time line I'm looking at right now.
But my back is good now.  And since the start of the year it's been getting stronger and stronger. I have also been setting some good new PRs lately, so I'm really excited.
Tell us about those PRs you set.
I got a split-jerk PR the other day lifting 195 pounds, and I squat-cleaned a PR yesterday with 200-pounds!
So I'm definitely knocking on the door for the Clean & Jerk 200. I've only got 185 lbs putting them both together but that was last month some time.
What else have you been working on?
I've been doing a lot of kipping and a lot of muscle-up type movements. But if I string a lot of them together it can still be problematic for my shoulder, so I'm trying to develop all the muscles and tendons around my shoulders to try and strengthen my supports and joints to the best of my ability.
I'm doing all the therapy I can do for it, like isolation exercises, handstand holds and locks, to really engage and get all the muscles, traps and deltoids to do their job better.
Diet and supplementation always play a role in an athlete's recovery. Is there anything you have been doing differently leading into this year's CrossFit Open?
I love my AltrientTM, so I've been taking that everyday. The AltrientTM C (vitamin C) keeps my immune system strong and the AltrientTM METM is a great natural energizer. So every day I take both AltrientTM products, and sometimes even multiple times a day. I also take protein a few times a day.
Over the past six weeks, I've been upping my intake of nutrition a fair bit, and so far I have seen the results of that. I have my AltrientTM every day and probably around two to three protein shakes a day, and I've also been upping my food intake as well.
So my diet and supplement intake has been quite different from my previous years of competing. And I think it's directly reflected on the numbers I've been seeing, as I've been able to move heavier weights.
Now the 2013 CrossFit Open starts on Wednesday, what is your strategy with the workouts?
I'm always going to put out my best effort each and every workout. The Open is a stepping stage, I guess, to get to the Games. It's not something I'm going to do multiple times each week. Ideally, I'd like to just do them once and move on with my training.
You know Josh Bridges was out last season and he wants to go and win every workout this year, but that's not my goal right now. I'm not dialed in that way with the Open. I mean, obviously I want to do well enough to rank up there and qualify for Regionals, but that's not the only important thing.
What sort of workouts are you expecting HQ to announce this year?
I'm done guessing what we have to do! I think it's going to be obviously typical CrossFit movements that we can do within the box settings. So they are not going to make us go out and run because it's hard for them to verify that.
I'm pretty comfortable with all CrossFit movements.
What workouts are you hoping for in the Open?
I like doing chipper style workouts, but I don't know if we'll have things like that in the Open. I like the classic couplets and triplets too.  I'm OK with the single mobility stuff like seven minutes of burpees, but honestly, who likes seven minutes of burpees!
Do you think we could see it again this year?
I don't know, I mean they had a repeat workout last year, so I don't know if that's something that they are going to do again. It would be pretty brave for them to throw that one at us again! Let's hope not.
What are your expectations for the 2013 CrossFit season?
First of all, getting back to compete at the Games in 2013 is definitely a goal I have and I want to excel and improve on my placing from last year (15th).
I'm already hitting parts of my training that I didn't even think was possible for me. I'm breaking through some mental barriers that I thought I had about a certain lift or movement.
So my goal is to keep on pushing myself and continue to overcome my personal barriers.
What about competing in the new 40-45 year old Masters division in 2013?
People ask me why I don't compete in the masters, and I mean, I can, and it could be an option for me, but at this point in time I don't have my eyes set on that. I'm planning on competing in the women's open age group again.
Check out Cheryl Brost breaking her clean PR below: