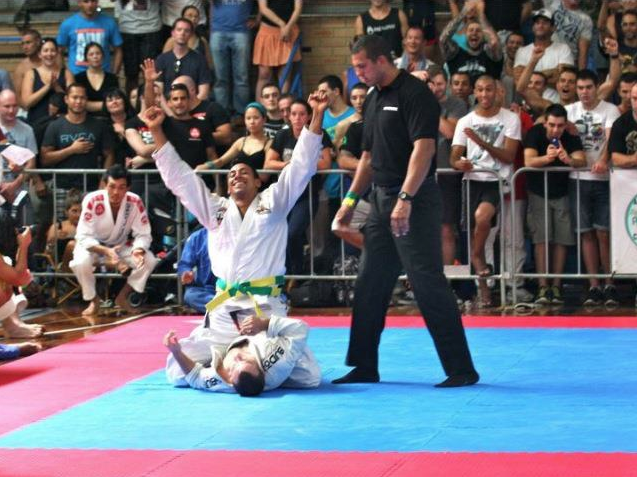 Mixed martial arts contests have evolved beyond the cliché stylistic matchups that initially saw one skillset compete against another. The early days of professional MMA competition would witness legends like Royce Gracie displaying his Brazilian Jiu-Jitsu (BJJ) skillset against opposing martial arts such as boxing or wrestling. Although these interactions will forever be significant in the MMA history books, the evolution of a fighter has forced skill sets to merge. And despite the merger in talents, BJJ is still recognized as one of the most substantial bases in MMA today.    
The aforementioned Royce Gracie used BJJ and BJJ alone to defeat some of the world's most talented strikers and alternative grapplers, like those who stemmed from a wrestling background. The name Gracie revolutionized the sport of MMA, not only because of Royce's success, but their integration into MMA training encouraged gyms and fighters to expand their training regime to introduce the diverse combat sport. 
Traditional BJJ made great use of the Gi uniform when MMA rules allowed fighters to wear their respective martial arts clothing. But one of the most significant transformations in pro-MMAjiu-jitsu-based athletes arrived when professional martial arts bouts mandated an attire that removed the Gi – instep the popularity of no-Gi jiu-jitsu and its practical techniques in professional MMA. 
Around the early/mid-2000s, Brazil's home-grown combat sport had expanded worldwide and gained serious popularity. But instead of fighter's training in multiple locations, notable gyms began to partner their MMA base skills to assemble the ultimate MMA training grounds. 
A great example and one of the early examples are the construction of the Serra-Longo Fight Team in Huntington, New York. Founded by a Brazilian jiu-jitsu black belt Matt Serra and a coach in Ray Longo, known for his striking knowledge, the two paired up to create the ultimate MMA gym. Serra would share the knowledge he'd learnt from another legendary Gracie BJJ expert in Renzo, and Longo would additionally focus on the striking aspect. 
Serra would later capture the Ultimate Fighting Championships welterweight title by defeating one of the greatest fighters in the sport's history, George Saint Pierre. In addition, Serra would become a fighting legend of New York, but a long and suffering battle with the state's legislation meant that Serra couldn't officially compete in pro-MMA contests on home soil.      
Serra's era of competition saw sports betting, and MMA became an uphill battle for New Yorker's. Still, eventually, another protégé of the Serra-Longo Fight Team in Chris Weidman managed to legalize MMA in New York during 2016. Five years later, the legalization of online sports betting arrived and allowed New York to support the up-and-coming jiu-jitsu/complete martial artists in their professional endeavours. DraftKings New York will supplement the sports betting needs of UFC fans and one of the latest instalments to stem from Serra-Longo's notable BJJ backgrounds is Aljamain Sterling. Not only does Sterling possess the most prestigious MMA bantamweight title on the planet, but he'll defend it in front of a New York crowd. 
Conclusion
The jiu-jitsu game has come full circle, from Brazil's gyms and Favela's to creating multiple MMA champions – past and present. MMA's most dominant promotion, the UFC, currently boasts eight champions who have a jiu-jitsu background or possess the highest grade in the shape of a black belt. Interestingly, the current UFC lightweight champion in Charles Oliveira shows why elite-level BJJ is just as dominant as it was over 25-years-ago when Royce Gracie ruled the roost. The Brazilian champ has broken submission records while effortlessly making great use of a grappling skill set that is impossible to overcome if you aren't familiar. 
But the question remains, why is jiu-jitsu the ultimate base skill in MMA? Well, if you haven't figured that out, attempt to find a high-level martial artist who hasn't added jiu-jitsu training to their repertoire – you'll be searching for a long time. The grappling and ground fighting essence of BJJ focuses on controlling the opponent with varied techniques on the ground that can eventually be used to force the opponent into submission. Not only does the BJJ provide the ultimate ground defense versus strong wrestlers, but it also allows leverage and technique to defeat and submit those who're seemingly stronger/larger –ask Royce Gracie himself; he made a career of it.