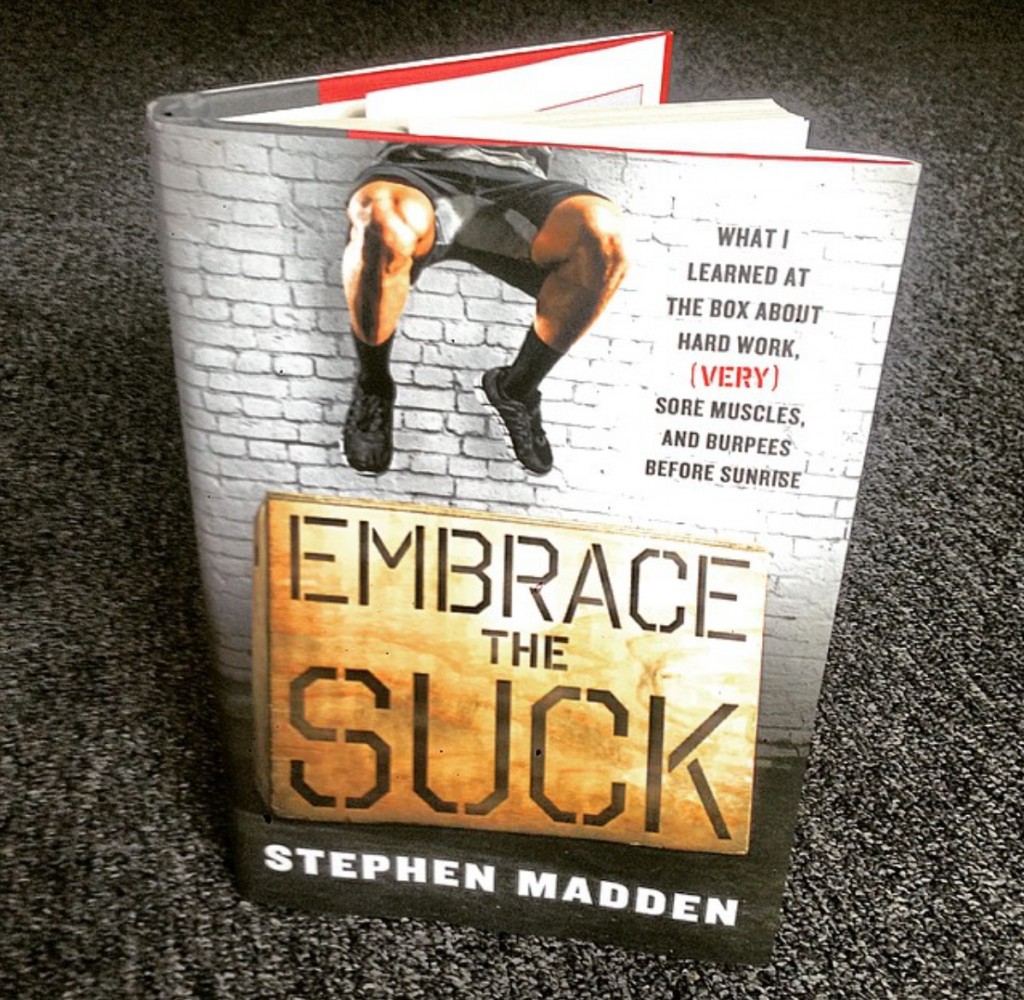 This week we take a moment to review the book "Embrace the Suck" by Stephen Madden.
Item: Embrace the Suck
Price: $24.99 USD ($12.99 USD for eBook)
Author: Stephen Madden
Publisher: Harper Wave
Page Count: 208
Purchase: www.HarperCollins.com
With CrossFit still being a relatively new 'sport', we don't see too many books detailing the functional fitness/CrossFit journey of athletes and individuals.
Sure, Rich Froning released a book outlining his success at the CrossFit Games (even though it wasn't written by the champ himself), and Masters champion Amanda Allen has also released an eBook about her 'CrossFit journey', but outside of that, there really isn't too much literature on regular athletes and their life changing experiences brought on by CrossFit.
Enter Stephen Madden, a lifelong amateur athlete who was a chunky, middle aged man when he discovered CrossFit. After becoming hooked, Madden fully immersed himself into the 'CrossFit experience', training every morning at the crack of dawn, dedicating every spare minute to mastering all the functional fitness movements, going paleo and even completing a CrossFit Level 1 Trainers Course.
Embrace the Suck details Madden's journey through the functional fitness world and how CrossFit changed his life for the better.
Publisher's Notes:
"To be fit, or CrossFit?
Lifelong amateur athlete Stephen Madden decided to put himself to the test. He immersed himself in the culture, diet, and psyche of CrossFit—the fast-growing but controversial fitness regime that's a stripped-down combination of high-intensity aerobic activity, weightlifting, calisthenics, and gymnastics. Madden is just one of over two million athletes worldwide to do so. But what's crazier? The fact that such a grueling regimen—in which puking and muscle breakdowns during workouts are common—is so popular, or that people pay good money to do it?
In Embrace the Suck, the former editor-in-chief of Bicycling magazine explores with irreverence, humor, and soul-touching candor the fitness revolution sweeping America. Madden chronicles the year he devoted to trying to master all the basic CrossFit exercises, like double unders, muscle-ups, and kipping pullups, and immersing himself in the Paleo diet that strips weight from its followers but leaves them fantasizing about loaves of bread. Along the way, he explores the culture of the sport, his experience becoming a CrossFit coach, and some basic questions about himself, his past, and his athletic limitations—and why something so difficult and punishing can be at once beautiful, funny, and rewarding."
I got my hands on a copy of Embrace the Suck about a year ago, and must admit, it was refreshing to read a 'CrossFit story' written by an every day athlete, rather than a world class CrossFit Games competitor like Froning or Allen.
Here's what I thought about Embrace the Suck, the good and bad parts, and whether I think it's a book worth purchasing:
The Good
Well Written: The best part about Embrace the Suck is that's it's written by a professional writer. Sure the title is Madden's first book, but he is also an editor who has held positions a number of publications and websites including Fortune, Sports Illustrated and Bicycling. It's clear from the early pages, Madden knows how to write. He is not only a great story teller, but also has a great sense of humour which is evident throughout the book.
Not Just for CrossFitters: While Embrace the Suck is a book about Madden's 'CrossFit journey', it's not actually targeted at just functional fitness athletes. Madden does and extremely good job of explaining all the CrossFit jargon, making it very easy for non-CrossFitters to understand what the story is about. I'd be able to hand this book to someone who's never done CrossFit before and be confident they'd be able to understand all of the content.
Easy Reading: It didn't me long at all to finish Embrace the Suck. I was able to churn through it in just a couple of days reading it before bed. Madden's writing style is fun and illustrative, making it a quick and easy book to read.
Well Explained: As mentioned earlier, Madden does a great job of explaining all the CrossFit terms and jargon. The book is broken down into chapters which include, The WOD, How and Why it Works, Finding a Box and Diet and Body image. In each chapter, Madden teaches functional fitness 'newbies' more and more about CrossFit, so much so, they'd probably be able to join in a conversation between box members after a workout.
Relatable: The thing about reading autobiographies of world class sports stars is that they really are hard to relate to. I mean, I don't know what it's like to be the best in the world at a certain discipline or sport. I don't know what it's like being a professional athlete. And I don't know what it's like dealing with the pressure of competing in front of thousands of screaming fans against a number of competitive rivals. Stephen Madden's story, however, I can relate to. I know what it's like to go to a 5:30AM CrossFit class and then rushing home to get ready for work. I know what it's like struggling with particular movements and having that frustration affect my work and 'home life'. I also know what it's like to be new to CrossFit and having my ego smashed to pieces. Embrace the Suck is a book that relates to the every day CrossFitter, which make up the bulk of the functional fitness world.
Non 'Preachy': A general criticism of functional fitness enthusiasts is that they often try to preach their training philosophies to other people. There are countless memes doing the rounds pointing out to this obsession,  reading things like, "First rule of CrossFit is to never shut up about CrossFit'. Madden, however, doesn't fit the mould of a 'preachy CrossFitter'. While he seems to love functional fitness training, he doesn't try to convince readers to sign up or join a local box. He simply talks of his journey through CrossFit and the benefits he has got so far out of training. Embrace the Suck is his story, not his push to get more people to CrossFit.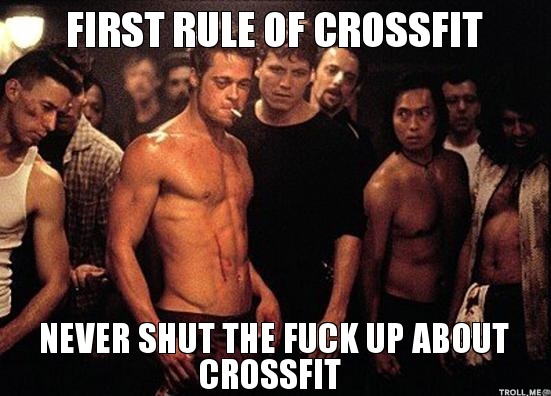 The Bad
The Story: While I enjoyed reading Embrace the Suck, I still felt as though the story was lacking something.  In the book, Madden covers most of his sporting life from childhood to today. On top of his journey through CrossFit, he also goes into detail about a number of gruelling fitness challenges he has completed, including military challenges and open water swims with his family. However, after finishing the final page, I felt as though there could have been more. I suppose it is a tough bit of criticism considering I did enjoy it, maybe it's just a sign I didn't want it to end!
Price: Embrace the Suck sells for $24.99 USD, which makes it quite expensive for just a 208 page book. Sure, you can find a copy on Amazon for bit less, but compared to Rich Froning's First which sells for just $15 USD, Embrace the Suck is far from a 'cheap read'.
No Pictures/Images: It's only a small criticism, but when reading autobiographies and life journeys of individuals, I like to see what they look like in real life. Unfortunately, Embrace the Suck has no images or pictures of Madden, or any of the other people written about in the book. It would have been good to have a few images to refer to during the read.
Conclusion
Despite its criticisms, I really enjoyed Embrace the Suck, and would happily recommend it. If you are a CrossFitter like myself, you'll certainly enjoy being able to relate to Madden and his early struggles, and you'll probably walk away with some inspiration to train harder and achieve more out of your fitness. If you're not a CrossFitter, you'll get a great insight into what CrossFit is, and the benefits (and challenges) you can get out of it.
While I do feel it could be a bit longer with a deeper story, Embrace the Suck still hits the mark and is a very well written book which is certainly relatable to most people.