At the age of 41, Becky Conzelman is a two-time CrossFit Games competitor, and widely regarded as one of the top athletes in the world.
After picking up CrossFit in 2009, the former professional cyclist wasted no time making a name for herself in the sport. In 2011 she claimed her first ever Regional title, and last year she finished 14th in what is widely regarded as the toughest CrossFit Games yet.
The mother of two is now also a sponsored athlete after being signed by Reebok, and more recently WOD Superstore.
Heading into week four of the 2013 CrossFit Open, Conzelman is on track for her fourth straight Regional appearance, sitting in 5th place overall in the South West Region.
The Rx Review caught up with her this week to find out more about her training, diet, thoughts on this year's Open, and expectations for the 2013 CrossFit season.
Well Becky, how are you feeling after week three of the Open?
I'm actually really motivated to dial in my training for Regionals.
I was hoping to be a little higher in the rankings, but I've had a lot on my plate recently so it's definitely good fuel for the fire.
You're currently in 5th place in the South West and are on track to qualify for Regionals again. What are you hoping to get out of the next two Open workouts?
I plan to get more sleep than I have been getting prior to these next two workouts so I can maximize my score.
When I did the workout last Friday, it was a wake up call for me, where I realized now is the time I really need to start to focus. I usually coach just before I go to the workout. So I think for the next two (13.4 and 13.5), I'm actually going to take the morning off and not coach.  I am hopeful with better sleep and taking the morning off I will do better.
This last workout I got three reps less than last year and I'm that much better at muscle ups. So I was expecting maybe 8-10 reps more than last year.
What went wrong?
I'm just tired and it was a great wake up call to re-align my priorities for the next 10 weeks. CrossFit has to be one of my top priorities if I am going to make the Games.
What is your stance on repeat workouts? Do you do the Open workouts multiple times, or just once?
I'm a believer in only doing them once for me. If I were sitting on the bubble my perspective would be different. However I did redo 13.2. I first did the workout on Friday and in the first 1:40 I did three rounds, so by five minutes I was dying and everything was breaking down.
So that was a learning experience on pacing and we repeated the workout two days later with a pacing chart. For the first five rounds we did one every 50 seconds and every round thereafter was 55 seconds. It was actually a nice workout. In that instance I think repeating it was a great learning experience.
What about the next two? Will you be repeating them?
No I'm not going to repeat anymore. I'm going to go into them rested, not in terms of training rested, but at least I'll have a good night sleep going into it and I won't be working right before I do the workout.
What's your diet like? Are you zone or Paleo?
I try and eat as much super food as possible, but I'm not strict Paleo by any means. My normal breakfast is three eggs, a banana with lots of raw vegetables on top. I'm drinking a smoothie right now with spinach, pineapple, and cinnamon, some of nature's best anti-inflammatories. Tonight, I'll probably have a bowl of chocolate chip ice cream with my kids and I love pizza!
So super foods with a lot of fun too!
What's your training like now with the Open in full swing?
My training is definitely different than the girls who are half my age. At my gym and as the games get closer, Colleen Maher (1st, Southwest Regional 2012) will double my volume and that's solely a component of recovery. So one day a week I'll do a long endurance workout. I'll do 3-4 lifting sessions a week and then on top of that I will do about 4-5 more metcons. And a lot of physical therapy, a lot of massage and some chiropractic work as well.
Are you sponsored at the moment?
I'm sponsored by WOD Superstore. Mark and Bridgett Chandley (owners) are great sponsors and the service they are providing to the community and the products they are bringing through wodsuperstore.com is fantastic. I'm a Reebok sponsored athlete as well.
How did the WOD Superstore sponsorship come about?
It was kind of right place at the right time. I wanted to go the Outlaw Open, and Rudy is my old coach at Outlaw CrossFit. I told him I'd love to support his event but I couldn't go unless someone sponsors me to compete there.
At the time Talayana (Fortunato) was already sponsored by WOD Superstore, and Rudy said 'let me talk to them'. In the end they were interested and they decided to pay my way to the Outlaw Open.
I continued to compete for them at the OC Throwdown, providing marketing insight along the way, and we then formalized a deal right after the OC Throwdown.
What are you're expectations for the rest of the Open and the rest of the 2013 CrossFit season?
I just want to give my all in every Open workout. I want to do the workouts methodically and I want to do my best. If I end up top 10 in the Region, I'm fine with that heading into Regionals and I'm optimistic I will qualify top three at Regionals. I have no doubt this goal will be very hard, yet attainable.  I'm certainly not tapering for the Open, so the fitness level I'm at right now is completely different to what it will be for the Regionals.
What about the new 40-44 years old masters division? Do you have any plans on competing in that division?
I'm going to compete at the highest level that I'm capable of, so I'm going to go to Regionals gunning for a top three spot elite. And if, for some reason, I don't make it, then I have a great opportunity to go and compete in the Masters division at the Games.
It's a pretty tough division at the moment, with a number of great names in it like Cheryl Brost and Amanda Allen.
Yes it is. Cheryl finished only one point behind me at the Games last year and two years ago Amanda Allen was 19th at the Games and she won an event. I don't know what she's doing over the past few months but she's obviously doing something right because she's killing the Masters division right now in first place.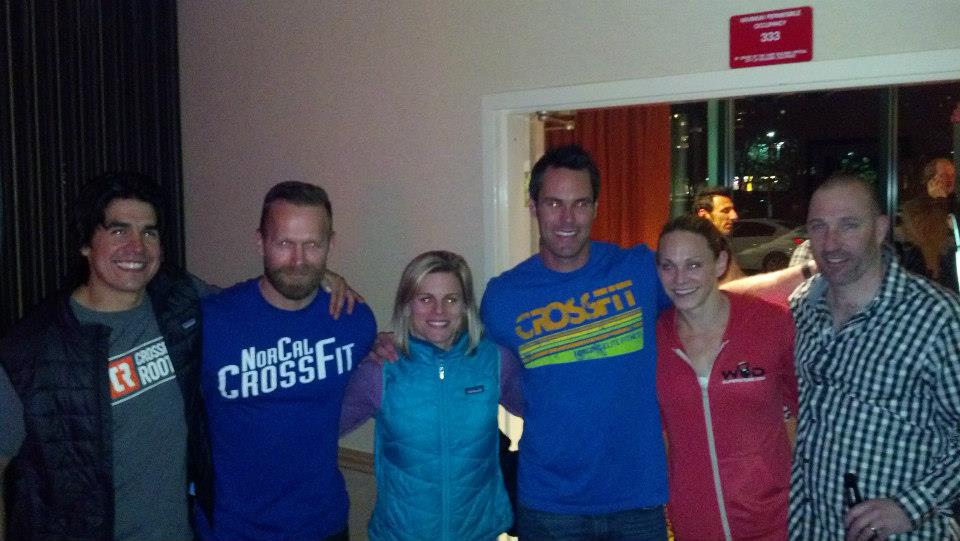 In terms of the final two workouts in the CrossFit Open, are there any movements you are hoping for in 13.4 and 13.5?
I think 3-5 minutes of body weight squats would be ideal. Just kidding.  I'm 5' 3" and I used to be a professional cyclist so I've got some quad dominance and endurance. So that would definitely lend itself to overhead squats or front squats as well.
Any movements you're not hoping for?
You know, I really love everything about CrossFit. Probably my weakest movement is the snatch, so some type of medium to heavy weight snatch would not be ideal, but we have already done that so I don't think we're going to see that again.
And finally, who do you think will win this year's Open?
Sam Briggs is looking dominant but Annie is always a force. It will be a fun battle nonetheless.