It's that time of year again! Welcome to the 2011 Holiday season! It's a fun but stressful time of year as we all struggle to find the perfect gift for friends, family members and co-workers. Even harder still is trying to find the perfect gift for a CrossFitter. So this year, we here at The Rx Review, thought we could offer a hand.
Over the next few weeks we will be offering suggestions and recommendations that may just put a smile on the face of that CrossFit friend or loved one. So sit back and relax because this year The Rx Review has got your back!
Last week we gave you some cheap gift guide options with [
jump ropes
] from $15 to $35. So we thought we would step it up a notch and look at something with a slightly higher price point. Therefore today, we're talking Medicine Balls!
Anyone that is a CrossFitter knows one of the most integral pieces of equipment is the medicine ball. We use them in WODs, practicing or teaching o-lifting technique and for countless other exercises. Yet getting the right medicine ball is not as simple as going to your local sporting goods store. I remember when the affiliate I train at first opened, they decided to save a few dollars and purchased an unknown and untested brand. They purchased eight medicine balls of varying weight and within two weeks all eight of them had split open. The manufacturer replaced them but two weeks later the second shipment had all split open once again. The lesson: make sure the medicine ball you get is not only durable but has been tested by those within the CrossFit community.
As integral as a medicine ball is, it's one of those pieces many garage gym owners simply have not gotten around to getting. However, if you're like me and have one you always need another. I can't tell you how many times I've had friends come round for a workout where I could have used an extra one. That's why it's such a great gift for Christmas. Not only is it a great present for a CrossFitter it's one of those gifts any CrossFitter would love to receive.
So this week we're bringing you three options all from well-respected brands, at the most frequently used weight of 20lbs (however each site has other weight options available).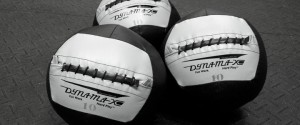 Dynamax Medicine Balls $110 Shipped (20#): Dynamax has practically cemented itself as the default medicinal ball of choice for CrossFit over the years. Anyone that has used them (myself included) will tell you they are not only one of the best medicine balls on the market but one of the most reliable. As I mentioned at the outset when the affiliate I train at had 16 other medicine balls break, they decided to spend the extra cash and purchase a whole set of Dynamax Balls and have never looked back. However, purchasing the premier brand comes at a cost. At $110 they are not cheap and are the most expensive ball in todays selection. Additionally, there are some die-hard CrossFit fans that refuse to purchase them after the whole Dynamax/CrossFit saga that occurred a few years back but that's whole other issue. In any event, the fact they are American made and are now sold by CrossFit friendly Rogue Fitness, makes for a compelling reason to pick one of these up. You can purchase them direct from [Rogue Fitness here]. Alternatively readers in Australia can purchase through [Rogue Australia at $180 plus shipping here].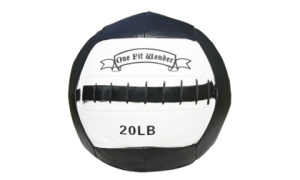 One Fit Wonder $95 Shipped (20#): This is the best value for dollar in todays guide. These medicine balls are a recent addition to the CrossFit scene. They offer similar construction to the old standby Dynamax padded medicine ball but at a price that is significantly lower. One Fit Wonder is made by Fringe Sport and is their in-house brand. Although Fringe Sport is a relatively newcomer to the CrossFit equipment arena their exceptional and very friendly customer service has earned them huge respect within the CrossFit community. An added bonus is that Fringe Sport is owned and operated by CrossFitters. I spoke to the owner of Fringe Sport today about this range of medicine balls and the biggest selling point is their guarantee. Fringe Sport is so confident with their products they offer a 1-year 100% satisfaction guarantee that literally covers everything, not just manufacturing defects. So in ten months time, if this ball breaks open while doing a round of wall balls, Fringe Sport will not only pick up the return shipping cost but will send you a new one, free of charge. Now that's customer service and peace of mind. You can purchase direct from [Fringe Sport here]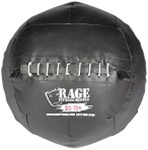 Rage Fitness Supply $95 Shipping Not Included (20#): Another popular medicine ball in the CrossFit community is the Rage ball. I've used it at several different affiliates and it's pretty good. The only issue here is the price. Unlike the others in todays guide this ball does not include shipping. A quick check of Garage Gyms website found shipping to California, Wisconsin, and New York was an extra $21. Making this ball an estimated $116 when shipped, so something to keep that in mind when ordering. You can purchase from [Garage Gym here]
From all us here at The Rx Review, happy shopping!