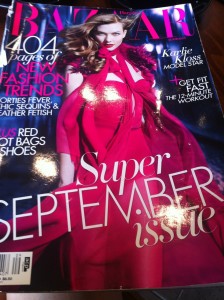 Earlier today I walked into my local coffee shop. When I discovered the morning paper was already taken I began sifting through the rather old and very used magazines. Fortunately, I found a favorite read of mine in Hapers Barzaar. Yes, it was a little old being the September issue, but I was happy nonetheless.
While the magazine is predominantly fashion focused, they often have the odd health and fitness tip from time to time. For the most part I tend to ignore their recommendations for improving fitness because they usually go as far as, 'park your car further away from the shopping centre' or 'take the stairs instead of the lift', obviously not bad ideas but not really a workout.
So as I flicked through the magazine imagine my surprise when I stumbled across an article in the health section (usually one or two pages at most), which bore a striking resemblance to a CrossFit style WOD, called the "12 minute workout." The article encouraged its readers to "train for 20 seconds on and 10 seconds off" for eight rounds, performing 3 different exercises. Sound familiar? Umm, Tabata maybe?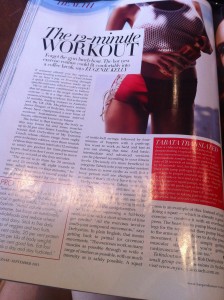 Turns out the article was written in part by a Sydney based personal trainer who has trained athletes and professionals ruby players. However, instead of calling it CrossFit they call it "primal/caveman training." They go on to suggest that movements such as squat presses, kettlebell swings and burpees are integral to shaping the perfect body as "the exercises work as many muscles as possible through as wide a range of motion as possible, with as much intensity as safely possible."
It was surprising to see a magazine such as Harpers Bazaar advocating for such high intensity workouts. Anyone that has done a round of burpees and squat presses will tell you just how hard a 12-minute workout can be.
In reality I'm not concerned if you call it CrossFit or Primal Movements or anything else for that matter. I'm just happy women are now starting to be given realistic exercise routines that will no doubt help them achieve their fitness goals.